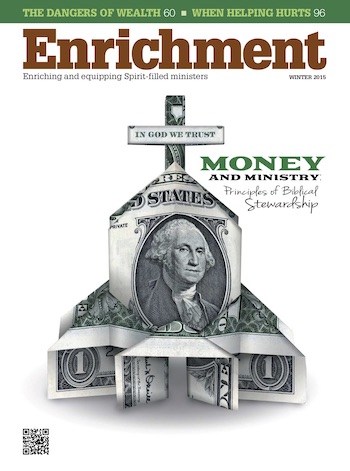 Downloads:
SIDEBAR: How to Write a Quarterly Giving Letter
by Kregg R. Hood
---
Mailing a quarterly giving letter to your regular contributors is a great way to encourage people to grow in generosity. When you write, remember this phrase: "TIE" a person's giving to ministry.
T — Thank them for being faithful in generosity. Highlight the link between faith and giving. Reference a particular Scripture, and connect it to a recent setting in the church or a particular time of the year.
I — Inform them about ways the church is serving, ministering, and reaching people. Millennials especially appreciate this because it helps them see how giving impacts specific needs that are biblical and personally meaningful.
E — Encourage them to stretch in giving and in all other areas of their walk with God.
Many churches also mail two more letters. One, sent around the first of December, encourages year-end giving by December 31. The other, mailed around the third week of January, includes a giving statement confirming the total amount given in the previous year.
Done well, these encouraging letters also serve as gentle reminders to help people stay on track with tithing and other giving decisions the Lord might have put on their hearts earlier in the year.
— Kregg R. Hood, Naperville, Illinois