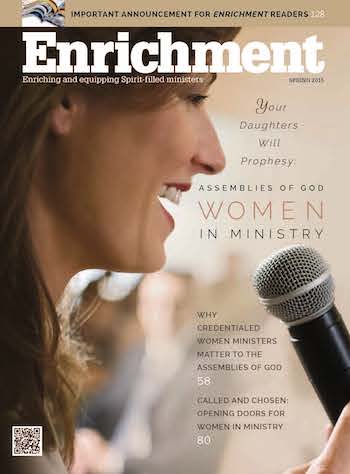 Downloads:
SIDEBAR: Three Kinds of Stories
by William E. Richardson
---
The Unfolding Story
This is a story that hasn't ended yet. A good example is a Christian whose current, personal struggle isn't covered in the secular media — or isn't treated fairly by secular media.
It may be someone who's nationally known or locally known in your community or congregation. Christian periodicals, Christian radio, and individual ministry websites are helpful sources.
The Untold Story
Many things that surround us have a "fascinating person" story behind them. Stories about the discoveries and inventions of items common to us all are just waiting to be told. Examples include Velcro, Post-it Notes (which has a church connection), and the Jaws of Life.
Unraveling the story that set into motion a well-loved hymn or chorus can add strength to a sermon. For a message dealing with grief, your listeners will likely appreciate the reasons for the hymns It is Well with My Soul, He Keeps Me Singing, Take My Hand, Precious Lord, and more recent Christian songs, like Do I Trust You? by Twila Paris, I Still Believe by Jeremy Camp, and With Hope by Steven Curtis Chapman. A number of books of the stories behind Christian songs are available. Books by Kenneth W. Osbeck and Robert J. Morgan specialize in hymns. Lindsay Terry has written a couple of books that cover worship songs.
The Updated Story
People like to know where celebrities are now or whatever happened to them.
The updated story catches the interest of members of your congregation. They might be child actors who became Christians, such as Lisa Whelchel or Kirk Cameron and his sister Candace Cameron Bure. They could be individuals who became Christians as adults, such as actor Stephen Baldwin or author Anne Rice.
You can also catch up to individuals who have always been associated with Christianity, such as Bethany Hamilton, the subject of the 2011 movie, Soul Surfer, or Colton Burpo, whose story is featured in the best-selling book and 2014 movie, Heaven is for Real. This category could highlight any Christian singer, author, actor, or ministry leader with a relevant story more recent than most might know.
An online source promoting stories of some of the men and women in the updated category is iamsecond.com/films/. You'll find hundreds of interviews of well-known and lesser-known Christians (both inside and outside of the Assemblies of God) on the Pentecostal Evangel website's "Conversations" and "Connections" pages: pe.ag.org/archives/connections.cfm.
WILLIAM E. RICHARDSON, pastor, Afton Assembly of God, Afton, Iowa.