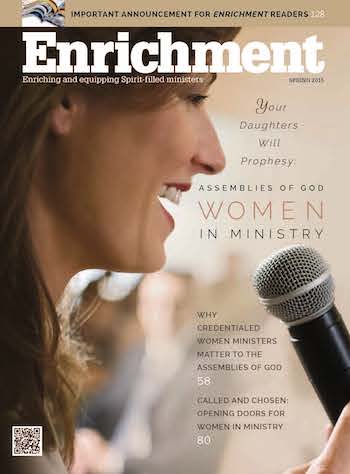 Downloads:
SIDEBAR: Effective Mentoring Through Relational Connection
---
I lead the Network Development Department for the AG Kansas Ministry Network, and in 2004 I launched a mentoring initiative called WMBA (Women in Ministry Being Accountable) with the tagline: Nurturing Community Versus Going It Alone.
In this ultra-structured, formal approach to mentoring, I recruited experienced women in ministry to serve as mentors. I provided training and prepared to facilitate opportunities to pair up women during our annual Women in Ministry Breakaway. This formal arrangement encouraged women in ministry to make, intentionally, one of three specific relational connections.
1. Serve as a coach or mentor.
Key principle: invest
Scripture anchor: "Follow my example, as I follow the example of Christ" (1 Corinthians 11:1).
This role is about accepting responsibility and embodying availability.
2. Develop a peer-to-peer relationship.
Key principle: inspect
Scripture anchor: "As iron sharpens iron, so one person sharpens another" (Proverbs 27:17).
The relationship is built on peer accountability and mutual dependability.
3. Gain knowledge as a mentee.
Key principle: invite
Scripture anchor: "Walk with the wise and become wise … " (Proverbs 13:20).
The mentee must embrace teachability and value reliability.
In the early iterations of this initiative, 53 pairs of women participated. As time passed, we saw the wisdom of creating further options with less structure and formality. We call our most recent effort of intentionally promoting informal mentoring, Space for Grace.
We introduced Space for Grace at the Women in Ministry Breakaway in 2014, with the tagline: Help Us Eliminate Isolation. We asked women to choose a friend, keeping chemistry in mind. We told them to connect as frequently as they wanted — making time for prayer, coffee, laughter, dialogue, and input — with encouragement as the ultimate goal. We look forward to hearing from these women at the next breakaway as they share how it went.
Supportive relationships provide the foundational value for formal and informal mentoring in our Ministry Network. Six related values deepen the mentor-mentee arrangement:
1. Intentionality: Place it on the schedule.
2. Connectivity: Enjoy shared experiences.
3. Confidentiality: Trustworthiness fosters depth.
4. Transparency: Get real.
5. Diversity: Embrace relational uniqueness.
6. Accountability: Expect mutual personal growth.
— KAREN YANCEY, Maize, Kansas