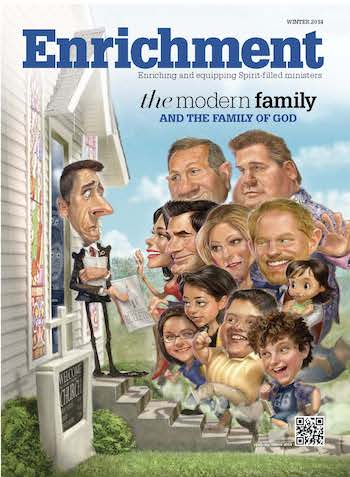 Downloads:
The Other Face in the Picture
Ministering to Single-Parent Households
by Mark E. Strong
---
An 1888 German postcard called the "Young Woman — Old Woman" provides a famous optical illusion. The first time I saw the picture I was with a group of kids gathered around a small table. While gazing at the picture with unswerving focus, these phrases bounced around the table like a pinball: "I don't see her. I see her. Can you see her now?"
Within the picture is the image of a young woman and an old woman. On cursory glance, one believes he is only looking at a picture of a young woman wearing a bonnet; however, the young woman is not the only image filling up space on the page. On closer inspection, one can also see the image of the older woman.
Look at Genesis 21:8–21 with the eyes of the children around the table. Take a penetrating look so you can see both women in the picture.
The first woman is easy to see. Her name is Sarah, and she is full of joy because God has just given her the desire of her heart. After many years of infertility and barrenness, she has given birth to her own son, Isaac. In her portrait, laughter filled her heart and home as she experienced the fulfillment of God's promise. She has a family that consists of her husband, Abraham, her son, Isaac, and the blessing and presence of God.
The other woman in the picture is a little harder to see. The second woman is Hagar. Hagar and her son, Ishmael, are not in the mainstream. Theologically they are from the wrong side of the tracks. They do not represent the ideal. So according to Sarah, " 'Get rid of that slave woman and her son, for that woman's son will never share in the inheritance with my son Isaac.' " (verse 10). Therefore, in moments, Hagar became a single mother without a support system.
Abraham thrust Hagar and her son out of his family with a backpack of food and a jug of water. The chapter ends with Hagar and Ishmael in crisis crying out to God for help, and God giving them the help they needed. This picture is not the ideal, but it is a reality.
When it comes to the family, the church has an ideal. We believe that a family structure comprised of a husband, wife, and children is not only ideal, but also biblical. Our conviction for this ideal causes us to invest our resources and use every means at our disposal to strengthen the family. We want our families to thrive and be healthy. However, we cannot look solely at the family ideal in the picture. The single-mother household is a present and growing reality, and the church must be prepared to minister to this family unit as well.
THE RISE OF SINGLE PARENTING
We are aware that society is stretching out traditional marriage on the cultural chopping block. Changing societal views and attitudes on marriage, same-sex marriage, divorce, cohabitation, and other forces render debilitating blows to the institution. We see the cultural impact on marriage by this decline.
Marriage rates have fallen among whites, blacks, and Hispanics over the past 50 years, but the drop has been most pronounced among blacks. In 1960, 61 percent of black adults were married. By 2008, that share had dropped to 32 percent. Among whites, the marriage rate dropped from 74 percent in 1960 to 56 percent in 2008. The trend in marriage rates among Hispanics has tracked more closely with that of whites. In 2008, 50 percent of Hispanic adults were married.1
Synonymous with the decline of marriage is the rise of children born into single-mother homes.
Changes in marital patterns have had a major impact on the lives of children in this country. Many no longer consider marriage a prerequisite for parenthood. Over the past 50 years, the share of children born to unmarried mothers has risen dramatically — increasing eightfold from 5 percent in 1960 to 41 percent in 2008. This trend has contributed to the decrease in the number of children under age 18 living with two married parents — to 64 percent in 2008 from 87 percent in 1960.2
This essentially means that four out of 10 children born live in single-parent homes. Depending on the ethnic group, the percentage is even higher. Equally startling is the fact roughly 44 million children have no male presence in the home, period.3
Women become single mothers in numerous ways. While it is important to understand how they got there, it is more important to understand who they are and where they are going. These realities should rouse us to loving action as church leaders and pastors. We cannot just focus on an Abraham-and-Sarah model of family. We need to look at our ministry landscape and see the Hagars and their children who are crying out to God for help, and then help them.
THE NEEDS OF SINGLE MOMS
Genesis 21:16 says, "Then she went off and sat down about a bowshot away, for she thought, 'I cannot watch the boy die.' And as she sat there, she began to sob." Hagar's cry was a plea for life. Encapsulated in each teardrop was a plea to God for her and her son's needs. We may not see the tears, but they are flowing down the hearts and cheeks of many single moms.
The needs of single mothers vary; you cannot assume one need fits all. However, here are some common needs and issues.
Financial pressures. Leslie is a great single mother and a leader in the community. When I asked her about some of the issues she faces as a single mother, at the top of her list was financial pressure. She said when she became a single mother, her credit went down the tubes. Facing the daily decisions — am I going to pay my heating bill, or feed my daughter — were a way of life. The choice to feed her daughter meant no heat in the house and a mark on her credit score.
Financial constraints determine the quality of health care and education they will receive. They create a greater susceptibility to other social problems and ills.
Decision making. In a two-parent home, spouses have the blessing of talking over issues and praying about them together. The mothers I talk with express the frustration of having to make all the decisions for their household and children alone. This responsibility weighs heavy on them, especially those who do not have an adequate support system.
Me time. Single moms are on call every moment of the day. There is no help driving to doctor appointments, no other parent to send to teacher conferences. Many single moms would treasure just a little time for themselves, unplugged from the responsibility of single-handedly running their household. Also, they can lack the time and resources for personal growth and development.
Talking to their boys. Single mothers express the frustration of not being able to talk with sons about man stuff. They do the best they can; however, they still feel inadequate giving the fatherly talks. Providing the discipline all the time is not pleasurable either.
Domestic assistance. Fran raised her kids as a single mother. She said it was frustrating not knowing what to do when the roof was leaking, not knowing if the auto mechanic was overcharging her, or having someone to play ball with her son.
This list is by no means comprehensive. However, as you take time to listen to the hearts of single mothers in your church and ministry, you will discover the issues that are perplexing to them. Not only do single mothers have tears; their kids do too.
THE CHILDREN'S NEEDS
God not only saw Hagar's tears, but He heard the cry of the boy as well (Genesis 21:17). Children of single parents have the same needs as children of two-parent households. However, they lack the father that the Bible says is responsible to help meet those needs. In my book, Church for the Fatherless, I identify nine biblical responsibilities that fathers are to fulfill to meet the needs of their children:
The need to feel treasured and loved. The need for emotional security and well-being.
The need for moral upbringing and guidance.
The need for a sense of identity and belonging, to be a part of a loving family and community.
The need for provisions flowing out of a relationship with a father who is accessible and present.
The need for instruction and teaching to develop life skills.
The need to be taught about God so they can develop their own relationship with God the Father.
The need for boundaries and accountability.
The need for a tangible godly father (male) role model.
The need for security and the benefit of having both a father and mother in the home.4
I would like to highlight #3: the child's need for a sense of identity and belonging. Even if a child has the greatest mom in the world, there is still the deep longing for a father's validation. Jesus, the Son of the living God, received validation from His Father at His baptism. God spoke from heaven saying, " 'This is my Son, whom I love; with him I am well pleased' " (Matthew 3:17). If Jesus needed affirmation from His Father, how much more children from homes where no father is present need affirmation.
As we consider the issues and the reality of a growing number of single mothers, we need to view their situations through redemptive lenses and see them as opportunities the church has to minister grace to families that are close to the heart of God.
Here are some ways churches can facilitate ministry to single mothers and their children.
MINISTRY PRAXIS FOR SINGLE MOTHERS
Remove the negative stigma surrounding single mothers and their children
Most single mothers already carry a sense of guilt and shame whether justified or not. It's hard for them to be in a church where people view them as lepers. As pastors, we can contribute to the stigma, not only by what we say, but also by what we do not say. I have been guilty of contributing to that guilt and shame by only acknowledging married couples and families and not expressing God's love for the single mother and her children. We must validate our single mothers and children as much as we do married two-parent households.
At times I address single moms in my sermons and let them know they are doing a good job and simply encourage them to keep going. The simple recognition alone helps break down debilitating stigmas; it helps create an accepting atmosphere toward them. They feel a part of the story of the church. We should strive to make our church a stigma-free zone for single mothers and their children.
Create ways for them to develop supportive and nurturing relationships
We have tried to create supportive relationships for single moms through small groups. Our Sisterhood Group is for single mothers of all ages. The group provides a safe environment where moms can share the pains, joys, and frustrations of single motherhood. The group gives moms the chance to exhale and breathe in the fresh air of God's love and strength.
Also, you can pair up single mothers in your church with women who can help them and support them through their difficult times. Chabre' Vickers, a young single mom at our church, told me of a time when she was discouraged. She ended up talking with another single mother in our church named Marci. Marci was able to encourage her and motivate her to keep moving forward. These interactions can occur by God's providence, but churches need to intentionally facilitate these relationships for long-term and effective ministry to single mothers and children.
Provide mentoring for their children
Children in your church long for a father's love. Almost every Sunday, before or after service, some little tike wants to give a big hug and hold me hostage for a few minutes. These kids long for a father figure in their lives. Mentoring gives us an opportunity to meet that need.
Mentoring need not be complicated. The kids are not looking for geniuses, but for someone who will just be there. Mobilize your men's group to do activities with children of single parents. One church in our community holds a breakfast for youth and children. They place an older man at each table. They allow the kids to ask or talk about any subject.
Encourage the men in your church to simply take two. If he is taking his sons or daughters to an outing, take a child of a single parent along too. A number of people in our church mentor kids in and outside of the church. Mentoring enriches their lives as much as it helps the children.
Help them to grow in their faith
Build the spiritual lives of single mothers and children. Help them to grow in the Word of God and deepen their relationship with Christ. Encourage them to fulfill God's call and purposes for their lives. Encourage them to serve in ministry and bless the lives of others. We have some single mothers in our church who are pillars. They did not come through the doors that way, but over the years their lives have blossomed. Disciple them, pray for them, and love them.
A CHURCH THAT SAW BOTH FACES IN THE PICTURE
Bob Macgregor pastors City Harvest Church in Vancouver, Washington. Bob grew up in a single-parent home with a mother who suffered from schizophrenia. His story is a testament to the power and grace of Jesus. His journey has produced a passion within him and his church to minister to single-mother households.
They built a database. City Harvest Church collected all the names of single mothers in their church. Then they hosted a free oil change day for single mothers and collected the names of all the mothers that participated. They then intentionally reached out to the families on that list.
They offer 12 weeks of parenting classes for single mothers. They eat and share their stories and grow in community, faith, and love.
They do an event called "Mommy, It's Your Turn." They bring the kids to the church for a carnival while mom goes to buy something for herself with a gift card furnished by the church and the store.
Once these moms come to faith in Christ, the church assigns a Christian family to come along side them and to assist them and their children.
City Harvest is a church that has seen the other woman in the picture. We now see both faces as well. By God's grace, we can help wipe away the tears of single mothers and their children, and make a difference in these precious families that are a part of God's family and ours.
NOTES
The Pew Research Center, "The Decline of Marriage and the Rise of New Families," November 18, 2010, page 9. http://www.pewsocialtrends.org/files/2010/11/pew-social-trends-2010-families.pdf (accessed April 16, 2013).
Ibid., 2.
The National Fatherhood Initiative, Father Facts, 6th ed. (Germantown, Maryland, 2011), 18.
Mark Strong, Church for the Fatherless: A Ministry Model for Societies Most Pressing Need (Downers Grove, Illinois: InterVarsity Press, 2012), 97.