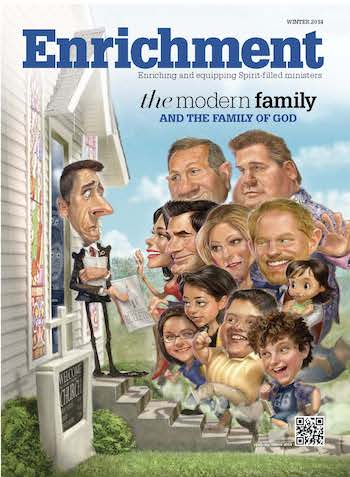 Downloads:
The Modern Family and the Family of God
How does the Church, which is the family of God, minister to the modern family?
by George P. Wood
---
Jay Pritchett is the head of an extended family. He and his ex-wife, DeDe, have two adult children, Claire and Mitchell. His second wife, Gloria, is Colombian and has one son, Manny Delgado, from a previous marriage. Jay and Gloria also are expecting a son of their own, Joe. Claire married Phil Dunphy, and together they have three teenaged children: Haley, Alex, and Luke. (They are roughly the same age as their step-uncle, Manny.) Mitchell and his partner, Cameron Tucker, adopted Vietnamese orphan Lily, whom they are raising together (and who will be older than her uncle, her father's half-brother, Joe).
Marriage. Children. Divorce. Remarriage. Blended families. Multicultural relationships. Gay marriage. Adoption. These are the comedic elements of Modern Family, ABC's award-winning television show. They are also the elements — among many others — of the real modern family.
The question the winter 2014 issue of Enrichment seeks to answer is this: How does the Church, which is the family of God, minister to the modern family?
Even framing the question this way is potentially misleading, however, for it assumes that Christian families are whole, while non-Christian families are broken. We pastors know this is false. We know non-Christian families that are whole. We also know churchgoing folk who have premarital sex, get pregnant out of wedlock, cohabit, have affairs, divorce, remarry, etc. Perhaps churchgoers do these things less frequently than the general population, but statistical infrequency is not the same thing as actual holiness.
So, when we ask how the family of God ministers to the modern family, we're talking about how broken people minister the life-changing power of God to other broken people in an especially tender area of their brokenness — namely, their family life.
Entire libraries could be (and have been) written on this topic, so we've had to be selective in the topics we address. Here are the order and logic of the articles that follow:
In our opening interview — "The State of Our Unions" — leading family scholars Elizabeth Marquardt and W. Bradford Wilcox examine the condition of the family in modern America.
Diana R. Garland outlines an agenda for family ministry in "Equipping and Supporting Families to Live Faith Together." That agenda focuses on family formation, Christlike relationships, and a sense of mission.
The next three articles develop ideals for the church: moving singles toward marriage; moving marriages toward health; and when children become part of the picture, moving the entire family toward health.
In "A Lighthouse of Love," Susan and Dale Mathis discuss what a church must do to create a pro-marriage culture.
In "8 Habits of Christlike Marriages," Robert S. Paul outlines precisely that.
And in "Family Worship," Rob Rienow shows how spiritual practices in the home create space for the development of a healthy family.
The final seven articles deal with the realities of families in the church, that is, situations that are less than ideal.
Jane D. Richard, in "Ministry to Families in the Wake of Divorce," outlines the best practices for churches in these situations.
Ron L. Deal talks about "Equipping Christian Families for Healthy Christian Living."
Mark E. Strong, in "The Other Face in the Picture," shows how the church can minister to single-parent households, whether mother- or father-led.
Mentioning single parents reminds us that many people in our churches are neither spouses nor parents. In "'Familying' Single Adults," Dennis Franck offers suggestions about how to create a single-adult-friendly church.
Our churches also have the opportunity to help children who don't have families. In "Foster-Care Ministry Matters," Jay Mooney shows how to make the most of those opportunities.
Families with disabled members experience tremendous stress in their lives. In "Making Your Church Accessible," Joe N. Butler outlines three key areas that can make your church more welcoming to them.
Finally, in "Serve, Don't Shout," we interview Rick Cole about ministering with love and compassion to LGBT families.
On behalf of the editors, I offer these 12 articles to you with the prayer they will help you and your church bring healing to America's broken families — including the ones in your church.