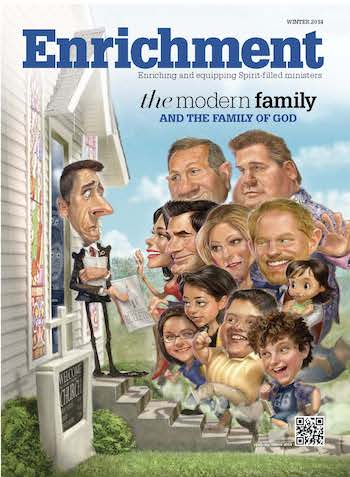 Downloads:
The Characteristics of Pentecostal Preaching, Part 2
Pentecostal preaching is unique. The author provides practical ideas to help Pentecostals preach more effectively. Part 1 of this article appeared in the fall 2013 EJ Online.
by Steve D. Eutsler
---
Editors Note: "The Characteristics of Pentecostal Preaching," Part 1, appeared in EJ Online, Fall 2013.
Pentecostal Preaching Is Spiritual.15
Pentecostal preaching is soaked in prayer
Explanation: Jesus prayed as the Spirit descended on Him (Luke 3:21). Jesus prayed all night, especially before He made major decisions. For example, when He chose the 12 disciples and before the soldiers arrested Him (Luke 6:12–16; Matthew 26:36–45). The disciples prayed for 10 days before the Day of Pentecost (Acts 1:14). Afterward, they prayed regularly in the Temple and from house to house (Acts 2:42–47). They prayed throughout their ministries. Prayer characterizes Pentecostal preaching.16
Pentecostal preachers, as D.L. Moody said, need to pray as if everything depends on God; then preach like everything depends on you. Without the power of God, a sermon is ineffective. It is mere words. But with the power of God, any sermon can move mountains. It becomes the power of God unto salvation (Romans 1:16). Prayer does not justify poor preparation. But it does recognize the essential role the Holy Spirit plays in the anointing of the preacher and the conviction of the sinner.
Pentecostal preachers need a regular time of daily prayer to preach well. Most great preachers urge their students to pray over their messages before they preach. One well-known preacher recommends that preachers have a fresh encounter with the Holy Spirit every time before they preach.17 Waiting on God in prayer for the power of the Holy Spirit is a major characteristic of Pentecostal preaching (Acts 1:4,5,8).18
Other Pentecostals stress the importance of fasting as well as prayer for preaching.19 But fewer Pentecostal preachers talk about fasting today than in the past. Some people probably see this trend away from fasting as a bad practice. Others might see fasting as a subtle form of legalism if insisted on too strongly. But it can be helpful. It gives more time to pray and practice self-denial. Many believe fasting clarifies their thinking.
Illustration: Moses communed with God for 40 days on Mount Sinai; Jesus did the same in the desert. Both preachers experienced a successful ministry as a result. In more modern times, David Brainerd, son-in-law to Jonathan Edwards and missionary to the Native Americans, spent long periods in prayer. Even though this young preacher could not speak their language, he won many Native Americans to Christ. His success was due to his prayers not his preaching.
Application: Prayer is like gas for the engine or wood for the fire. Without it, the car does not travel far or fast, nor does the fire burn long or bright. Prayer energizes preaching. Prayer also serves as a key to the Scriptures. Without it, many doors remain locked with unknown treasures secured behind them. Who better to ask the meaning of a Bible passage than the Person who inspired it?
Pentecostal preaching depends on the anointing
Explanation: Many Pentecostals admit the difficulty of defining the anointing. They say, "I can't tell you what it is, but I can tell you when it isn't."20 One Pentecostal scholar says the anointing is the presence of the Holy Spirit that makes God's presence more real. It also improves the ability of the preacher, the effectiveness of the Word, and the reception of the hearers.21
Pentecostal preaching therefore is not necessarily loud, emotional, or dramatic. A preacher can be anointed and speak softly, logically, even calmly.22 But anointed Pentecostal preachers will be bold, see signs and wonders follow their ministry, and preach with courage.23 They strive to be "channel[s] of the Holy Spirit." This expression means they want to serve as the pipeline of God's endless supply of power. He is the Source; they are the means (cf. Zechariah 4:1–14).24 The secrets to the anointing are holiness, yieldedness, and prayerfulness.25 The Lord anoints and uses those who live holy lives, yield to His will, and spend time in prayer.
Illustration: Under the law of Moses, the priests anointed both people and things for two reasons. One, to set them apart for service to God (Leviticus 8:10–12,30). And two, to symbolize the presence and power of the Holy Spirit (Exodus 28:41). Under the New Covenant, the Spirit anointed Jesus for these same reasons (Luke 4:18,19; Acts 10:38).26
Application: For Pentecostal preachers to preach under the anointing, they must be set apart for God's service. This means they must live a holy life — free from sin and dedicated to God. And they must operate in the power of the Holy Spirit. Preachers cannot do God's work in their own way. For that reason, they must spend extra time in study of the Word, in prayer, and in meditation. It takes the power of God to do the work of God. As the prophet affirms, it is " 'not by might nor by power, but by my Spirit,' says the Lord Almighty" (Zechariah 4:6).
Pentecostal preaching leads to revival
Explanation: Pentecostal preaching inspires revival.27 Revivals break out in the Book of Acts as a result of the apostles' preaching (cf. Acts 8:4–17; 11:19–30; 13:13–52, etc.). At Ephesus people even burned their books of magic (Acts 19:1–22). In most places when Paul vacated a city, he left behind a church "on fire" for God. Throughout Church history, Pentecostal preaching has resulted in revivals (in addition to those recorded in the Book of Acts), such as the Welsh revival, Azusa Street, the healing campaigns of Oral Roberts, the Pensacola revival, etc.28 As someone has observed, as the pulpit goes, so goes the pew. While Pentecostal preachers have not started every revival, each revival, as a rule, has shared characteristics of Pentecostal preaching. This result of revival is true especially since the turn of the 20th century. Around the world today, revival continues to break out wherever Pentecostal preachers go.
Pentecostal preachers promote the revival work of the Spirit in the world today. They know that the Spirit wants the gospel preached throughout the world before the Rapture. This way as many people as possible can place their faith in Christ before it is too late.29
Illustration: Another Pentecostal pastor describes how the Spirit once moved him to stop a Bible study and pray for a woman with Parkinson's disease. Because he obeyed, the Lord healed her. As a result, the church increased in faith; and the woman and her husband become great witnesses for Christ.30
Application: Spirit-filled preaching can result in revival at anytime or any place. The size of the crowd is not nearly as important as the sovereignty of God. The Lord knows the needs of the members of the congregation. When needs are met, lives are changed, boldness increases, and growth occurs.
Pentecostal preaching inspires faith
Explanation: Pentecostal preaching inspires faith (Acts 14:8–10).31 Of course, God has used non-Pentecostal preaching to produce belief as well. But Pentecostal preaching is more inclined to do so.32
Pentecostal preaching inspires faith specifically in the Lord Jesus Christ. Thereby the gospel becomes the "power of God unto salvation" (Romans 1:16). Pentecostal preaching also inspires faith for healing as in the case of the lame man at Lystra (Acts 14:8–10). Pentecostal preaching inspires faith for the baptism in the Holy Spirit, and for signs and wonders.33 Through expressing faith, God answers our prayers, we overcome sin, we win spiritual victories, and we receive and exercise spiritual gifts.
Pentecostal preachers exercise faith for the fruit of the Spirit. They are honest. They are patient. They put in a full day's work. They take care of their bodies by watching their diet, getting exercise, and acquiring plenty of rest. They pay their debts.34 Pentecostal preachers live what they preach. In other words, they practice holiness. Paul, a Pentecostal preacher, lived in such a way that he could say with humility, "Join with others in following my example" (Philippians 3:17). Paul emphasizes moral and spiritual qualities in his lists of qualifications for ministers (1 Timothy 3:1–7; Titus 1:5–9).35
In particular, Pentecostal preaching inspires faith for baptisms in the Spirit (Acts 2:38,39; 10:44).36 In turn, this Spirit baptism encourages both preachers and laypersons to preach "Christ crucified" (John 14:26; 15:26). It is simply not true that Pentecostal preachers only preach about speaking in tongues. But they do practice speaking in tongues. God used a man who sat in an empty church speaking in tongues to start the Toronto revival.
Illustration: During a camp meeting in Doraville, Georgia, the Holy Spirit suddenly fell on the congregation. Some were sitting; others were standing. Certain ones were coming to the altar. Around 40 believers were filled with the Spirit. A similar event occurred in the ministry of the same preacher in a rally in the Roberto Clemente Coliseum, San Juan, Puerto Rica. Over 200 Christians received the infilling of the Spirit on that occasion.37
Application: Pentecostal preaching inspires people to have faith in God for salvation, sanctification, and strength. Thus, it inspires faith in the supernatural, which encourages baptisms in the Spirit. These Baptisms in turn inspire even more faith in God for further answers to prayer, etc.
Pentecostal preaching stirs up opposition
Explanation: Both in the New Testament and in modern times, Pentecostal preaching has stirred up opposition (Acts 19:23–41).38 This opposition comes from both human and demonic forces. Jesus regularly confronted demons because of His preaching (Mark 1:23; 5:2; 7:25; Luke 9:42). He also ran afoul of the religious leaders of His day because He taught as one who had authority (Matthew 5:20; Luke 5:30; John 7:32). On mission fields today, Pentecostal missionaries often run into spiritual, political, and personal opposition (cf. Acts 18:6). Genuine Pentecostal preaching causes its listeners to either accept or reject the message.39
Illustration: An African pastor tried to start a church, but the local witch doctor forbade the natives to attend. So the pastor preached to rows of stones. He did this for several weeks. Finally, a man admitted that he had been listening. He wanted to know if Jesus could heal his crippled boy. The pastor said yes and went to pray for him. The boy was healed and a great church was born.40
Application: While Pentecostal preaching stirs up opposition, it also stirs up the preacher's courage to persevere and to overcome obstacles. The early believers often kept on preaching in spite of the danger. Or, as in the Book of Acts, they went to the next town to preach the gospel. In any case, they tell the truth even when it is unpopular to do so or not politically expedient. They face their fears with faith in the Lord. As a result, people accept Christ as Savior and glorify Him as Lord.
Pentecostal Preaching Is Practical
Pentecostal preachers preach about God and people
Explanation: Every sermon should be about God and people.41 In particular, preachers should preach about how God can solve people's problems. This approach holds their interest and ensures that the sermon is practical. Otherwise, the sermon may just be about "morals" (i.e., dos and don'ts). At the same time, preaching about God makes sure the sermon is theological as well as practical. God expects preachers to preach Christ and Him crucified (1 Corinthians 2:2). What people need to hear is how God can meet their needs (cf. Luke 24:32).42
Jesus preached directly to people about their problems and concerns (cf. Matthew 5-7).43 The apostle Paul gave answers to questions believers asked him (cf. 1 Corinthians 7,8).
Illustration: A major difference in a Pentecostal service is the preacher's willingness to follow the Spirit's leadership to meet a human need.44 In a Pentecostal service in Palisades, California, the minister felt led to stop preaching. Then the Spirit moved so mightily that after a season of worship, a mother discovered that a growth the size of a fist on her side had disappeared (Psalm 107:20).45 Signs and wonders follow Pentecostal preaching because it focuses on God and people.
Application: "Many people are in heaven today because a Pentecostal preacher felt the impulse to stop in the middle of a sermon and give an altar appeal or call for the elders of the church to anoint the sick with oil."46 So when the Spirit directs, preachers need to obey. They need never be afraid to veer from previous plans when God intervenes.
Pentecostal preachers love people
Explanation: Pentecostal preachers have a special burden for people.47 Not only are they equipped with spiritual gifts (1 Corinthians 12) and educated in their use (1 Corinthians 14), they are also motivated by love to reach the lost and edify the saved (1 Corinthians 13). God loves the whole world and commends His love for us while we are yet sinners (John 3:16; Romans 5:8). Those who love God and are Christlike care about the same things He does. As a matter of fact, Paul says, "Christ's love compels us, because we are convinced that one died for all, and therefore all died" (2 Corinthians 5:14). In other words, Jesus' love urges Pentecostal preachers to tell others about Him so they too can be saved.
Illustration: Daniel, the man to whom Nebuchadnezzar said, " 'I know that the spirit of the holy gods is in you,' " proclaimed the truth to the king. He did so because he loved and cared about him (Daniel 4:9). Daniel wanted the monarch to avoid judgment, for that reason he warned him despite the risk of losing his own life (Daniel 4:19,27). Stephen, another person filled with the Spirit, loved his enemies so much that he refused to stop preaching the gospel to them even when his life was at stake (Acts 6:5; 8–15; 7:59,60).
Application: The apostle John declares, "Dear friends, let us love one another, for love comes from God. Everyone who loves has been born of God and knows God" (1 John 4:7). When people persecute preachers, what should the heralds of God do? They should show them God's love — by praying for their persecutors, by caring for their enemies' needs, and by not becoming angry with them.
Pentecostal preachers have a concern for holiness
Explanation: Pentecostal preachers have a special concern for holiness (1 Timothy 4:12). Not only do they avoid sin, they keep their promises and appointments. They avoid dirty jokes. They ask the Lord to keep a watch over the words they speak (Psalm 141:3).48 Pentecostal preachers are filled with the Holy Spirit. Thus their lives should reflect His influence in their lives.
Most Pentecostal preachers in North America believe that character is more important than charisma when it comes to preaching.49 As someone said, "What you are speaks so loud I cannot hear what you say." If the preacher's life does not match his or her testimony, no one will pay any attention to his or her sermons.
Illustration: Daniel lived a holy life where no one could find fault with him. So his enemies tricked the king into setting a trap for him. They knew Daniel would not stop praying to his God (Daniel 6:1–13). When the king heard about the alleged violation, he did not believe Daniel had done anything worthy of punishment. He knew the other leaders were simply jealous of Daniel (Daniel 6:14–18). But because Daniel had lived a sanctified life before God, he could face his possible death with faith (Daniel 6:19–23). In the end, God delivered Daniel and judged his adversaries (Daniel 6:24–28).
Application: " 'Therefore come out from them and be separate [i.e. holy],' says the Lord. 'Touch no unclean thing, and I will receive you. I will be a Father to you, and you will be my sons and daughters,' says the Lord Almighty" (2 Corinthians 6:17,18). Pentecostal preachers need to use wisdom in how they spend their time and with whom they associate, lest their associations and activities taint their reputations.
Pentecostal preachers work at relationships50
Explanation: Pentecostal preachers have a special love for unity. The church exists as the body of Christ and should not be divided. Pentecostal preachers want to work well with their own congregations and in cooperation with their own Pentecostal denominations. They see the value of organization and working together to do more for the kingdom of God.51 Since the Holy Spirit crosses denominational lines, Pentecostal preachers will work with other Christians who believe in Christ and in the Bible. On the Day of Pentecost, all the believers were in one accord (Acts 2:1). Pentecostals recognize the value of unity.
Furthermore, Pentecostal preachers take care of their families as well as their churches. They support their spouses and love their children.52 They also avoid the appearance of evil with the opposite sex.53 They do this by:
staying in love with their spouses.
visiting the opposite sex only in public.
avoiding temptations.
talking only on spiritual subjects while on visitation.
Praying.
reading the Bible.54
Illustration: Most of Paul's letters reveal the importance he places on relationships. For example, he cared about the problems the Corinthians faced (see 1 Corinthians). On another occasion, he made it a point to thank the Philippians for their gift (Philippians 4:10-20). On a personal level, the apostle gave advice to at least two young preachers, Timothy and Titus (see 1 and 2 Timothy and Titus). He has a long list of friends in Rome and Colosse (Romans 16:1–16; Colossians 4:7–18). "Besides everything else," Paul writes, "I face daily the pressure of my concern for all the churches" (2 Corinthians 11:28).
Application: The Bible is filled with sage advice about relationships. It instructs believers to:
wait for one another (1 Corinthians 11:33).
encourage one another (Hebrews 3:13).
grumble not against one another (James 5:9).
confess sins to one another and to pray for one another (James 5:16).
love one another (1 John 4:7).
Spirit-filled preachers are even more concerned about getting along with other people than the average believer. They know with God's help it is possible to have quality relationships. They genuinely care about how well they work with their churches and church members.
Steve D. Eutsler, D.Min., Global University, Springfield, Missouri
Notes
15. Many of the insights in this section come from Ray H. Hughes, Pentecostal Preaching, rev. ed. (Cleveland, Tennessee Pathway, 2004), passim.
16. Aldwin Ragoonath, Preach the Word: A Pentecostal Approach (Winnipeg, Canada: Agape Teaching Ministry of Canada, 2004), 19.
17. F.B. Meyer quoted in Myer Pearlman and Frank Boyd, Pentecostal Truth (Springfield, Missouri: Gospel Publishing House, 1968), 72.
18. John Gordy, "Toward a Theology of Pentecostal Preaching," Journal of Pentecostal Theology 10.1 (2001): 93–95.
19. Ragoonath, 19–23.
20. Moon, 24.
21. Ibid., 26.
22. Ragoonath, 23–5.
23. Ibid., 26.
24. Ibid., 21,2.
25. Stephen Olford, "Essentials of Expository Preaching" institute notes (Memphis: The Olford Center for Biblical Preaching, 2004), 39.
26. Moon, 25,6.
27. Hughes, 157.
28. Forbes, 20.
29. Ragoonath, 31,2.
30. Crabtree, 39.
31. Hughes, 159–62.
32. Ibid., cf. Moon, 26.
33. Hughes, 159–62.
34. Ibid., 74,5.
35. Ragoonath, 17.
36. Hughes, 158,9.
37. Ibid., 159.
38. Hughes, 162–4.
39. Forbes, 42.
40. Crabtree, 36,7.
41. Adams, 3.
42. Ibid.
43. Ibid.
44. Crabtree, 10.
45. Hughes, 160.
46. Crabtree, 10.
47. Hughes, 73.
48. Ibid., 73-4.
49. Aldwin Ragoonath, "Pentecostal Preaching in North America" (Th.D. diss. University of South Africa, 2001), 147-83, quoted in Ragoonath, Preach the Word, 17.
50. Many of the insights for this principle come from Hughes, 73–5.
51. Ibid., 76,7.
52. Ibid., 75,6.
53. Ibid., 77.
54. Ibid., 77,8.