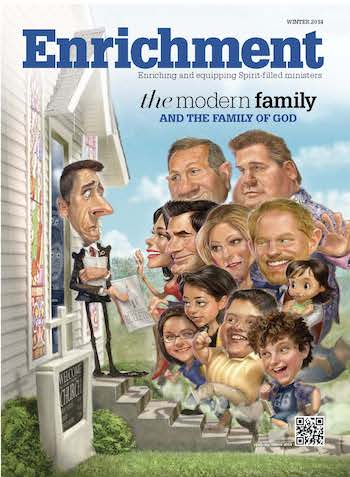 Downloads:
Serve, Don't Shout
Ministering to LGBT Families With Love and Compassion Interview with RICK COLE
---
Homosexuality is a controversial issue in both American society and Christian churches. Ministering to LGBT-identified individuals, their partners, and children present very real, unique, and challenging opportunities for the Pentecostal church. In this Enrichment interview, Rick Cole, senior pastor of Capital Christian Center, Sacramento, California, shares valuable insights he has learned while on his journey of ministering to the LGBT community. His practical insights on this sensitive subject will help Pentecostal ministers better speak about and lead on this important issue.
Tell us your and your church's experience with people who have LGBT backgrounds.
Cole: I experienced what I would call a revelation in how I view my responsibility in ministry to the LGBT community about five years ago. I was approached after church one Sunday by one of our members who shared a concern she had at her workplace. She was working as a nutritionist at an organization called CARES (Center for AIDS Research, Education and Services). There were a number of clients being served who were in advanced stages of HIV/AIDS, and they did not have anyone to provide spiritual guidance or prayer in their last days. I immediately responded that I would love to offer any help that I could.
She set up a tour for me at the facility. As she introduced me to physicians, pharmacists, psychologists, and other leaders, I was struck by the surprise on their faces when they learned that I was the pastor at Capital Christian Center. Though HIV/AIDS is not a gay-only disease, most of those interested in helping were from the LGBT community. I was known in our community for being anti-gay; thus their confusion at my presence in their facility.
I returned to my office that day troubled and convicted. Why were there no faith leaders involved in helping people with HIV/AIDS? Why did there seem to be so much compassion and love flowing from the gay community and only judgment and anger from the Christian community? If the gospel of hope and everlasting life is for all sinners, what can I do to remove the barriers I have built in communicating that hope to the LGBT community?
I have such a strong commitment to declaring the truth of God's Word as I understand it. The louder, the better. Could it be that my convictions are well placed, but my methods are ineffective? Has my heart grown hard toward those whom Jesus weeps over?
Days later I was in a church service where a minister was talking about how his family always prays over their meals and shares a Scripture before eating. With the intent of being humorous in order to break the ice with the crowd, he shared how his favorite verse was John 11:35 "Jesus wept." Now they could eat. Everyone laughed while those words sunk deep into my spirit. When I think of LGBT people, what emotion do I feel — anger, disgust, disdain, and ridicule? Luke 19:41 tells us, "As he [Jesus] approached Jerusalem and saw the city, he wept over it." Jesus was about to suffer and die for their sins and rebellion, yet He was moved with compassion and sorrow for their condition. These thoughts felt like Spirit-inspired revelation and I began to wonder what would happen if I stopped shouting at the gay community and started serving them with compassion and love.
That week I received a call from the leaders of CARES asking if I would be willing to serve on a committee they had developed to address the spread of HIV/AIDS in our community. The "Are You The Difference?" campaign was designed to educate regarding early detection of the disease and the treatment that is available to virtually eliminate the spread of HIV/AIDS. I told them I would be honored to serve.
When one of their board members saw my name on the agenda for approval to be added to this committee, he protested loudly and threatened to quit the board if I was allowed in. As a gay activist he was sure I was his enemy. The leaders encouraged him to at least have a meeting with me and then make up his mind.
We met downtown for coffee, and he came on strong in opposition to my involvement. I told him that if my presence would not be helpful to the cause, I would willingly withdraw from the process. He softened up a bit, and an hour later we were friends.
We continue to meet about once a month to learn more about one another and how we can make a difference in our community. After being raised Catholic, he became an atheist and had not set foot in church in over 30 years. He has now come to our church three times and told me recently he moved from being an atheist to an agnostic. The end of the story has not been written, but I know God loves him. And I know I love him, too.
What are the spiritual needs of people with LGBT backgrounds?
Cole: There are needs that are certainly common to all people, regardless of their sexual orientation. The need for salvation and the ongoing work of the Holy Spirit are the same for them as for anyone in the world today. However, I do see other needs that are unique to their experience. They have the need to be humanized and not objectified. They have the need to be loved and not hated. They have the need to be embraced and not shunned. They have the need to be invited and not picketed. They have the need for a gentle conversation and not angry shouting.
One Sunday, in the middle of my message, I decided to try an experiment. I explained how it is in my power to sway the thinking of people and even manipulate them by what I say and how I say it. For example, I said, "Let's talk about the homosexual community."
I began to raise my voice with greater intensity: "One day every knee will bow and every tongue confess that Jesus is Lord! And on that day, many will be turned away to eternal darkness. All of those homosexuals are going to pay for their sins. They are going to burn in hell!"
At this point, half the crowd began to applaud. I lowered my voice and said with sadness, "You just proved my point. There is no rejoicing in heaven over those who perish. Why would we rejoice at that thought? We should be moved with sorrow and compassion for all people."
I think the biggest need of people with LGBT backgrounds is to be seen as important, worthy of love, filled with potential, and valued. When we see them that way, the message of the gospel has a chance to touch their hearts and bring change.
A gospel-centered ministry involves saying "yes" to sinners and "no" to sin. What does this yes-no dynamic look like when you're ministering to people with LGBT backgrounds?
Cole: The man I mentioned earlier who has moved from atheist to agnostic is an administrator of a local hospital. He is very thoughtful and quite knowledgeable regarding the Scriptures. Our conversations often move to discussions about the Bible and trying to understand who God is. Our main challenge in these conversations is that he has dismissed the Bible as the authoritative and inerrant Word of God.
I said to him one day, "I know you don't believe the Bible to be God's Word, so sometimes it is difficult for me to know how to explain things. I do believe the Bible to be God's Word. That being the case, I find myself with a great responsibility to do my best to represent His Word to others. So, even though there are only a handful of places in the Bible that speak directly to the issue of homosexuality, those references are there. I don't want to misrepresent what God has said. I have a great love for you, and I feel the responsibility to say that the practice of homosexuality is addressed by God as sin. How do you feel about that, and how does that make you feel toward me?"
I was quite surprised at his response. He said, "I've never thought of it like that before. I see the dilemma you have. You want to be true to God and yet express your friendship and concern for me. I can appreciate your position. I still don't see it the same as you do, but it doesn't offend me that you see it that way."
We continue to have these kind of straightforward conversations, but they are immersed in genuine compassion, thoughtfulness, and conviction. We are still engaged in the journey of spiritual discovery, and it is my prayer that he will come to full faith in Jesus by the revelation of the Holy Spirit.
We don't seem to have the same emotional response to those who have been divorced, who are involved in heterosexual promiscuity, who are filled with pride, who are fraudulent and filled with lies, who misuse alcohol or drugs, or who are filled with anger and lack self-control. We offer them hope and the opportunity to receive grace. We welcome them into our houses of worship with open arms.
It is definitely a delicate balance to find the path of conviction and love, to find the path of absolute truth and grace for those who have not yet believed. It requires intense prayer and study. But it is worth the effort. Souls are hanging in the balance. God has not written them off. Neither will I.
How does your church reach out to people with LGBT backgrounds?
Cole: We do not have LGBT-specific ministries. We do our best to provide an atmosphere of love and compassion and make it known that our spiritual journey is open to anyone who has a desire to explore it with us. We make no distinction of who is welcome and who is not. All are welcome. Jesus said to go out into the highways and byways and compel them to come in (Luke 14:23). We are doing our best to build bridges, not barriers.
We have a ministry for special needs families in our church. Highly trained workers minister to the children with special needs so their parents can attend church with confidence their children will be well cared for. The word spreads in the community of special needs families and has attracted many new people.
One Sunday a man brought his special needs son to the class. The leaders engaged him in conversation and discovered that he had heard about this, and he wanted to drop his son off for class. He would be back after going out for brunch. The next week he came again, and the leaders encouraged him to stay for church. He let them know he didn't think he should because his partner was waiting for him in the car. He was encouraged to bring his partner in with him. He politely declined and returned again after brunch. After three or four weeks of this exercise, he was finally convinced that maybe he really was welcome in the church service. He and his partner ventured in the door that day and discovered a welcoming and loving atmosphere. They were moved by the worship and challenged by the teaching. They began attending regularly. They have never tried to flaunt their lifestyle in any setting. You could pass them in the hall and not know they were partners. They are not trying to push any gay agenda. They are genuinely hungry for the presence of God in their lives.
On a recent Sunday, one of these men was sitting with one of our pastors in the café area in our lobby and began to express how he was feeling like he may need to make a change in his lifestyle. He was feeling convicted by the Holy Spirit that celibacy was a lifestyle choice he needed to follow. We are walking this out with him to assist in making godly decisions and following the message and person of Jesus. Love wins.
How does your church disciple people coming from LGBT backgrounds?
Cole: We approach discipleship of those coming from LGBT backgrounds on an individual basis. Every situation has some unique elements and requires sensitivity and careful guidance. There is no one-size-fits-all. We also exercise patience. We do not have an established timeline on what a person needs to do in their spiritual discovery. We walk in discernment and the guidance of the Holy Spirit and the Scriptures.
Last summer we had a series of vision casting meetings on Wednesday nights and provided time for questions from our members. When addressing our heart of compassion for the LGBT community, one person asked how long we would allow a gay person to come to church without making a lifestyle change. My response was, "As long as it takes."
If a person was obviously attempting to push an agenda and displaying outright rebellion, we would respond appropriately to their need for discipline. In contrast, if a person is genuinely and sincerely on a path of spiritual discovery, we will walk with them through the process of submission to God's Word as long as it takes. When we start setting rules, we display the spirit of religion that is comfortable for us but harmful to those who are seeking help.
What are the unique spiritual needs of children being raised by parents with LGBT backgrounds?
Cole: This is very new territory for us. I think we are in the midst of discovery regarding their unique needs. One thing I have discovered through research is that children of gay parents are no more prone to being gay than children of heterosexual parents. In that light, one of their greatest needs is to be treated like we would treat any other child.
I don't have a systematic answer for this question because of its uniqueness and newness. I would simply encourage not singling them out for special treatment, and if they initiate questions, we would seek the wisdom of God and the wisdom of others who may have traversed this field before us.
What can the church do to address these kids' needs?
Cole: The best thing we can do is embrace them, love them, and inspire them to fulfill their God-breathed purpose in life.
Homosexuality is a controversial issue in both American society and Christian churches. What is the best way, in your opinion, for Christian ministers to speak about and lead on this issue?
Cole: The principle that has shaped my thinking and approach on this controversial issue is the Great Commission. Jesus made no distinctions concerning whom we should reach out to with the good news of His love and grace.
I have a history of declaring doom and judgment on the gay community. I don't remember seeing any fruit from that approach. When my heart was touched with love and compassion for those who identify as gay, I stopped shouting at them and started serving them. I have seen remarkable fruit from that shift in my spirit and methods.
We have a tendency to view those who are not Christ followers as our enemy. I am brought back to my senses through the truth of God's Word: "For our struggle is not against flesh and blood, but against the rulers, against the authorities, against the powers of this dark world and against the spiritual forces of evil in the heavenly realms" (Ephesians 6:12).
People are not my enemies. They are precious in the sight of God. He loves them as much as He loves me. He wants me to love them, too. "But in your hearts revere Christ as Lord. Always be prepared to give an answer to everyone who asks you to give the reason for the hope that you have. But do this with gentleness and respect" (1 Peter 3:15).
I have discovered a respect for those who are gay. I respect the precious value of their souls. I am not mad at them. I am for their well-being.
I believe we are most effective in achieving our God-given mission when we are known in the community we serve for what we are for instead of what we are against.