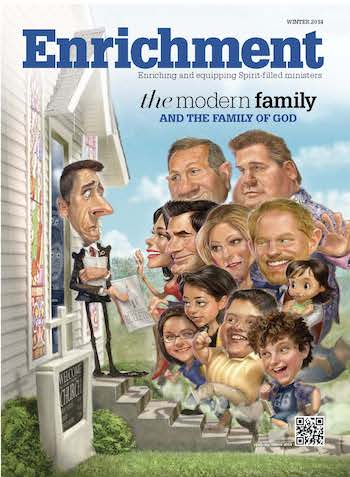 Downloads:
SIDEBAR: Your Church Can Equip Families
by Rob Rienow
---
Here are some practical ways your church can encourage and equip parents to disciple their children at home through family worship:
Provide parents with the primary sermon text for next Sunday, along with a worship song that you will sing in next week's worship service. Encourage every family to read that portion of the Bible and sing that song together during the week. Not only will this encourage more family worship, but it will spiritually accelerate the minds and hearts of both children and adults for the coming worship service. Children who experience family worship at home become trained and equipped to engage in corporate worship at church.
Don't send home follow-up papers/e-mails to parents after Sunday School or children's church. Instead, send "take the lead" papers/e-mails. Following this same principle, tell parents what is coming next week and ask them to take the lead in reading the key portion of Bible and praying with their children at home.
Take this lens of "home first, church second" and apply it to every one of your current next-generation ministries. You may be surprised how quickly you can make key changes that can begin to create a culture of family discipleship in your church.
Does your church have adult classes or small groups? What if those adult discipleship times ended with the leader saying, "Okay, now here is the first challenge I want to give you. Take the Scripture we studied today, and what you learned from it, and share it at home with your children, grandchildren, nieces, and nephews."
The heart of a Bible-driven family ministry is not more spiritual training happening in the church, but more spiritual training happening in every Christian home. If you equip the homes of your church to be filled with regular, faithful, and genuine family worship, you will see the gospel advance for generations to come.
Rob Rienow, D.Min.