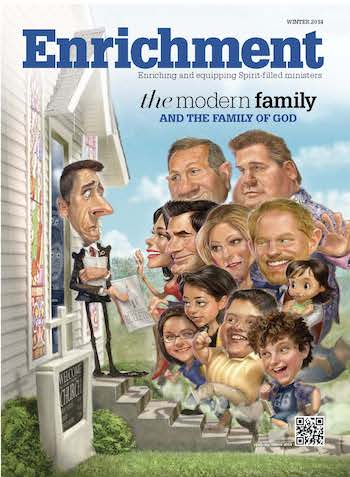 Downloads:
Parenting
A Tough Business
by T. Ray Rachels
---
Now, what should I do?
I'm a father with three kids, and there have been many times when I would have given a pot of gold for the answer to that question.
A friend told of an architect who designed a modern university campus, but left out the sidewalks. "I want to see where the students walk first. They always find their own routes from building to building. Let the students decide what's best for them," he said, "then I'll put in the sidewalks over their paths."
That may be good advice for building the walkways for a school campus, but for parents raising kids, you put in the sidewalks first. That's the tough business of parental guidance because the child's choice of paths and your sidewalks do not always match.
Here are a few sidewalks and paths I have been on with my kids and some things I have learned.
There Is Great Power in Negative and Positive Words
Words can hurt or heal. There is a crucial difference between saying:
"You can't" and "You can."
"You're ugly; you're bad" and "You're beautiful; you're good."
"You're stupid" and "You're okay."
"You don't have what it takes" and "You can do it if you try."
"I hate you; I'm ashamed of you" and "I love you; I'm proud of you."
"You're on your own; don't count on me for anything" and "You can count on me for anything; I'll be there for you."
One of America's great artists remembers coming home from school and putting his crude kindergarten drawing of stick figures and a house on the kitchen table. His mother picked it up, looked it over, and said with pride, "Oh, Norman, this is wonderful. It's a picture of our family."
He said, "My mother made me an artist that day."
Listen to the healing prayer of St. Francis of Assisi: "Lord, make me an instrument of Your peace; where there is hatred, let me sow love; where there is injury, pardon; where there is doubt, faith; where there is despair, hope; where there is darkness, light; where there is sadness, joy."
As Much as Possible, Put Yourself in Your Kid's World
What if every person you saw was a Goliath, and every real problem you faced needed more muscle than you've got? Well, that's a kid's-eye view of the world.
It's tough for an adult to realistically identify with a child's world. But unless I can grasp, if only slightly, how he sees his life and get his perceptions in focus, I'll never be able, with honesty, to say the words that may be most helpful: "I understand."
Understanding is one of the golden coins of a mutually satisfying relationship. But it takes time and attention. You get busy, distracted, and the tendency is to ignore your child, brushing him off because you feel other things are more important, or he wouldn't understand, or his world matters less.
My daughter, Heather, at about 4 years old, once tried to have a conversation with me as I continued reading the newspaper and kept saying to her, "I'm listening." After a few frustrated sentences, she crawled onto my lap, pushed my newspaper away, took my face between her hands, and nose to nose said, "But, Dad, you don't look like you're listening."
If I'm not careful, urgent things will replace important things. And when it comes to family matters, urgent can wait; important can't.
Every Child is a Sponge, Soaking up Data
Kids hear and see everything. If you as a parent are the one saying or doing what they hear and see, then it communicates unspoken permission to them on how to behave, now or later. The power of example is an idea fresh for every generation. Stories of people who have been motivated to greatness or to ruin through the example of another person fill our lives.
I remember a busy and complicated Saturday a few years ago, finishing a morning teaching session with pastors, going by mom's house to pick up my 8-year-old daughter, then stopping by with her to my office for a brief afternoon's work, before driving north to a preaching appointment the next day. While she busied herself in one corner of my office, I dictated letters. One was to a pastor scheduled for throat surgery the next week who would be unable to talk for at least 4 days. I told him a joke about preachers who couldn't talk, referred to Ezekiel's great success as an Old Testament pantomime preacher, and ended by saying I would be praying for him.
About 3 hours later in the car Heather asked, "Dad, do you have a friend who can't talk?"
"Not to my knowledge," I said.
She squinted: "What about the one who's having throat surgery and can't talk for 4 days?"
"Oh," I said.
"You said you'd pray for him."
"Yes, I did say that."
"Well, did you?"
Unconditional Love Can Be Painful
Conditional love can hurt, too. The one constant factor in the relationship is your own commitment to refuse to allow circumstances to break your hold of intentional love and care.
I played baritone horn in my junior high school band. Through a series of circumstances gone wrong, I made some bad choices, missed an important concert, and the school band leader told me the day after the concert, "Pack up your stuff; you're outta the band. I'll see to it that you never play here again or at any other school for that matter."
My parents listened unhappily as I told them the story later that day. Days later at breakfast my dad told me to go back to band class. "Are you kidding," I said. "I've been kicked out!"
"All you've got to do is apologize," he said.
"It won't work; you don't know the guy," I pleaded.
"It will work," he assured me.
I went back to the class, told the band teacher I was sorry, and he said simply, "Well, go get your horn." Unbelievable, I thought. What changed his mind?
Years later, after I was married and had a family of my own, my mother reminded me of the incident. She said that my dad, an unassuming but tenacious man, immediately went back to the school to see the principal, faced the band teacher, and took up my cause. The teacher promised Dad that an apology would do it. And my mother proudly added: "Your dad took the next day off work (unbelievable in itself) and stayed around just to make sure you were treated fairly and with respect." His words to her were: "I never had anybody take up for me when I was growing up, and I'm not going to let him down." I had never heard that story before. I've always loved my dad, but never more than on that day when I learned what he did for me.
Building sidewalks for your family and finding the grace to walk on them together is one of the most compelling and difficult tasks you'll ever face. But also, one of the most rewarding.
Proverbs 23:24 — "The father of a righteous child has great joy; a man who fathers a wise son rejoices in him."
Proverbs 3:33 — "The Lord … blesses the home of the righteous."
Proverbs 15:6 — "The house of the righteous contains great treasure."
Proverbs 22:6 — "Train up a child in the way he should go, and when he is old he will not depart from it" (NKJV1).
1 Timothy 6:11,12 — "But you, man of God … pursue righteousness, godliness, faith, love, endurance and gentleness. Fight the good fight of faith. Take hold of the eternal life to which you were called when you made your good confession in the presence of many witnesses" (emphasis added).
Note
1. Scripture quotations marked NKJV are taken from the New King James Version. Copyright © 1982 by Thomas Nelson, Inc. Used by permission. All rights reserved.