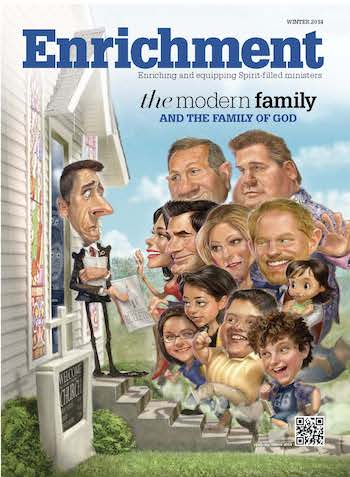 Downloads:
Ministry to Families in the Wake of Divorce
Here are some best practices by churches that are reaching out to the divorced.
by Jane D. Richard
---
I asked my friend how her church was responding to the news of her impending divorce. She lamented, "When I walk into church, I feel like the modern day Hester Prynne. However, rather than wearing a scarlet 'A', I feel like I have a big 'D' on my forehead. Few people know how to respond to me. I feel pitied by some, ignored by several, and rejected by many. I don't know what to say, and neither do they. I may have to look for a new church, or I will just have to stay away from church for awhile until I figure all this out."
How heartbreaking to learn that she was feeling rejection from the very place where she should be receiving healing and hope. Counselors often hear similar sentiments from their clients. Diana Garland writes, "Instead of finding the church to be a place where they can share their burdens with others, some families believe the most painful burdens of their family life … are shameful and thus must remain hidden from the congregation. Congregations do sometimes shoot their wounded rather than care for them. Married couples going through divorce ... may find it more comfortable to leave the church than to seek support and care there."1
Church should be the first place hurting people run to, rather than the place they want to quietly leave. David and Lisa Frisbie write, "Churches probably don't intend to send this message. Nevertheless, divorced persons may immediately feel as if they don't fit in anymore."2 People widely recognize divorce as one of the most stressful life events, yet many churches are not taking advantage of this opportunity to share the love of Christ, who said, "My command is this: Love each other as I have loved you" (John 15:12).
According to Elizabeth Marquardt, the church reaches out to families of divorce in only about 25 percent of cases.3 This means that thousands of churches are missing the opportunity to minister to countless hurting people, both those currently within the church, as well as those who are not. Ministry to the divorced is a mission field ripe for harvest (John 4:35).
How can churches reach out to individuals and families who are hurting as they experience the heartbreak of divorce? Here are some best practices by churches that are reaching out to the divorced.
DRAW FROM YOUR CONGREGATION
Draw from experienced members of your congregation. Recruit spiritually strong members who have walked through and healed from the pain of divorce, either personally, or as parents of children who have divorced, or as children of parents who have divorced. Encourage and train them to walk beside and befriend those who are newly experiencing divorce. Often it is one person who makes a tremendous difference in the life of a divorcing person — he or she becomes the turning point toward a new direction. Implement and cultivate a 2 Corinthians 1:4 environment: "[He] comforts us in all our troubles, so that we can comfort those in any trouble with the comfort we ourselves receive from God."
Churches can accomplish this one-on-one, formally or informally, or in groups structured to provide support. For one-on-one care, Stephen Ministries4 provides training for laypersons to help others who are experiencing a crisis. Divorce care is among the areas they address. Implemented in more than 11,000 churches, Stephen Ministries also trains leaders for small-group programs.
For group support, another successful program is Celebrate Recovery,5 now implemented in over 19,000 churches worldwide. Celebrate Recovery groups encompass a variety of issues, including dependency on alcohol or drugs, low self-esteem, depression, anger, and recovery from broken relationships. Such groups take advantage of the giftedness of the laypeople in your congregation and provide them with a place to serve.
DEAL WITH REALITY
Deal with the emotional needs that accompany divorce. Come alongside individuals and families in the confusing and erratic shift of emotions — anger, abandonment, depression, disorientation, betrayal, rejection, worry, despair, guilt, and shame. Invite them to share their stories and feelings, individually and in groups. Establish an environment of compassion among members. Make your church a safe place for the separated and divorced, allowing them to be vulnerable with their thoughts and feelings. Deal with the reality that infidelity is a key component of many divorces.
Do not dilute discussions by avoiding uncomfortable topics. Do not be afraid to engage in conversations about the taboo subject of sexuality and the single person. People who have become single again certainly struggle in this area.
Timothy Keller says that singles desiring to walk the path of chastity "need a Christian community. … They should be in a community with singles who don't use the world's standards — physical beauty and wealth — as a basis for making partner choices. … Another mark of this community should be free and open discussion about how the Bible's perspective on sex plays out in life and relationships. The more often singles and married Christians reflect on the biblical teaching about this, the more support singles will feel for abiding by it."6 Be prepared to give direction and encouragement to help them make God-honoring choices in a sex-saturated culture.
DEMONSTRATE THE LOVE OF CHRIST
Mercy triumphs over judgment (James 2:13). Do you have bridges or barriers in place when it comes to showing agape-love? Demonstrate the love of Christ as the divorced move past their pain. The Frisbies assert, "Having access to an objective listener can mean the difference between stagnation and growth, between being stuck in the past, and moving confidently toward the future."7 Be willing and available to listen and let them tell their story. "Carry each other's burdens, and in this way you will fulfill the law of Christ" (Galatians 6:2). As pastors, recognize and acknowledge from the pulpit the unique ways anyone touched by divorce may be hurting, especially during holidays traditionally spent as a family (Christmas, Easter, Thanksgiving, Mother's Day, Father's Day). Being sensitive to those times will let them know you have not forgotten about their pain.
DESIGN PROGRAMS FOR CHILDREN AND TEENS
Devote time and resources to address the emotional needs and insecurities of the children affected by divorce. Most divorces involve children. "Overall, 1,100,401 children, or 1.5 percent of children in the United States in 2009 lived in the home of a parent who divorced in the last year."8 In Matthew 18:5, Jesus says "whoever welcomes a little child like this in my name welcomes me." Garland writes, "Older children and adolescents are helped by knowing about the grief process, and that they are not alone. … Recurring themes for children include anxiety and anger; sadness and a secret longing for parental reconciliation; diminished self-worth and blaming themselves for the nonresident parent's minimal or total lack of visiting; guilt because they believe they might have caused the divorce; divided loyalties; excitement and anxiety about a parent's dating; competition with parents' new partner(s); outrage when the new partner tries to take an active parental role; and confusion and role dislocation when there is a new marriage. Caring adults and peers in the community of faith can provide a refuge, a place to express feelings, find support and put boundaries around the familial pain so that play and normal child/youth activities can be restored. This support can come informally from friends or through participation in regular church programming with sensitive adult leaders. It can also be directive, through divorce support group programs for children and adolescents."9
How churches treat and respond to their parents during a divorce greatly influences how children view and embrace the church when they become adults. Elizabeth Marquardt, Amy Ziettlow, and Charles E. Stokes, authors of Does the Shape of Families Shape Faith? offer the following recommendations for pastors, youth ministers, and youth sponsors:
Create safe space for children of divorce.
Listen and allow children of divorce to question and struggle for meaning when it comes to faith.
Be a faith role model.
If married, be a marriage role model. The young people you serve are watching how you interact with your spouse and live out your marriage promises.
Divorce shapes the life story of a person. A person should address divorce in discussing his or her life story and when writing a confession of faith.
Be genuine and listen.
Know that acknowledging the trauma or wound of divorce in a young person's life can be a prophetic role that opens a space for healing and hope.10
Devote efforts to establishing a ministry to blended families and the distinctive challenges they bring.
DETERMINE TO BE OUTWARDLY FOCUSED
Develop opportunities for those who are on the road to recovery to participate in ministry, recognizing that one of best ways to heal is to serve others. Divorced people further along in their recovery can find purpose and fulfillment in helping others navigate the path they have traveled. Design programs for the journey.
Divorce recovery is more like a marathon than a sprint. Recognize that recuperation is a long process. It most likely takes a minimum of 2 years until individuals feel they have "stabilized." These types of programs take patience and perseverance. Teach and remind individuals about the hope Paul describes in Romans 12:12: "Be joyful in hope, patient in affliction, faithful in prayer."
Perhaps one significant component of any divorce-care program is the capacity to use it as an outreach to the unchurched, to the larger community. Many individuals who would not consider attending a worship service are willing to go to a church for a support group, especially if they know church membership is not a prerequisite to joining the group. Once there, churches have the unique opportunity to make them aware of other activities and programs, to invite them to attend worship, and most important to share the love of Christ with them and their children. Mike Clarensau writes, "There's a mission to consider. Jesus went to a Samaritan well wanting more than idle conversation. He showed love to the woman at Simon's house so she could engage in relationship with her Creator. … The love He demonstrated catapulted good news to the front page and made the healing lines more than miracle dispensers. Love was the message, and love was the life-changer."11
DEFUSE CONFLICT, ENCOURAGE RECONCILIATION
Attempt to neutralize conflict in couples who are in the process of divorcing or are contemplating it. Work with the initiator of the divorce to emphasize the potential, possibilities, and positivity of reconciliation. This means tackling one of the thorniest choices for each person affected by divorce — forgiveness. This is one of the most difficult challenges, but perhaps the most important and rewarding. When counseling couples who are struggling to stay together, help them see that while working out their differences can seem like a daunting task, so is the process of divorce. As long as each person has to work on their own issues, whether or not they divorce, why not encourage them to try to work out their issues in counseling prior to choosing to divorce?
DEPEND ON THE LORD
Depend on God to guide and sustain your divorce-care ministry: "Unless the Lord builds the house, the builders labor in vain. Unless the Lord watches over the city, the guards stand watch in vain" (Psalm 127:1). Enlist members to pray regularly — individually and corporately — for the ministry. Encourage spiritual growth through discipleship programs and small groups. Dependence on the Lord is the key to any recovery.
One of the most widespread programs in use today is DivorceCare®,12 a program developed by Steve and Cheryl Grissom. Over 14,000 churches worldwide have used this program. The 13-week class features videos that address emotions, new relationships, finances, parenting, single sexuality, forgiveness, reconciliation, and how to move on from divorce. The program is Christ-centered and applies biblical principles throughout its material. Led by laypeople, it provides teaching through videos featuring Christian experts in the field of divorce care and recovery. For a fee, they provide a kit with the materials needed to begin a DivorceCare® ministry. Your church provides the lay leadership and the facilities. Money to fund the rest can come from a nominal charge to participants to cover the cost of their workbooks. They also offer a companion curriculum called DivorceCare for Kids® for children ages 5–12.
No matter what size your church, ask the Lord to show you now where you can begin to minister to the divorced within and outside your church. Strive to respond in the way that Jesus did — intentionally and lovingly. Divorce is devastating, but you have a choice. You can ignore it, or accept the reality of it and demonstrate the unconditional love of Christ.
Notes
Diana R. Garland, Family Ministry: A Comprehensive Guide (Downers Grove, Illinois: InterVarsity Press, 2012), 12.
David Frisbie and Lisa Frisbie, Moving Forward After Divorce: Practical Steps to Healing Your Hurts, Finding Fresh Perspective, Managing Your New Life (Eugene, Oregon: Harvest House, 2006), 21.
Elizabeth Marquardt, Between Two Worlds: The Inner Lives of Children of Divorce (New York, New York: Crown Publishers, 2005), 155.
Stephen Ministries, http://www.stephenministries.org (accessed 26 June 2013).
Celebrate Recovery, http://www.celebraterecovery.com (accessed 26 June 2013).
Timothy Keller and Kathy Keller, The Meaning of Marriage: Facing the Complexities of Commitment With the Wisdom of God (New York: Penguin Group, 2011), 227,28.
Frisbie, op. cit., 27.
National Parents Organization: Preserving the Bond Between Parents and Children. This site used U.S. Bureau of the Census data from 2009.https://nationalparentsorganization.org/about-npo/npo-news/18807-census_bureau_mothe [accessed 9 July 10, 2013].
Garland, op. cit., 234,35.
Elizabeth Marquardt, Amy Ziettlow, and Charles E. Stokes, Does the Shape of Families Shape Faith? Challenging the Churches to Confront the Impact of Family Change (New York: Institute for American Values, 2013), 63.
Mike Clarensau, From Belonging to Becoming: The Power of Loving People Like Jesus Did (Springfield, Missouri: Influence Resources, 2011), 78.
DivorceCare® ministry, http://start.divorcecare.org (accessed 27 June 2013).
Websites