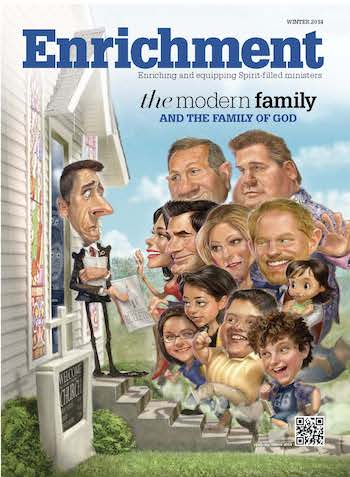 Downloads:
Making Your Church Accessible
By assessing your place, your people, and your programs, you can help make your church accessible for families with disabilities.
by Joe N. Butler
---
I never noticed people with disabilities until about 12 years ago when my son, Micah, was born. Prior to having a child with special needs, I associated disability with old age and unfortunate circumstances. As most Christian parents do, my wife and I prayed over our child in the womb, and we hoped for and expected a healthy child. I assumed if we did everything right (i.e. pray, pursue God, follow doctor's orders), everything would turn out okay. I planned to take my son to ballgames, walk 18 holes on the golf course, and see the family name carried on. But God had other plans. Plans that stretched but eventually strengthened our family.
Something else I never really noticed, prior to having a child with special needs, was how inaccessible most churches are to those with disabilities. Parents of children with disabilities can send their children to school five days a week but have a difficult time finding a church that will embrace them one day a week. With a willing spirit and an intentional effort every church can become accessible to families living with disabilities.
THE PROBLEM OF DISABILITY IN AMERICA AND THE CHURCH
Before Micah I never would have guessed that disability impacted so many families. On average, disability affects approximately 20 percent of individuals in any given community. According to a 2010 U.S. Census Bureau report "of the 62.2 million children under the age of 15, about 5.2 million, or 8.4 percent, had some kind of disability. Half of children with a disability were classified with severe disabilities (2.6 million children)."1 The Americans with Disability Act (ADA) defines an individual with a disability "as a person who has a physical or mental impairment that substantially limits one or more major life activities, a person who has a history or record of such an impairment, or a person who is perceived by others as having such an impairment."2
My son, Micah, is on the autism spectrum. According to the Centers for Disease Control and Preventions, "autism spectrum disorders (ASDs) are a group of developmental disabilities that can cause significant social, communication and behavioral challenges. Developmental disabilities are a diverse group of severe chronic conditions that are due to mental and/or physical impairments. People with developmental disabilities have problems with major life activities such as language, mobility, learning, self-help, and independent living. Developmental disabilities begin anytime during development up to 22 years of age and usually last throughout a person's lifetime."3
The problem of disability in America, the definitions and statistics, can be overwhelming. Without Christ, the church family, and a biblical worldview, parents can only hope for their child to be cured or educated enough to function in society. Sadly, not unlike secular society, the majority of churches have failed to notice families with children with disabilities. In his book, Including People with Disabilities in Faith Communities, Erik Carter says, "Numerous faith groups have acknowledged their failure to respond to people with disabilities in ways that reflect their calling to be caring, loving, and responsive communities."4 According to one study that queried parents of children and youth with disabilities, "fewer than one-half of children and youth with autism, deaf-blindness, intellectual disabilities, or multiple disabilities had participated in religious activities at any point during the previous year."5
This is the state of disability in America and the church. The definitions and statistics can be overwhelming. If we ignore them, nothing changes. When we are made aware of them and understand that we live in a fallen world, but God is still in control, we gain a new perspective on God's purpose and design. God does not make mistakes. God made each person in the Imago Dei, to bring glory to Him.
IMPACT OF DISABILITY ON THE FAMILY
We received the diagnosis of Micah's disability while I was a student at Valley Forge Christian College. I was pursuing a degree in pastoral ministry. To say Micah's medical issues threw a wrench in things is an understatement. Most parents visualize their newborns sleeping through the night, or at least a few hours, and spitting up at a minimum. If Micah slept 2 hours straight, it was a good night. He wasn't able to breast-feed and went through several formulas — due to acid reflux — before we found one he could digest. I had a full schedule of classes while working nights and weekends. My wife, Jen, had the full-time job of parenting a 2-year-old and a newborn with special needs. Among other things, she was responsible for juggling Micah's multiple weekly therapy appointments, which were critical in teaching him to walk, talk, and use fine and gross motor skills. We often felt abandoned in the journey.
Studies indicate that "living with a child with a disability can have profound effects on the entire family — parents, siblings, and extended family members. It is a unique shared experience for families and can affect all aspects of family functioning. On the positive side, it can broaden horizons, increase family members' awareness of their inner strength, enhance family cohesion, and encourage connections to community groups or religious institutions."6 However, it can also negatively affect family functioning in the areas of time, financial costs, physical and emotional demands, and logistical complexities.
Most parents are thrust into caring for their child with special needs with no prior training or understanding of disability. As parents, you do what comes naturally — you love your child and get to know him; which takes time. Unfortunately, many families of children with mild to severe disabilities do not have much time left to invest in their marriage or other children. Studies indicate "that having an infant with a serious health condition or health risk increases the likelihood that parents divorce or live apart."7 Parents of children with disabilities may experience increased guilt and blame, and reduced self-esteem. Another study found "that parents with disabled children have lower rates of social participation than parents without a disabled child."8
THE BIBLICAL MANDATE FOR THE CHURCH TO COME ALONGSIDE FAMILIES WITH DISABILITIES
When I think about the biblical mandate for the church to come alongside families with disabilities, the image that comes to mind is the body of Christ. When a part of our physical body is inactive or rejected, it affects the complete body. The same is true when the church fails to include each part of the body of Christ, especially the "weaker" parts, which may be people with and without disabilities. The Bible is clear that "all members are equally included and valued."9
First Corinthians 12:22–26 says, "[T]he members of the body that seem to be weaker are indispensable,and those members of the body that we think less honorable we clothe with greater honor, and our less respectable members are treated with greater respect;whereas our more respectable members do not need this. But God has so arranged the body, giving the greater honor to the inferior member,that there may be no dissension within the body, but the members may have the same care for one another.If one member suffers, all suffer together with it; if one member is honored, all rejoice together with it" (NRSV10).
Theologian Amos Yong states, "A biblically informed and inclusive pneumatological ecclesiology emphasizes both that the church is liberated from whatever disabling barriers might exclude certain of her members from full access and participation and that the 'weaker' members are accorded more honor by God and therefore are more central to the identity of the body of Christ."11 Yong goes on to say, "[T]he Holy Spirit ... is actually the one who acts as the champion and advocate of all people, especially the poor, the 'weak,' and the oppressed, and who initiates them into the body of Christ. The result is or should be a kind of hospitality in which us/them barriers are overcome"12 Too many well-meaning churches today are ministering out of their own strength instead out of Christ's power. Paul reminds us in 2 Corinthians 12:10, "For when I am weak, then I am strong."
Christ's Great Commission does not differentiate between those with disabilities and those without; it clearly states the church's missionary task is to reach all nations. People with disabilities need Jesus just as much, and sometimes more, than those without disabilities. We must evangelize them by coming alongside them and sharing the gospel in word and deed.
INCLUDING AND SUPPORTING FAMILIES INTO THE COMMON LIFE OF THE CHURCH
When it comes to finding a church home, for a family affected by disability, the process can be scary and choices can be slim. Much like new parents, the majority of churches do not know what to do with children with disabilities or how to come alongside such families. The bottom line is families are just looking for a place to belong.
So how do churches enfold and support families with disabilities into their common life? It's not rocket science, but churches do need to be intentional. The most important quality in becoming an accessible church is creating a welcoming environment. Jesus socialized with people from all walks of life and welcomed those whom society rejected. The saying is true, "People don't care how much you know, until they know how much you care."
By assessing three key areas of your church — your place, your people, and your programs — you can help make your church accessible for families with disabilities.
Your place. There's nothing more frustrating for a person or a family with a disability than not being able to get into the front doors of the church, the sanctuary, or the classroom. Borrow a wheelchair for a day and take a spin around the outside and inside of your church to see how accessible your church is for wheelchair users. Are there enough accessible parking spaces near the front entrance? Are there curb cuts to get onto the sidewalks? Is there an elevator, ramp, or lift to access all areas of the church? If not, what kind of signal are you sending to your community? Make modifications where necessary.
Your people. Just because families with disabilities can get into your church does not mean your church is accessible. Does your leadership team and congregation know how to welcome and address individuals and families with disabilities? One way you can do this is by having a Disability or Special Needs Awareness Sunday to help your church learn how to interact with people with disabilities and their families. Share about the need to reach out to and include people with disabilities in the body of Christ, talk about people-first language where you address the person first, before the disability (e.g., the boy with autism versus the autistic boy). And, encourage fellowship among congregants and families with special needs. God meant the church to be a community where we share one another's joys and burdens.
Your programs. When it comes to your programs, it's not as much about starting a "disability ministry," as it is about changing your philosophy of ministry. I suggest mainstreaming individuals with special needs into your existing programs whenever possible. Kids tend to accept each other's abilities best when they are familiar with one another. You will begin to notice things like kids without disabilities, who develop a heart for those with disabilities.
For years, public schools have been using individualized education plans (IEP) to set goals and implement learning strategies for students with special needs. The church can learn something from the way the school system operates. By communicating with the parents of children with special needs in your church, you can discover how best their child learns, what they like and do not like, what they know and do not know about God, how best to keep them on task, and how best to divert and deal with an incident. Modify or develop an intake form for families that includes a question that asks if you can review their child's IEP with them, so you can best include their child with special needs into the church.
Families with children with disabilities are a necessary part of the body of Christ. But, because we naturally fear the unknown, we can tend to ignore such families in our local and church community. Ministry, in general, is risky, but the reward is well worth the risk. Joni Eareckson Tada and Steve Bundy tell us "that when a church fails to welcome the disability community there's a high price to pay — Jesus said, 'I tell you the truth, whatever you did not do for one of the least of these, you did not do for me' " (Matthew 25:45).13
Notes
Matthew W. Brault, U.S. Census Bureau, "Americans with Disabilities: 2010 Current Population Reports," issued July 2012, http://www.census.gov/prod/2012pubs/p70-131.pdf. (accessed 4 April 2013).
Americans with Disabilities Act, 2009, http://www.ada.gov/pubs/ada.htm. (accessed 4 April 2013).
Centers for Disease Control and Prevention, "Autism Spectrum Disorders (ASDs)," http://www.cdc.gov/ncbddd/autism/data.html. (accessed 4 April 2013).
Erik W. Carter, Including People With Disabilities in Faith Communities (Baltimore: Paul H. Brooks Publishing Co., 2007), 27.
Ibid.
Nancy E. Reichman, Hope Corman, Kelly Noonan, "Impact of Child Disability on the Family," Maternal Child Health Journal, (2008): 12:680.
Ibid.
Ibid.
Amos Yong, Theology and Down Syndrome: Reimagining Disability in Late Modernity (Waco, Texas: Baylor University Press, 2007).
Scripture quotations marked NRSV are taken from The Holy Bible: New Revised Standard Version / Division of Christian Education of the National Council of Churches of Christ in the United States of America. Nashville: Thomas Nelson Publishers, c1989. Used by permission. All rights reserved.
Yong.
Ibid.
Joni Eareckson Tada and Steve Bundy, Beyond Suffering: A Christian View on Disability Ministry (Agoura Hills, California: Christian Institute on Disability, 2011).