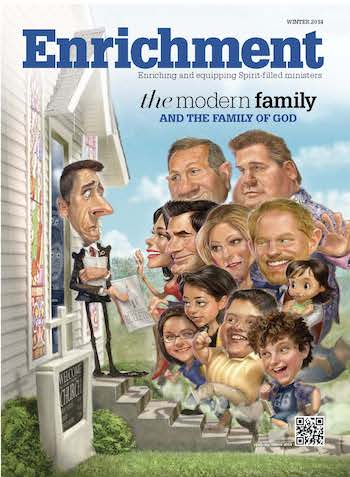 Downloads:
How Can I Better Deal With Depression?
Christian leaders may find it difficult to admit a struggle with despondency for fear of appearing weak or unspiritual.
by Gabriele Rienas
---
Q: I was devastated to learn recently that a pastor's wife in our town committed suicide. I had met her only a few times. She appeared to be a solid ministry partner with her husband. I cannot stop thinking about how tragic this is. I have had some private battles with periodic depression. Generally, I push through them alone, but this news makes me wonder if there is something more I can do to deal with it better.
A: You are right to take another look at what you are experiencing and to ask questions about dealing with depression. Depression is a diagnosable, treatable condition. Even men and women of the Bible experienced periods of despair and overwhelming sadness. Unfortunately, it seems difficult for a Christian leader to admit a struggle with despondency for fear he or she will appear weak or unspiritual.
For ministry wives, the public role makes it difficult to risk vulnerability by speaking up. Ironically, depression is extremely common among pastors' wives. You are not alone.
An article1 written by Donna Bordelon Alder details a survey that she and Dr. Cecil Paul, psychology professor at Eastern Nazarene College, developed. They administered it to a number of pastors' wives and the results reveal the following:
The average pastor's wife in the survey was 39.1 years old and had been in ministry for 12.2 years.
For the most part she described the ministry as rewarding, exciting, and challenging.
On a scale of 1 to 10 (1 being poor) she felt 7.45 about life and 6.78 about herself.
Fifty-four percent of the women surveyed reported both ups and downs in ministry.
Twelve percent only saw the downs.
The most compelling finding was that 88 percent of all the women surveyed answered yes to the question, "Have you ever experienced periods of depression?" Twenty-five percent said they had suffered depression once or twice in their lifetime. Twenty-three percent reported once or twice a year.
Remember that these are the same women who reported a general satisfaction with ministry along with positive feelings about their role. The reason for the strong correlation between ministry and depression is not clear. However, it would not be a great stretch to assume that contributing factors would include spiritual warfare, the pressures, demands, high expectations, and challenging relational dynamics of ministry.
It seems you are aware of what you are dealing with when you cycle through the dark times. Unfortunately, there are many women who experience something like this and falsely conclude that they are unspiritual, undisciplined, or even crazy. They are not aware that their condition is diagnosable and manageable.
Depression is a likely diagnosis if five of the following symptoms are present:
sadness (or irritability) that lasts at least 2 weeks or longer
loss of interest or pleasure in things that normally would bring satisfaction
a shift in eating habits (increase or decrease of food intake)
a shift in sleeping habits (increase or decrease)
restlessness or apathy
fatigue or loss of energy
feelings of worthlessness
difficulty concentrating or focusing
thoughts of death
Some people will experience one or two episodes of depression in a lifetime, while others cycle through periods of despondency on a cyclical basis. The questions remains, What they can do to better deal with it?
I am assuming you already have a prayer life and a relationship with Jesus as your Shelter and your Helper. However, in the dark times it is common to feel like God is distant and unavailable. Continue to exercise your faith as much as you can, leaning on what you know rather than what you feel. Listen to worship music that emphasizes God's nearness and love.
Here are some additional suggestions:
Admit it: There is no shame in admitting to being depressed or having a tendency to cycle through times of depression. God certainly knows about this and many others experience it. Other than putting on appearances, you gain nothing by keeping it a secret. Instead, as a leadership wife you have a marvelous opportunity to model a healthy perspective on life, admitting the dark times, while walking through them without succumbing to despair. Yes, people are watching. Let them see real life walked out in honest ways.
Talk to someone. Do not try to walk through this alone. Talk to someone about what you are going through. Find a counselor or a trusted mentor who will not minimize or over-spiritualize your struggle. If necessary, invest time and money in this. Your investment will last for a lifetime. One of the biggest sources of both stress and peace in your life is your pattern of thinking. A counselor can help you address your thought life and your beliefs about yourself. Studies indicate that this is among the most successful intervention for depression.
Gather prayer partners who stand ready to pray for you without requiring all the details. Depression seeks isolation but force yourself to stay connected to supportive friends and the important people in your life.
See your doctor. Multiple physical factors can contribute to depression. Among those are hormones, side effects from prescription drug, genetics, and chemistry. Visit your doctor to address the physical reasons. At the same time, discuss any treatment options and seriously consider them.
Self-care: Take care of yourself physically, relationally, and emotionally. This is not selfish but rather stewarding your physical, spiritual, and emotional self in a way that honors both God and yourself. Examine your eating habits, your sleeping habits, your support network (does it exist?), and your stressors. Simplify your life wherever possible and get back to the basics of rest, worship, family, and fun.
Getting back to the tragic event that motivated your question, one thing is absolutely essential. If ideas and fantasies about ways to injure or kill yourself accompany recurring thoughts of death, do not hesitate to get help immediately. If you do not have a counselor or proactive family member you can talk to about this, call 911, a crisis hotline, or get to an emergency room ASAP. Tell someone who takes you seriously now.
Thank you for your honest question. The tragic loss in your town reminds us once again that pastors' wives are real people capable of experiencing great brokenness and despair. Like anyone else, we are utterly dependent on God's grace every day to walk with Him and to allow Him to show us how to walk wisely and victoriously.
Note
1. Donna Bordelon Alder, "How to Encourage Your Pastor's Wife," Thriving Pastor, (2005), http://www.thrivingpastor.org/articles/married/A000000065.cfm. (accessed 5 April 2013).