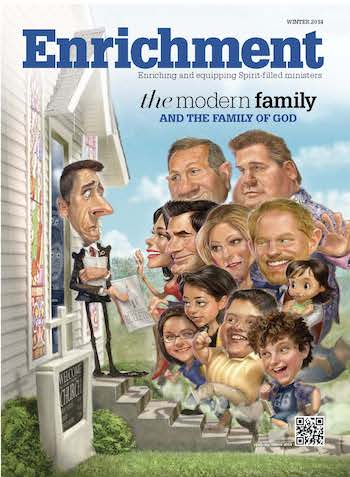 Downloads:
Foster-Care Ministry Matters
Church leaders must lead the church to own its biblical responsibility to redeem the fatherless.
by Jay Mooney
---
>
When Bill invited Jenna, a foster child, to help him with a project in his woodshop, it did not seem logical. Jenna did not have a background for woodworking. In fact, some were surprised to learn of her interest. But a seemingly unconventional invitation unlocked a heart and opened a door to a child in need.
Jenna began to carve a pen from olive wood. The pen would have two wooden shafts to contain the remaining components. Bill talked to Jenna out of his fatherly wisdom and made Jenna feel safe. At times he spoke about a Carpenter from Nazareth and how He likely worked with olive wood in his family shop. Jenna was intrigued. They talked about the Carpenter's life and His unconditional love for others. They talked about His power to make things from nothing and fix them when they were broken.
Finally, they had cut and polished the wooden shafts and were ready to assemble them. Jenna fastened the components and exclaimed, "I'm not a failure. I can do something right!"
Jenna suffered from multiple forms of abuse that affected the confidence and hope of her beautiful life. Simply building a pen changed her course. Not only did she come to trust Bill's leadership in the woodshop, she trusted in the Carpenter whom Bill had spoken of as the hope in his own life.
What we do for a foster child matters.
There are more than a million so-called modern orphans in the United States. Over 400,000 children and youth are in the stressed American foster-care system. The estimated remaining children and youth — runaway, trafficked, and abducted kids — are outside an exacting measurement system.
FOSTER CARE IS A BIBLICAL VALUE
The Bible recurrently declares God's jealousy for the orphaned or fatherless. The Old Testament paints a broad picture of God's love for the orphaned. Deuteronomy 10:18 says, "[God] defends the cause of the fatherless." Moses was a foster child. Pharaoh's daughter, the foster mother, even paid Moses' mother to nurse her own son. Esther was an orphan before she was a queen. God had a redemptive destiny for her and her people.
Psalm 82:3 declares: "Give justice to the weak and the fatherless" (ESV1). Among the 43 references to the orphaned or fatherless in the Old Testament, all are in the context of mercy or justice.
The New Testament uses the Greek word most often translated as "orphan" (ὀρφανούς) only twice. First, Jesus references it in John 14. Jesus promises the coming Holy Spirit. In verse 18 He exclaimed, " 'I will not leave you as orphans.' " Though He would soon leave earth and men would not see Him, another would come from the Father so we would not be orphaned.
Second, James (Jesus' brother) speaks to it in James 1:27. Jesus' brother explained that a pure practice of Christian faith includes care for the orphan.
Strong's Greek Dictionary describes the word orphan as "one who is bereft of parents or of a father." This describes many foster children. They need a loving family. They need a Christian family. They need an encounter with the redeeming love of Jesus Christ.
Scripture recurrently echoes a compassionate and redemptive call for the fatherless and fragmented of the world. This world is in the backyards of American churches.
FOSTER-CARE MINISTRY CAN THRIVE THROUGH THE CHURCH
Foster-care ministry is deep in the heart of Timberline Church in Fort Collins, Colorado, under lead pastor, Dary Northrup, and missions pastor, Mark Orphan. They call this ministry Welcome Child, and a foundation called Finally Home supports it.
Kari Stewart is a foster mom and volunteer leader in Welcome Child. The community of faith represented in the church provides a framework for effective foster-care support. The spiritual, educational, emotional, and social supports are fitting. Tenets of faith that forge acceptance, forgiveness, grace, love, trust, and hope are fertile ground for effective foster-care ministry.
Christians are often among the better foster-care providers, according to multiple social workers and government leaders who influence a growing movement for foster-care ministry. The community of faith can be supportive and understanding for such caring families. Foster-care ministry in the church can be as simple as an affinity group of foster families, and as synchronized as age or gender-based programs. The church helps make the government system work.
God's Word does not speak to government's responsibility for the fatherless or orphan; it speaks to the church's responsibility.
Some describe the current foster-care crisis as threefold:
Capacity — There are not enough homes in which to place all those in the foster-care system.
Stability — Approximately one in three foster-care children and youth will move through an average of three homes this year.
Quality — Not every foster-care home is adequately trained, equipped, or supported to succeed. Does the child receive an adequate witness of God's redeeming love?
The church is uniquely qualified to provide a solution to the national foster-care crisis. The current 3 million Assemblies of God adherents represent 5 percent of the 60 million evangelicals in the United States. With more than 400,000 children and youth in the daily foster-care system, would it not be reasonable to conclude that God should expect the Assemblies of God Fellowship to care for at least 20,000 of the foster-care children in need?
We can do more than nod at the need; we can act.
Some churches embrace orphan ministry at the local level. In context to what we call the Law of the Diffusion of Innovation, these are innovators and early adopters of a growing movement. Historical parachurch orphan ministries and these local church orphan ministries are forging a new road of harvest that is flipping the current challenges toward a better future.
MANY FOSTER CHILDREN AND FAMILIES STRUGGLE IN FOSTER CARE
The American welfare system is broken. It struggles to keep up with the need, and it does not address the root of the problem, which is spiritual. The system provides monetary support to the approved foster family for the care of a foster child. In many instances, it averages around $500 per month per child. We can liken it to a modern version of the government paying Moses' mother to nurture him for a while.
The American foster-care system started as a cottage industry 70 years ago and now is an estimated "$23 billion a year industry of the federal, state and local government bureaucracies."2
It is a complex and stressed system that money does not and cannot resolve. Thousands of Christian families faithfully serve as foster and adoptive families. They are heroes to children whose lives would otherwise be without Christ-centered, compassionate care. Foster care may not be easy, but the outcomes are eternal.
Foster children are often broken of trust, frightened, and hopeless. The complexities of prenatal drug use, abusive homes, absent fathers, and other maltreatment can lead to post traumatic stress disorder (PTSD) and Reactive Attachment Disorder in children. These injustices can be a challenge for foster-care families and ministries.
But how can anyone blame the struggling children? They never signed up for abandonment, an absent father, or a missing mother. They did not ask for brokenness. These kids long for a stable home, and most foster children prefer to be with their maternal mother and paternal father. If they cannot be with their biological parents, then they prefer to be with a couple who will be their foster mother and father, and perhaps adoptive parents. This is the beginning of success for them. Successful foster parenting must have care for the child at heart. Unfortunately, not all endeavors do.
Some foster parents are not principally motivated on behalf of the child. Per diem payments from the government motivate some foster parents. It is not inherently wrong to receive government assistance, but it is wrong when it is the principal motivation. Just to be a parent is the principal motivation for others. It is not wrong to want to be a parent, but it is wrong to place the desire to be a parent above that of parenting a child. The motive to foster parent may include the desire to parent, but parenting a child must be above and beyond it.
Many in the same-sex marriage movement are motivated toward foster parenting as means of family building. Again, the matter of need is not about adults; it is about children. Fortunately, social workers place many children in homes where the child's needs motivate their desire for becoming foster parents.
What kinds of homes do most of America's foster children and youth find? What sets apart the better homes?
Foster families surrounded with a church community of faith tend to succeed in ways that more isolated foster families otherwise struggle through. Too often couples venture into foster care ill equipped for the task. Pure-hearted motive needs to be met with good information, training, and support for success. When we do not adequately train and support foster families, foster parents feel ineffective or become heartbroken and resign to any future in foster care.
God's heart for foster children is more than one of social justice. He has a design for their soul and spirit. It is good for children to have safe, stable, and quality care. Yet, Scripture evidences God's longing to give children a witness of the love of Jesus Christ too. God wants a relationship with them.
FOSTER CARE IS A PATHWAY FOR ADOPTION
It is beautiful to see faith and family forged through foster care. In a number of cases it leads to permanency — adoption.
If the court removes the rights of parents who are repetitively guilty of child maltreatment, the affected children can become adoptable. More than 100,000 — approximately 25 percent — of foster children and youth are adoptable. Many await a permanent adoptive dream.
An oft-unknown value in adoption through foster care is that adoption does not suspend monthly per diem support. In essence, the government pays the family to adopt. The government deems it more valuable than the alternative. Furthermore, some states provide scholarship programs that will pay for an adopted foster child to obtain a college education.
When a couple believes God has called them to adopt, they are not limited to overseas adoption or even newborn avenues. They can look in the backyard of their own community.
FOSTER-CARE MINISTRY IS A GREAT MISSION
Scripture is ripe with calls to care for the underdogs — the orphan, widow, sojourner, poor, crippled, and beyond — as worthy of the social care among the people of God. Jesus often taught the value of looking after those who need help.
In Mark 9:33–37, the disciples are arguing about greatness, specifically "about who was the greatest." Mark records Jesus' response: "Sitting down, Jesus called the Twelve and said, 'Anyone who wants to be first must be the very last, and the servant of all.' He took a little child whom he placed among them. Taking the child in his arms, he said to them, 'Whoever welcomes one of these little children in my name welcomes me; and whoever welcomes me does not welcome me but the one who sent me' "(verses 35–37).
In essence, Jesus said, "If you want to be great, this is how you do it." And He embraced a child.
God has a way of making the least the greatest. He called us to embrace the modern orphan, unwed pregnant teen, widow, and sojourner. It would be wise for churches to concentrate on doing what God calls them to do. Churches will find His favor and growth in return.
In John 15:16, Jesus says, " 'You did not choose me, but I chose you and appointed you so that you might go and bear fruit — fruit that will last — and so that whatever you ask in my name the Father will give you.' "
Perhaps we should advertise less to the community and reach out more to it. In turn, God may give us the trust and favor of our community because we touched the needs that were there.
It is estimated that up to 30 relationships surround the average foster-care child in need. There are family members, friends, social workers, advocates, lawyers, judges, doctors, and other professionals connected to the child in need. Caring for a child could extend a loving reach to dozens more.
THE CHURCH SHOULD ACT NOW
Every generation has its share of fatherlessness. The Holy Spirit provides power for God's people who minister to the needy. "We are therefore Christ's ambassadors, as though God were making his appeal through us" (2 Corinthians 5:20).
Every child has a destiny designed by God found in an identity with Him. What do you see when you look into the eyes of a fatherless or fragmented child? Do you see what God sees?
What if you did not have a name? Even if you did, what if you did not have a grip on your identity because you never belonged. As God's people, what we do with His directives matter.
The Holy Spirit is calling the American church to address its biblical mandate to care for the fatherless. Compassion without action is empathy. "Moved with compassion, Jesus reached out" (Mark 1:41, NLT3).
As church leaders, we must do more than nod in agreement that the redemption of the fatherless and fragmented is important. We must lead the church to own its biblical responsibility to redeem the fatherless and fragmented. We must be "salt and light."
Foster care is a vehicle for the empowered church to redeem the fatherless and fragmented community. So what can pastors and church leaders do? Here are several pathways for the local church to consider:
Recognize the foster-care community in your congregation.
Educate yourself through resources available on the subject.
Investigate and identify the foster-care need in your community.
Consider contacting a licensed child-placement agency in your state, preferably a Christ-centered agency, for assistance with foster-family approvals and child placement with prospective couples in your church.
Present the foster-care need to the congregation.
Support foster-care ministry and the broader modern orphan need.
Pray for God's favor with the growing movement and work in the cause.
God wants His church to serve as a stream of redemption for the social ills of local communities. The span of foster-care ministry stretches across families, churches, child-placement agencies, social workers, legal services, advocacy, camping ministry, and beyond. Perhaps, the most heroic are the more permanent caregivers — chiefly adoptive and foster families. These people are redeeming the modern orphan.
God is growing His heart for the modern orphan in many Assemblies of God churches. Pastor Chris Beard and People's Church, Cincinnati, Ohio, is collaborating with other pastors to redeem fatherless children in their community. Pastor Charles Sanderfur and New Vision Fellowship, Knoxville, Tennessee, has been changing the lives of foster children for over a decade. From coast to coast the tide is rising in the body of Christ for the modern orphan.
Hundreds of churches are reaching out to America's fatherless and Christian foster families. Local and state governments have grown to favor some of those leaders and their churches.
Steve and Sandra Hogue, of Calvary Christian Center, Ormond Beach, Florida, have fostered more than a dozen children. They have a growing voice for foster-care ministry that rings across their church, community, and state. But it rings loudest in their seven adoptive children who now call them dad and mom. What about you, your family, or your church?
One may ask, how can the effort of one heart, one family, one church, or one fellowship make a measureable difference to meet the growing needs of today's modern orphans?
Proportionately it matters to each foster child — children with names like: Rebecca, Brian, Nelson … Faith, Alex, Michael … Wayne, Samantha, Samuel … Ari, William, and Dakota.
Notes
The Holy Bible: English Standard Version. Scripture quotations marked ESV are taken from The Holy Bible: English Standard Version, copyright 2001, Wheaton: Good News Publishers. Used by permission. All rights reserved.
Bill Hancock, "Faith and Celebrating Life, A Foster Child Solution," FaithBridge Foster Care newsletter, May 8, 2013. http://www.faithbridgefostercare.org/news-and-events/news/in-the-news/ffc-on-zpoliticscom,-may-2013.aspx [accessed 10 July 2013].
Scripture quotations marked (NLT) are taken from the Holy Bible, New Living Translation, copyright © 1996. Used by permission of Tyndale House Publishers, Inc., Wheaton, Illinois 60189. All rights reserved.