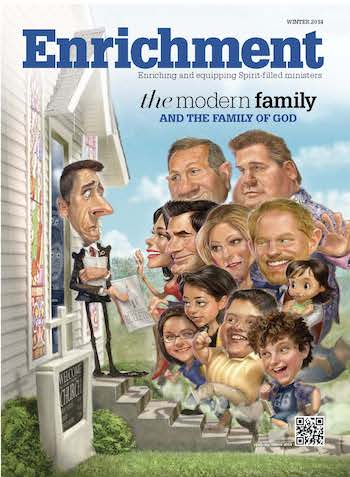 Downloads:
"Family-ing" Single Adults
Pastors have a unique opportunity to attract and positively influence single adults.
by Dennis Franck
---
BOB'S EXPERIENCE — WILL HE RETURN?
Bob arrived at church 10 minutes before the service began hoping to connect with someone to ease the butterflies in his stomach. It had been 3 years since he stepped into a church, but his recent separation and impending divorce helped him recognize his need to develop some sort of spiritual life. A few people in the lobby laughing together noticed him but seemed preoccupied.
Bob quietly slipped into the back row hoping someone would speak to him. Others around him looked straight ahead as if they were in a trance … or were they just afraid to speak to someone they did not know?
The service began: "Welcome to First Church. Let's stand and sing about the love of God." After a few songs and prayer, the leader asked people to say hello to each other. Bob turned to someone in front of him, but that person was already talking to someone else.
After an awkward 10 seconds, a man and woman next to him said, "Are you new here? Did you come alone or is your wife here, too?" The word wife stirred feelings that were difficult for Bob, and several questions ran through his mind. Why assume I'm married? Why ask such a personal question? Do I stand out like a fifth wheel here?
The men's retreat promotion didn't help either. The speaker mentioned the retreat was only a month away and that wives should be happy their husbands will come back better equipped to strengthen their marriages. Feelings of loneliness and emptiness flooded over Bob. He didn't choose to end his marriage; his wife left him for another man.
Bob hoped the sermon might offer some encouragement to help deal with his impending divorce. The essence of the sermon — family and marriage are God's desire for us — caused him consternation and pain. His marriage was over.
The pastor concluded his message by asking couples and families to stand for prayer. Bob noticed many adults didn't stand, and he assumed they were either single or without their spouse that day. Nothing was said about those who didn't have a spouse present. Bob didn't enjoy the service and wondered if/when he would ever return.
SANDY'S EXPERIENCE — SHE'LL RETURN
Sandy went to church as a girl, but it had been 14 years since her last visit. A persistent uncomfortable feeling caused her to visit church one Sunday. When she entered, a man and woman greeted her. "My name is Don and this is Mary. What's your name?" Being single, Sandy noticed they were not wearing wedding rings and thought it was great a single male and female were serving as greeters.
"I'm Sandy. I'm just visiting today."
"Wonderful," said Mary. "We meet lots of new people and are glad you are here. Would you mind if we sat with you?"
"Well, no … I guess that would be okay. Thanks." Sandy thought it was nice that people who didn't know her would sit with her.
Don and Mary seemed to sense Sandy's confusion at certain points in the service and offered short, simple explanations why people got excited, lifted their hands, and prayed out loud.
"Whether you are new to the area or live here, married, remarried, single, or single again, we welcome you. You are part of the family of God, and we will do everything we can to help you feel a part of it."
That sounded nice, Sandy thought. I really need to feel part of a family since mine is 500 miles away.
After the service, Don and Mary asked Sandy to go to lunch with them. "Some of us single adults have lunch together on Sundays," Don said. "We almost always have new people and would really like you to join us."
Wow, thought Mary, Sunday afternoons are kind of lonely anyway. "Yes, I'll go. Thanks." Sandy met 15 other single adults and learned they meet weekly for discussion and friendship, and one or two social events every month. She sensed this could be a group where she might develop healthy friendships. Sunday was a good day for Sandy.
BY THE NUMBERS
Single adults of all ages and types are in every community.Let's consider the varied types of single adults living in our neighborhoods. The Census Bureau reveals:
64.5 million never-married adults — 27.5 percent of all adults.
25 million divorced adults — 10.6 percent of all adults.
14 million widowed adults — 6 percent of all adults.
31 million adults live alone — 27 percent of all households in 2010, up from 17 percent in 1970.
15 million single-parent families with 24 million children under age 18.
55 percent of children are reared in nontraditional families (without birth mom and dad).
43percent of first marriages end in divorce.
60 percent of second marriages end in divorce.
65 percent of remarriages with children end in divorce.
— America's Families & Living Arrangements: 2012 U.S. Demographics1
People representing these statistics struggle with marriage and rearing children; they wrestle with unemployment and fear; they close their garage doors quickly after entering to keep neighbors from seeing into their hearts and lives. Many of them have abandoned hope that life will ever get better. These individuals desperately need the church to show the love of God to them if they are to be a part of the church family.
YOU MAKE THE DIFFERENCE
Your church can make the difference by showing God's love to others. Bob's story portrays an experience far too common in many churches today. As a single adult, Bob needed to feel included and part of a family. Bob needed to be "family–ed."
"Family" is more than a noun; it is also a verb. Christians need to family each other, especially those who may not have a family due to death of a spouse, death of a marriage, relatives many miles away, or other reasons.
Churches want everyone to become part of a church and feel included. Accomplishing this, however, requires more than hope. Single adults need the church to realize not all adults are married, and not everyone has family nearby. The church needs to understand that single adults want/need people to accept them, maybe even more than married adults who have each other. The church needs to know single adults benefit from meeting other single adults with whom they share common interests and needs. The unmarried benefit from church leadership using inclusive language that recognizes and affirms individuals representing the many types of marital status: married, remarried, never-married, formerly married, separated, single parent, etc.
How can your church — the hands, feet, and voice of Christ — help single or single-again adults feel included? How can your congregation help them come to the knowledge of the truth of the gospel?
Suggestions for Everyone
Here are basic suggestions:
Use single and married greeters. Single adults deserve a warm welcome by other single adults at the forefront of their experience in a church.
Do not assume someone is married. Being alone does not necessarily mean one's spouse is absent, any more than being with someone of the opposite sex means the two must be married.
Express interest in others by asking about their life, work, interests, family, etc. If they seem to be alone, ask if you may sit with them. If they are single, introduce them to other single adults. Unmarried people crave healthy friendships.
Do not assume someone is accustomed to your church's worship and style. Explain parts of the service that could possibly be threatening to visitors.
Invite an unmarried visitor to go to lunch, and include other single adults with whom that person could possibly build friendships.
Suggestions for Married Adults
Families in many churches tend to network well with one another, but the connection between single adults and married adults is usually weak or even nonexistent. Commit to bridging the divide between married and single adults.
Consider these suggestions:
Resist the temptation to suspect a single adult wants your spouse. Unmarried adults want and need to see a healthy marriage.
Do not suggest a match for single adults or ask questions such as, "Why isn't a talented person like you not married yet?"
Pray for single adults and let them know you are praying for them.
Reject cruel myths such as: single adults have fewer problems, single adults are on the prowl, single adults are lonely, single adults are rich, etc.
Assist single parents with home repairs, childcare, visiting them when in the hospital, etc. This shows them married adults care.
Invite single adults to your home during holidays.
Suggestions for Pastors
Pastors have a unique opportunity to attract and positively influence single adults. Here are specific strategies pastors can employ to build a single-adult friendly church:
Use single adults to testify how the church or the Lord has helped them.
Encourage single adults to serve in all ministries the church offers. Paul states in 1 Corinthians 7:8 that he was single (for at least part of his ministry). In verses 26–35, he explains it is actually better for ministry to be single because singleness affords greater flexibility of time and resources than marriage. A single adult does not have to obtain agreement from a spouse to tithe, give to missions, go on a missions trip, teach a class, etc.
Show the video, "Reaching Single Adults in Your Community," found at www.singles.ag.org.
Have married adults and single adults pray for each other and highlight the fact Jesus was the greatest single adult who ever lived.
These actions will greatly help a single adult feel included in marriage and family-focused churches and help them become part of the family of God. Help "family" single adults who may not have family close by or have family members at all.
Form Specific Groups
Every church has some single adults. Who are they? How many are there? What are their ages and single status? A church may already have a database containing this information. If not, a short, written survey completed on a Sunday morning will quickly identify all adults by age, marital status, number, ages of children, etc. This information will influence whom to target and also benefit other ministries.
Some churches have the resources to begin a targeted ministry to single adults of a specific age group (18–29 yrs., 30–40, 50–60) or life-issue group (widowed adults, single-parent families, divorced adults, etc.). Adults have more in common with others of similar age and life issues. For more information, see chapters 4 and 5, Reaching Single Adults — An Essential Guide for Ministry, Baker Books, 2007 (www.singles.ag.org).
Not all churches will choose to begin a specific ministry for single adults. Most churches, though, can help meet someof the spiritual, social, educational, and relational needs of the unmarried, and many can begin by planning a few specialized ministries for them. One or more of the following events will attract and interest single adults.
a weekly teaching and discussion group
a monthly social activity
a quarterly seminar
one community outreach every 6 months
an annual retreat
THE VERY MINIMUM A CHURCH CAN DO
Understanding and utilizing the four principles below will help single adults feel part of the church family and bring acknowledgment, encouragement, and value to the never-married, divorced, widowed, and single-parent individuals who usually comprise 30 to 50 percent of the adults in any church.
Acknowledge single adults in teaching and preaching. Statements such as the following give value to single adults. "Whether you are married, remarried, single or single-again, there is a place for you in our church. Jesus lived an effective life as a single adult, and we want to help you do the same."
Provide examples of single adults in Scripture. Jesus, Paul (1 Corinthians 7:8), John the Baptist and Jeremiah were unmarried. Ezekiel was a widower. Mary, Martha, Anna, the Samaritan woman, Mary Magdalene, Hagar, Dinah, Miriam, Naomi, and Vashti were either single or single-again.
Provide support and material and financial help for single-parent families. Free vehicle oil changes, home and car repairs, free childcare at special events, occasional financial help, a Christmas party with gifts, etc. are excellent ways to show Christ's love.
Allow single adults to attend a single-adult ministry in another church, while supporting your church as their home church. Approximately 20 percent of all churches have a ministry for single adults. Many single adults would attend a single-adult ministry in a different church, while still supporting their home church. Single-adult ministries that have single adults attending from other churches should regularly articulate, "We are not trying to have you join our church. If you are part of another church, please support it this weekend with your prayer, involvement, and offerings."
Inspire your church to reach, minister to, and help single adults learn to serve. The single-adult population is too large to ignore, and their abilities and talents are too valuable to waste. The talents and creativity of single adults can bless the church by serving in every area. However, the church that ignores single adults undermines its present and mortgages its future.
Note
1. America's Families & Living Arrangements: 2012 U.S. Demographics. Found at: http://www.census.gov/hhes/families/data/cps2012.html. Accessed 3 April 2013.