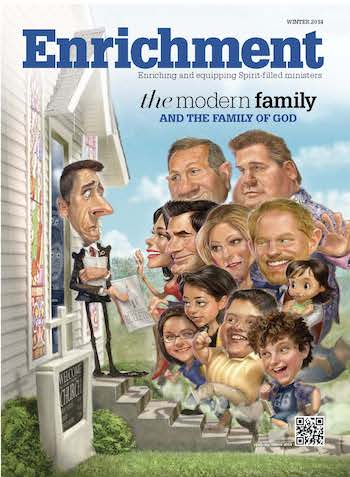 Downloads:
Equipping and Supporting Families to Live Faith Together
By helping Christians become family for one another, the church points to the good news that "in Christ Jesus you are all children of God through faith."
by Diana R. Garland
---
The term family ministry often serves as a catchall for congregational programming. Large American congregations build family life centers, and family ministry is everything that happens there. Some use family ministry programs as their neighborhood outreach. People may attend a course that addresses the stresses of living while they will not come to a worship service. They may come to a Pilates class when they will not come to Bible study. Some churches sense that if we can hook people with resources — recreational and educational programs — they perceive they need, we can hold onto them to give them the resources we perceive they need — Christian discipling and membership in the community of faith.
I define family ministry as any activity that directly or indirectly (1) forms families in the congregational community; (2) increases the Christlikeness of the family relationships of Christians; and/or (3) equips and supports families for the work to which God called them together.
Family ministry includes everything a congregation does that has an impact on the formation, development, and ministry of families. It may include programs that address family issues. More broadly, however, a congregation engages in family ministry, indirectly and sometimes unintentionally, as leaders and members worship, conduct their business, pursue their mission, and live in community with one another.
FORMING FAMILIES
According to the above framework, a congregation is responsible to nurture the founding and growth of families who have committed themselves to follow Jesus and to be family for one another, whether or not they live in the same household or are legally or biologically related to one another. By helping Christians become family for one another, the church points to the good news that "in Christ Jesus you are all children of God through faith" (Galatians 3:26).
Congregational members need a shared language for understanding the nature of family in the lives of Christians. Then they can see and name the family relationships that already exist. Congregations seeking to help members support and develop family relationships can do so by studying together what it means to be family: naming existing relationships, providing opportunities to form relationships that may become family, and using the foster-adopt model to enfold the alone and lonely.
Study What It Means to Be Family
Becoming a child of God means being given a family with siblings and parents, like the beloved disciple and Jesus' mother whom Jesus gave to each other as they stood below the cross (John 19:25–27). Studying together the life and teachings of Jesus can ground a congregation in a foundation that paves the way for recognizing and supporting family relationships.
Margery Williams defines what it means to be real in her children's book, The Velveteen Rabbit (1983), in a way that transfers to what it means to be a family. In the story, a wise old toy horse is explaining family to a stuffed toy rabbit that came in a little boy's Christmas stocking. Lying on the playroom floor, the rabbit asks the wise horse, "What is real? Does it mean having things that buzz inside you and a stick-out handle?"
The horse explains: "Real isn't how you are made. It's a thing that happens to you. When a child loves you for a long, long time, not just to play with but really loves you, then you become real. … It doesn't happen all at once. You become. … Generally, by the time you are real, most of your hair has been loved off, and your eyes drop out, and you get loose in the joints and very shabby. But these things don't matter at all, because once you are real you can't be ugly, except to people who don't understand."
The horse explained what family is — it isn't how God made us or what parts we have; it is how we love one another over time, despite what life throws at us. It is not whether we are an intact nuclear family; it is about loving and being loved.
A young mother was raising a 5-year-old alone after divorcing her husband, who was in the penitentiary for writing bad checks. She divorced him to survive financially. She is proud of the fact she is working and making it. She was able to purchase a mobile home instead of living with her parents. But she told me when she goes to church, she knows members think of her as a broken family. She said, "I don't feel broken; I feel whole." Instead of being a source of hope and wholeness, the church labeled her as "broken." Consequently, the subtle message the church was sending is that divorced, single mothers are less than ideal.
The church must begin by helping Christians recognize and come to terms with the biblical concept that the structure of the family one lives in is not as significant as allowing God to work through the family in whatever state it finds itself.1 The ideal is (1) living faithfully within the context God has placed us, and (2) from that place — whatever it is — using our family relationships for the sake of God's purposes.
Naming Relationships
Giving names to relationships provides identity. Once people have had opportunity to study and talk together about what family means in the lives of Christians, they begin to see family relationships they had not previously recognized. And the naming strengthens these relationships. Families sometimes create language to undergird and give definition to the family and family-like relationships that are not biological or legal — Granny C, "godmother," "momma," (an aunt raising a nephew), "son-in-love" (son-in-law) — or simply "sister," "mother," and other names that identify how people function in our lives. Research literature has named these as "social" family members, to distinguish them from biological relationship.
Congregations can encourage families to claim and use family language. Naming and celebrating these relationships provides a powerful way of supporting families in the community of faith. Developing names and rituals for otherwise unnamed family relationships will strengthen family bonds and encourage greater commitment and entitlement as family members.
Provide Opportunities for Relationships to Form That May Become Family
Even those families people already recognize as family in our culture — nuclear and traditional — choose to be family, according to the Christian definition of family. Mary chose to follow Jesus; and, in so doing, she chose to be a member of His family, building on the choice she made earlier to submit to the will of God and be His biological mother. Households who were baptized together — such as those of Lydia and of the jailer in Acts 16 — were still households, but through their choice to follow Jesus together, they became families.
The greatest challenge for American congregations is helping persons choose and live as family when they are not biologically or legally related or even living in the same household. Some persons are alone in the congregation because they either have no family or because their biological/legal family does not share their faith. In addition, the church enriches the lives of all families — even those who are living in nuclear and extended families — by nurturing the development of ties to family members, like Paul's tie to the marital couple Priscilla and Aquila (Romans 16:3–5).
Two ways congregations can support the development of family relationships are: (1) encourage persons of different ages and life circumstances to participate in the life of the congregation together, and (2) offer programs specifically designed to encourage relationships to develop.
One significant way to help faith families form and to undergird existing family relationships in a community of faith is to encourage persons in the same family and persons of different generations and life situations to participate in community life with one another, benefiting from one another's gifts, and caring for one another's needs. Family and cross-generational groupings are ideal for what we are trying to accomplish in community life — caring for one another, ministering to others, worshipping God. Both children and adults learn best about God's love by being loved by God's people, about being a child of God by belonging in a family, about worship by worshipping with all God's people, and about ministry by serving in partnership with others.
The church can serve as a matchmaker of sorts, providing the context where potential family members in different generations and life situations can meet and learn to care for one another. Like blind dates, pairing senior adults with children for an activity program, or any other such pairing of persons, can be a way to allow congregants to meet persons they might otherwise not have the opportunity to know. Friendships do not form every time, of course, but sometimes they do, and friendships can become family over time and life situations.
INCREASING THE CHRISTLIKENESS OF FAMILY RELATIONSHIPS
Families are one of the most significant contexts in which we form Christian disciples. Learning with family members to live justly and lovingly, to forgive and to be forgiven, to remain steadfastly present to one another year after year, through joys and sorrows, is an ongoing and ever-changing challenge of Christian discipleship.
When congregational leaders successfully take a family ministry perspective in shaping the life of the congregation, much of what happens in a congregation can help families live joyfully, faithfully, and redemptively, even in the midst of the problems they face. Families find the church to be a place where they learn about and become more skillful in the disciplines of family life — listening and communicating, forgiving and repenting, handling anger and problem-solving, balancing intimacy and autonomy, disciplining and loving one another, and ministering inside and outside the family's boundaries.
The fundamental and essential method of family ministry is developing a supportive and nurturing community. Community life is particularly important as a context for helping families deal with specific stressors and situations, whether these life stressors and situations are common to all kinds of families or are specific to some.
EQUIPPING AND SUPPORTING FAMILIES FOR WORK TOGETHER
God created humanity with a purpose, a mission of caregiving for the world. God recognized this was not something for persons to do in isolation; they needed companions in the work, and so God created the partnership of the family. God did not create the first man and woman simply to be companions, but to be companions in the work (Genesis 1:26–28). Families have a purpose, a calling from God, to be on mission together. The ultimate goal of family ministry is to have families in ministry. Family ministry equips, encourages, and supports Christians to use their families as channels of ministry to others, whether by opening themselves to fold others into their family, or finding ways to be neighbor to those around them. Congregations can help foster this ministry by supporting, encouraging, and commissioning families for ministry. Many families seek opportunities to live their faith where they work and play. Each family must discover what God created them to be and how God is calling them. People cannot determine this by any program or structure — it comes out of individual and shared relationships with Jesus Christ.2
FAMILY MINISTRY AS PERSPECTIVE
At its foundation, family ministry is looking at persons and their relationships anew. Family ministry sees persons as fragments of families, parts of a larger whole. We cannot care for persons without understanding the families in which they live, just as we cannot define islands without including the sea that connects them. It is the relationship between family members that define a family.
Many church programs view families as a collection of individuals at different places in the developmental process — children, youth, young adults, middle adults, senior adults. As a consequence, churches label age-graded programming family ministry, and it is. By caring for individuals in the different age brackets, we are caring for the families whom they represent. Even more important, however, family ministry should also attend to the relationships between the individuals in a family group — to that which holds people together in human covenants that signify our covenant as a people with our God.
Family ministry encourages the development and transformation of families so all members of the community of faith have a family. Family ministry also strengthens families so they can be more effective witnesses to the love of God. Finally, family ministry develops faithfulness in families and its members as the family ministers within and beyond its own boundaries. Families need the support of a community of faith to sustain them and to which they can contribute. Family ministry is not just a set of programs; it is a perspective, a set of 3-D glasses we put on to look at everything the church does. Ministering with families does not mean simply developing a system of support services and programs; instead it means reviewing every aspect of congregational life to determine its impact on and support of families.
Notes
The book Flawed Families of the Bible: How God Works Through Imperfect Relationships (David and Diana Garland, Brazos Press, 2009) provides opportunity to examine some of the most difficult family stories in the Bible and explore how they can inform our lives. Designed for adult Bible studies.
My book Inside Out Inside Out Families: Living Faith Together (Waco: Baylor University Press, 2010) provides guidance for equipping families.