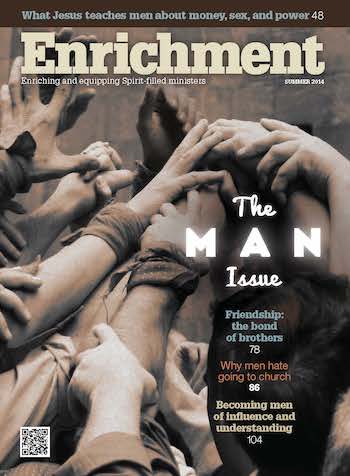 Downloads:
Wanna Be Starting Somethin'?
A good introduction sets the table for a good sermon. It matters.
by Doug Green
---
"Why is it that grass grows on my driveway, but not on my lawn?"
What?
It was an unusual question, but the preacher captured the congregation's curiosity. The audience was engaged, interested in where the sermon was going. A marvel happened: They looked up from their phones and grocery lists. They were listening.
A good introduction sets the table for a good sermon. It matters. Preparing a good introduction is worth the extra time — your time, their time –– for during the introduction, listeners decide whether they will continue to listen. It's a great opportunity to capture the ears of the congregation –– who come to church from a week of struggles –– bringing them into a biblcial text, helping them live life to the full.
A good introduction is composed of three parts.
Part 1: An Opening Hook
The opening remarks should command attention and engage the ears. Consider the first words that come out of your mouth. Choose them well. Make them matter. Capture the curiousity of the wandering mind.
Don't waste the moment by saying what is obvious or predictable. Get after it, for you have the imperative assignment of casting light on the truths of God's Word. Whatever you say, engage their ear and make them want to hear more.
Effective: "If you wanted to destroy this church without a bomb, how would you do it?"
Not-so-effective: "Today I would like to talk about something that all of us feel deeply about …. "
Effective: "I've always wondered how wise those guys from the east really were."
Not-so-effective: "Last week, we talked about chapter 6, and this week I want to talk to you about chapter 7 …. "
Part 2: Developing Thought
This segment exposes needs and speaks to hearts. After capturing their attention, use some time to address the needs of the listeners.
Show how this sermon will speak to their hearts. Give them evidence you are about to address their temporal needs with God's timeless truths. Show them why they should care to continue listening. Speak to their hearts, and they'll listen.
Part 3: Transition to the Body
The transition serves as the link, helping listeners follow where you're leading. Connect the dots so your introduction flows effortlessly into the body of your sermon. Achieve a smooth segue. Connect the human need of the developing thought to the main points of the sermon by introducing the key idea.
Do not be jarringly abrupt. Build a short bridge from the introduction to the main body. Graciously help every listener cross safely.
Common Mistakes to Avoid
Don't go too long. The introduction is a freeway on-ramp, not a long stretch of highway. Get folks from their situations in life to a place where they are ready to hear from God. Brevity can be powerful. Err on the side of conciseness.
Don't write your introduction first; write it last. Write your sermon's main body first. Then write the introudction and conclusion. Why? Because the introduction serves the main body, not the other way around. Also, you must know where you're going (the main points of the sermon) to know how to get there (an attention-grabbing introduction).
Don't open with an apology. Do not start with: "I am sorry I am not prepared today." (They will figure that out themselves soon enough.) Do not begin with excuses, justifications, or any other form of insecure speech. Just get up in the pulpit and proclaim the truth as best you can. Trust the Holy Spirit to be strong in your weaknesses.
Don't promise what you cannot deliver. Be sober in your introduction, and only guarantee what you have time to address. Prepare words that frame where you are going, not where you hope to go. Only write a check you can cash.
Don't always jump out from the same bush. A healthy dose of creative variety keeps the listener guessing. Some techniques are only good once a decade. Some are good the first time, but are not the fourth and fifth times. Create anticipation by finding new methods, not overusing the same one.
Be careful to not peak in the first few minutes of your sermon, causing an emotional exit for the listener before you get to the part of the sermon that truly matters. Like a good story teller, build anticipation as your message unfolds.
Consider how much Scripture you should introduce outside the sermon text. There is usually more than enough in one biblical passage to occupy the full time of your sermon. Overwhelming the audience with a large number of verses from multiple books, especially in the introduction, can make the message hard to follow.
Steer clear of rabbit trails. Stay focused. Be a ramp for the listener by avoiding all and any speedbumps, detours, side trips, and obstacles. Stay on the short ramp and get the audience on the freeway of the sermon's main body sooner rather than later.
Example Introduction
Check out this example of how to introduce a sermon on Romans 7:7–25, divided into three parts:
Opening hook: Why is it that grass grows on my driveway, but not on my lawn?
Developing thought: I've diligently fought the grass in the cracks of my driveway. I've applied Roundup and taken a hoe to it. I've labored over the cracks in my driveway. A few feet away over on my spacious lawn — a lawn I've fertilized, watered, and, quite frankly, deeply loved –– I have patches where grass will not grow! Now, what's up with that?
Ever wonder why what you want to happen is not what happens? Why is it I intend to do all these good things, but I end up doing all those things I don't want to do? I want my grass to grow on my lawn. I don't want my grass to grow on my driveway. Why do I do what I don't want to do? How can I ever hope to overcome sin? Am I the only one? Anybody here know what I'm talking about?
Transition to body: I see that hand. It's the hand of the apostle Paul, for he knows what I'm talking about. Good news: We are not the only ones! Paul documents his struggle quite candidly in the 7th chapter of the Book of Romans. He asks, "How can I ever hope to overcome sin?"
He answers us with our only confidence: "By submitting to the lordship of Jesus Christ." Check it out as we read Romans 7 together ….
Start Smart
Chuck Swindoll once said, "When I begin my sermons I dare the person not to listen to me. Not that I'm that great, it's just that I've got something to say that's too important to ignore."
Introductions matter. If you start smart in the pulpit, they'll probably listen well in the pew.