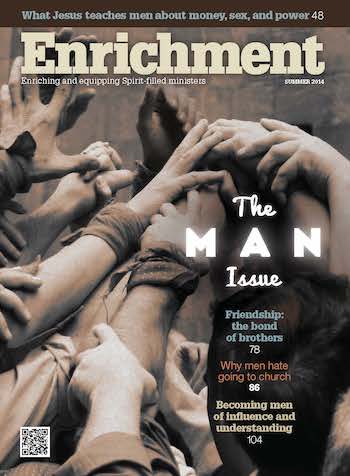 Downloads:
PROFILE: Welcome to Man land
by Christina Quick
---
What do NASCAR, basketball, camouflage, and mounted deer heads have in common? These themes were all part of a male-centered sermon emphasis three years ago at Mechanicsville Christian Center in Mechanicsville, Va.
Lead Pastor Carter Goolsby introduced the four-week Sunday morning series, called Man Land, after he sensed God prompting him to develop an intentional outreach to guys.
"The Holy Spirit said, 'You need to invest in the men for the health and well-being of your church,'" Goolsby recalls. "When the men are involved, the church tends to thrive in so many other ways."
Goolsby says the women of the congregation supported his efforts and appreciated the emphasis on strengthening families. (The following year, Goolsby planned a similar series focusing on women's needs and interests.)
Man Land was just the beginning for Mechanicsville men's ministries. The series culminated with the church launching small groups for men. Today, 16 such groups, each made up of 6 to 10 men, meet throughout the week at restaurants, coffee shops, homes, and the church.
"One of the most beautiful things today is that when you walk down the church corridor, there are three or four men's groups meeting," Goolsby states. "They're laughing together, praying for one another, and just living out their faith. The church calendar and leadership isn't driving it; it's organic. They're thriving in their relationships and friendships."
Dwayne Moore, associate pastor and men's leader, says the ministry grows largely through personal invitations.
"We're not doing a lot of targeted events to reach men outside our sphere, but typically I'm meeting a new man every week who is coming because his friend invited him," Moore says.
The church encourages men not only to participate in small groups and invite others but also to get involved in Christian service. Opportunities include mission trips, inner-city construction projects, and ministries within the church.
Goolsby says men want to be leaders in the church and in their families, but many times they feel sidelined by a culture that diminishes their contributions.
"The idea of manhood in general is being defined and redefined," Goolsby says. "Rarely do you see men who are true men and true leaders of their families in sitcoms. It tends to be funny to show women who are strong and men who are weak. Women are portrayed as the leaders, while men are withdrawn. We're trying to bring that back into alignment. It's a win-win for me, as a pastor, when men come to me and say, 'Where can I serve?'"
Christina Quick, freelance writer, Springfield, Missouri