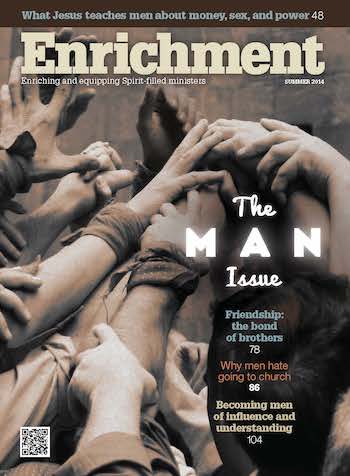 Downloads:
PROFILE: Extreme Makeover
Church Edition
by Christina Quick
---
It's an extreme makeover that makes an eternal impact. The Potomac District of the Assemblies of God is transforming houses of worship — one building project at a time.
Over the last three years, teams of volunteers have provided facelifts for nine churches in the district. Bobby Basham, men's ministries director for the Potomac Ministry Network, says each of these congregations has since reported increased attendance.
"It literally infuses new life into the churches," Basham says. "Imagine walking in and seeing a brand new sanctuary. Each of these churches has grown because they now look attractive and inviting. We help make them places where people want to be."
The project started as a men's ministries effort. The men have since teamed with women's ministries to revitalize churches from the rural mountains of West Virginia to inner city Washington D.C.
Groups of 25 to 30 volunteers spend three days on each weekend makeover. They stay overnight in the church facilities or in housing the church provides. The work might include anything from repairing a roof to painting, installing new light fixtures, or replacing carpeting. Volunteers and churches raise funds, and the district provides matching grants. Basham estimates the value of each makeover ranges from $12,000 to $20,000.
A number of AG churches in the district have fewer than 100 attendees, with most of the congregations receiving help averaging 25 to 30, according to Basham.
He says these small churches have few resources for facility upkeep and modernizing, which can make it difficult to attract new adherents.
"One church in a college town realized if they were going to grow they had to reach out to college students," Basham says. "That is tough in a building that looks like it is falling down. We fixed it up and updated it with more contemporary décor. We installed stage lighting, LED lights, and contemporary colors. We replaced the hanging chandelier with recessed lighting. We made it an inviting atmosphere for students and young families."
The district plans to complete three makeover projects per year. For a church to receive help, the pastor and leadership team must participate in a revitalization process, which includes meeting regularly with the district revitalization director.
"This is part of what the church was created to be: helping each other," Basham says.
He says the makeover volunteers often benefit as much as the churches.
"They get the satisfaction of knowing they're making a difference and that God is using them and their skills," Basham says. "Their lives often change, and they start coming back and wanting to know where the next project will be."
Christina Quick, freelance writer, Springfield, Missouri