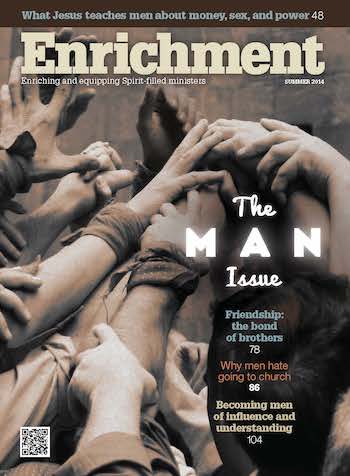 Downloads:
PROFILE: Ankle Tape and Tenderness
by Christina Quick
---
When people meet Ken Wilson, "tender" probably isn't the first word that comes to mind.
Weighing in at 300 pounds, Wilson is a Greco-Roman national wrestling champion, Navy veteran, former football player, and all-around tough guy. But when it comes to reaching people with the love of Christ, Wilson is a big softie.
"I cry all the time," says Wilson, the men's pastor at Christian Faith Center in Nampa, Idaho. "I've got a big heart because Jesus has a big heart. As a man, you've got to be able to stand up and have a little backbone, but when you're ministering or being a dad and husband, it's OK to be tender. I want to be so tender that when I talk to other people I tenderize them."
As a lifelong athlete, Wilson makes ample use of sports terminology in his ministry to men. Small group leaders, called head coaches, choose key members in an annual draft. They fill out their small group rosters by inviting guys who might not otherwise come to church.
"We offer a place where the men can come when they get beat up by the world — a place where they can get their ankles taped up so they can get back in the game," Wilson says.
The head coaches build one-on-one relationships with men by investing time in them, whether by having them over for a cookout, watching a football game together, or praying for a need over the phone.
The church provides season tickets to college sports events so coaches and team members can attend together.
"We want to get guys outside of the church environment to let them know it's OK to walk out of church and still be a church man," Wilson says. "As guys model Christianity out in the community and in their homes, other men can see these people are real. They have lives, families, and wives. They don't just come to church. They live for Jesus every day."
Once a year the church plans a date night for the men and their wives. The evening includes dinner, a family-friendly movie, and a rose for each woman. Wilson says such activities allow men to see and practice healthy marriage building.
"Of course, none of us are perfect by any means," Wilson says. "But a lot of times it's showing our imperfections that perfect us. It's good to know a bunch of guys who are going through some of the same struggles — people you can call on for prayer and encouragement. Every man needs to know he's not running this race alone, and he doesn't have to be perfect."
Christina Quick, freelance writer, Springfield, Missouri