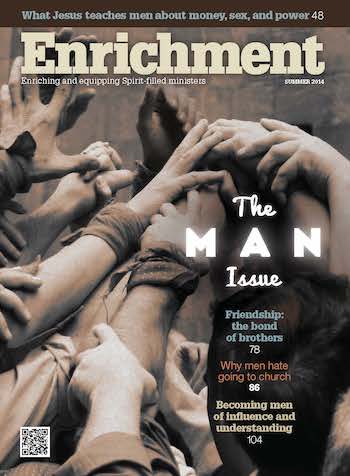 Downloads:
Beyond the Stairs
Being a Disability Friendly Church
by Charlie Chivers
---
Monday morning brought the first phone call of the week. The woman identified herself and her location. After an awkward silence, came her quivering, tearful voice.
"Reverend Chivers," she said, "would you know of a disability-friendly Assemblies of God church near my town you could recommend my family attend? We have two intellectually disabled teenage sons in wheelchairs. I'm heartbroken today. Yesterday we were asked to leave our third Assemblies of God church."
I couldn't believe what I heard. Assemblies of God churches? Really? Listening to her sobs, my heart broke with hers as I asked sympathetically, "Can you tell me the story?"
"Well, one Sunday, after attending our first church in several months, the leadership said they were getting too many complaints from the congregation about our boys," the woman explained. "It seems their disabilities were making people uncomfortable. They asked if we wouldn't mind finding a different church that could handle us. We were hurt, but we didn't want to make anybody uncomfortable, so we left.
"Our second church seemed friendly — at first. They were proud of their beautiful, accessible sanctuary, suggesting it was made just for people like us. However, we learned the Sunday School class for our boys was upstairs. My husband and I carried our boys, in their wheelchairs, up and down every Sunday. It was exhausting. What made it worse is everyone would just watch and sometimes gasp in fear that they might roll backwards, but no one ever offered help.
"Realizing this was neither safe nor practical, I politely asked if they could swap our boy's classroom with the adult class on the ground floor, since the adults could climb stairs. The answer was, 'Disrupt everyone else just for your two boys? We can't do that! It might be easier if you found another church that could accommodate your special needs.'
"We have since been driving around looking for the right church. Last week we thought we found it: another Assemblies of God church in a beautiful ground floor building. They even had disability parking stalls right in front! So yesterday morning, we pulled our van into one of those stalls, unloaded our boys, and began to roll them to the front door. As we approached, three nicely-dressed men came out and introduced themselves as part of the leadership team. We thought, 'How nice. They've come to greet us and assist with our boys!' Our joy was short-lived, however, as they said, 'We're sorry, folks, but our church isn't equipped to meet your needs. We thought we'd save you the struggle and suggest you find another church that can!' Reverend Chivers, we don't know of another church. What do we do?"
The Worst Rejection of All
The question is significant. What do they do? Should they stop trying and stay home? Unfortunately, that's what happens in many cases.
James 1:27 says, "Religion that God our Father accepts as pure and faultless is this: to look after orphans and widows in their distress …."
Families dealing with disabilities have some things in common with orphans and widows. Demanding, overwhelming needs suck the personal life, energy, and dreams from the over-burdened caregivers. They are widowed by a culture that is often dead to them in terms of offering compassion and support, accommodating them only when legislated to do so. To make matters worse, some face abandonment by a church that is unwilling to share the burden.
Dealing with pseudo-compassion of societal patronization is one thing, but to be marginalized and disenfranchised by the church — the one place it should never happen — is the worst rejection of all.
Do we need disability-friendly churches? The answer is apparent when we know God is not willing that any should perish (Matthew 18:14). The argument for every church to be disability friendly is obvious. Who is meeting the spiritual needs of the disability community in your town? Is your church leaving it up to other churches to care for them? Does your congregation pass off the responsibility to others that are "more equipped" to meet their needs? Why can't your church welcome them?
I received another phone call, this time from a church secretary.
"We have a father attending our church with his autistic son. The mother doesn't want anything to do with church because of feeling rejected by other churches. The young man occasionally acts out in the morning worship service. It's not always at inappropriate times, but he makes our pastor and others in the congregation very uncomfortable. My pastor asked me to call to see if you know of a disability-friendly church in our area where we could send them."
I said, "Absolutely! I know of a wonderful church to recommend to you!"
The secretary said, "That's great! What church?"
I answered, "Your church. Why can't your church be that church?"
That's my question to every pastor today. Why can't your church be that church? People with disabilities don't necessarily care whether you know how to meet their needs. But they care deeply about whether you're willing to learn.
The Gulf Between the Church and People with Disabilities
Every church can create an atmosphere of love and acceptance of the disability community. It begins by recognizing the gulf between the church world and the world of people with disabilities. The Great Commission demands that the local church be proactive in bridging that gulf, not the other way around. Mark 16:15 is a mandate to every church: "Go into all the world and preach the gospel to all creation." Jesus' instructions are clear. Churches must enter the world of the disabled.
We need to understand the church world from others' perspectives. It has certain inherent characteristics. By design, a church is a family unit that focuses on celebrating Jesus, worshipping God, and fellowshipping with the saints. Sunday services often showcase the church at its best.
Though these things are good, when viewed from the perspective of people with disabilities, they can become problematic. Therefore, it's important to understand the world of people with disabilities. Their reality is often at odds with the church. People with disabilities may feel betrayed by God or isolated from Him. Therefore, they are sometimes hesitant to worship. They may wrestle with the question, "If God is so loving and powerful, why did He allow this terrible thing to happen to me?" In a group of able-bodied people, those with disabilities often feel isolated and ignored rather than part of the family.
Some with disabilities are continually confronted with the dispiriting side of life. They may feel uncomfortable and uneasy about their appearance and behaviors. They know they may seem bizarre or revolting to others.
A quick comparison and analysis of these characteristics illuminate the problems. If people with disabilities feel punished or rejected by God and think they are an accident or a mistake, why should they want to go to God's house and celebrate Him? Going to church can feel like attending someone else's family reunion. It's a closed circle. The smiles and hugs are for those who are known and loved. Only those in the family know the inside jokes. Strangers are treated with cool politeness. Why should a person with a disability confront the logistical hassles of going to church and being lonely when they can be lonely at home?
Is There a "Keep Out" Sign on Your Front Door?
The next issue you must face can be very difficult. Is the church, your church, ready for the stark ugliness that sometimes accompanies disability? Can you handle drool on your upholstery or seizures on your floor? Are you ready to help empty a leg bag that needs immediate attention? As a pastor, are you prepared for those who may interact with your sermon by answering rhetorical questions out loud, interject irrelevancies, or fall obviously and noisily asleep? Are you prepared to deal with people who may not look, smell, or act pretty? Many people with disabilities don't think so, and that is why the statistics say they are staying away from church in droves.
The worldly culture is highly intolerant of physical and mental imperfection. Churches must be careful to avoid such attitudes. The average Sunday service unwittingly celebrates appearance and ability. As a result, people with disabilities envision a "KEEP OUT!" sign on the front door of the accessible, multimillion dollar facility.
Contrary to what some think, an accessible building is not all it takes to be disability friendly. It's not even a program, a project, or an unaffordable expense. Though these things eventually play a role, welcoming the disabled is not a choice; it's a biblical mandate. It's the very heart of God.
In Matthew 25:40 Jesus declares, "Whatever you did for one of the least of these brothers and sisters of mine, you did for me." Consider also the words of Jesus to His banquet host in Luke 14:12–14, "When you give a luncheon or dinner, do not invite your friends, your brothers or sisters, your relatives, or your rich neighbors; if you do, they may invite you back and so you will be repaid. But when you give a banquet invite the poor, the crippled, the lame, the blind, and you will be blessed. Although they cannot repay you, you will be repaid at the resurrection of the righteous."
Later in the same chapter, Jesus told a parable about a master who prepared a feast, instructing his servant to invite everyone. However, many excused themselves, claiming they were too busy. So the master told the servant to "go out quickly into the streets and alleys of the town and bring in the poor, the crippled, the blind and the lame" (Luke 14:21). There was still room at the feast, so the master gave the order: "Go out to the roads and country lanes and compel them to come in …" (Luke 14:23). In other words, "Shake the bushes so that my house will be full."
The master no longer accepted excuses when he said, "Compel them to come in." Neither can we.
One Billion: The Largest Unreached People Group in the World
People with disabilities are clearly the largest unreached people group in the world, existing as a subculture within every culture. They are part of every race, religion, tribe, ethnicity, and socioeconomic group in the world. There are nearly 1 billion disabled individuals in the world and 58 million in America, and most are unchurched. Every church must be disability friendly because every town has people with disabilities who are longing to belong. Your church can win them for Christ.
Brad Mattrisch knows the value of disability-friendly churches. Born with cerebral palsy, he grew up in a welcoming congregation. As a child, he became involved with Special Touch Ministry, an outreach to people with disabilities. Today Mattrisch is an ordained Assemblies of God minister serving Special Touch as a U.S. Missions missionary associate. He holds degrees in computer business systems from the University of Wisconsin in Whitewater and Bible and theology from Southeastern University in Lakeland, Fla.
Mattrisch recently developed a computer program and database for the Disability Friendly Church Certification tool.
"I'm excited about this Disability Friendly Church Certification tool," Mattrisch says. "It will save thousands of families deep pain and heartache associated with isolation and rejection by the church. Members of disability-friendly churches see the individual rather than the disability. They believe in each other despite any challenge. It may be a youth pastor encouraging a teen with cerebral palsy to pursue driving with adaptive equipment. It may be a men's group encouraging a man with a disability that landing a dream job and buying a house isn't too difficult for God to bring about. Members of a disability-friendly church provide help for every disabled person who needs it. My church family was there for me, and I want others impacted by disability across the Assemblies of God to belong to a church family who cares for them. This is why I was driven to help develop the Disability Friendly Church Certification tool with Special Touch. It's long overdue!"
Assemblies of God and other Pentecostal pastors should help lead the way. Certify your church "Disability Friendly" with Special Touch Ministry today. Visit www.specialtouch.org and look for the "Certify Now" graphic. Thousands like Brad are waiting to find their place. Why can't that place be your church?