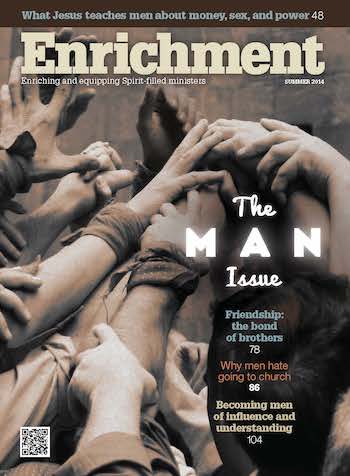 Downloads:
A Father's Blessing
What Scripture Teaches Dads about Raising Children
by Mark Entzminger with Scott Harrup
---
Today's fathers can speak life-giving blessing into their children's lives and observe outcomes with eternal significance by following these biblical principles.
In one of Scripture's most poignant family narratives, the patriarch Jacob (also known as Israel) is dying in Egypt following a tumultuous life lasting well over a century. He gathers his sons around his deathbed and speaks truth into their lives (Genesis 49:1–28). His words are honest, proclaiming both God's blessing and, in some cases, His discipline: "He blessed them, giving each the blessing appropriate to him" (verse 28).
The Book of Genesis frankly portrays the family dynamics within the formative clans of God's chosen nation. Jacob's spectrum of fatherly evaluation reflected decades of observed milestones in his sons' lives, both praiseworthy and shameful. Jacob's own devious plotting had robbed his brother, Esau, of father Isaac's blessing. Isaac, and Abraham before him, both lived as men of faith on feet of clay.
But this Genesis narrative points today's dads to a wonderful truth: God-honoring fathers can become conduits for life-changing divine influence in their children's lives. Genesis serves as the opening crack in a biblical doorway to God-directed influential fatherhood. (See the sidebars for suggestions geared to sons and daughters.) As with Jacob, today's fathers can speak life-giving blessing into their children's lives and observe outcomes with eternal significance.
That blessing goes far beyond words, even prayerful words. It encompasses all that a man is and touches all that a boy or girl will become.
Presence
Our culture would deceive a dad into believing his presence can be virtual and still be life-shaping. But tweets, instant messages, and Facebook "likes" will never replace the flesh-and-blood connection God designed between dads and kids. Consider Deuteronomy 6:6,7: "These commandments that I give you today are to be on your hearts. Impress them on your children. Talk about them when you sit at home and when you walk along the road, when you lie down and when you get up."
Every clause in these sentences speaks of a personal connection, and the full picture is of interaction throughout the day. Yes, careers and school schedules and extra-familial relationships all place demands on our day, but when our goal is to connect in person at every opportunity, those opportunities multiply.
Too many parents seek to apply this passage through a false segmentation of their day. "As long as we do something in the morning, and as long as we do something at mealtime...."
That's a great place to start, but learn to grow this into every aspect of your life. Deuteronomy paints a picture of your kids watching you every step of the way — from the time you get up until the time you go to bed at night.
Because kids are imitators, we have to live the Word. We must live our faith out loud, so our kids will catch it. It's not about, "Oh, now that we're in the car together, I have to make sure we have our Bible talk."
Rather, when I'm in the car and something happens, I need to be sure my faith and God's Word are in me to the extent they come out whether in conversation or in an emergency.
The first time you hear yourself in your children as they say the things you say, you will almost certainly react in shock: "I didn't know he picked that one up."
But Deuteronomy insists you should never be surprised by your children's mimicry. They are watching you 24/7, whether you are being intentional or not. Deuteronomy is saying: Be intentional about it, and let your faith come out of you naturally.
Modeling
"He decreed statutes for Jacob and established the law in Israel, which he commanded our ancestors to teach their children, so the next generation would know them, even the children yet to be born, and they in turn would tell their children. Then they would put their trust in God and would not forget his deeds but would keep his commands" (Psalm 78:5–7).
What exactly were the "statutes" God decreed for His people? Moving beyond the requirements of the sacrificial worship system, they were the details of daily living. So, in order to truly teach God's law to the next generation, parents needed to heed the requirements of the Law themselves in their daily work and recreation.
Dads need to live in such a way that children grow up knowing God and are soaking in everything God has for them. This has nothing to do with legalism or self-righteousness but with a New Testament focus on living as Jesus lived and pointing our children to Him by our example. By doing so, we create a chain of godly living from generation to generation.
Our oldest son, Colby, has really caught this concept. He seeks to befriend the kids who don't have a strong faith or a strong home life, and we pray with Colby for them regularly. One of his first friends in school was being raised without the knowledge of God, and when Colby gave a Bible to his friend, his friend's parents made the boy return it. It was a stark but simple lesson in the influence even our children can be for Christ.
I am privileged to minister today through the influence of three Assemblies of God generations before me. My great-grandparents helped to start the church I grew up in, First Assembly of God in Jamestown, N.D. My grandmother was one of the first Sunday School teachers. She taught an elementary class for more than 60 years straight and was a Missionettes leader as well. My parents met at Trinity Bible Institute, and my dad pastored a German church for a couple of years, around the time I was born. He and Mom have remained very active in the church. Dad was even my children's pastor before that title was common.
They modeled ministry and a vibrant walk with God before me, and I retain so many of their life examples in my mind and spirit as I serve the children of our Fellowship today.
Blessing
When a godly father's life is consistent with his profession of faith, his words take on enormous power over a child's destiny. Verbally blessing a child is key to raising him or her with adequate spiritual safeguards.
Blessing your children will do more than impact their lives. Something dynamic also happens in the life of a parent. Yes, blessing my sons does great things in them, but when I look at Colby and Cadyn as God's blessings in my life, and when I speak blessing over their lives, I view them differently. They're not a burden to me. They're not in the way. They're not "problem children." They become measureless reservoirs of joy deeply injected into every part of my being.
During my years of ministry, I have heard and seen so many things in the home that indicate a mom and dad don't have their hearts in the right place to even be capable of speaking true blessing. They're looking at their children as an inconvenience, as a financial expense, as obstacles to fulfilling their own dreams.
If I could really put an exclamation point on a truth for today's fathers, I'd say, "Dad, get your heart focused on your child as a blessing to be stewarded, not a project to be managed."
When you steward what God has put into your children's hearts and help them reach their greatest potential in Him, you carry them to a much higher degree of success and significance than you ever will by forcing your own dreams onto them.
I have sensed a deep gift of blessing from my parents throughout my life, and as recently as my most recent ministry transition. When we moved from our district ministry in South Dakota to serve at the National Office in Springfield, Mo., they said, "We really would like you to be closer to home, but we value God's call on your life more than having you nearby."
That's a blessing. That's saying, "I'm releasing you. I'm stewarding what God's put inside you."
I want that for Colby and Cadyn. If I steward what God has put in their hearts rather than focus exclusively on managing them through discipline, obedience, and compliance, it changes the conversation. It transforms my parenting experience.
Does this mean there is no room for instruction and discipline? Certainly not. You can bless remotely, but you can't parent remotely. To merely bless without spending time with your child is as empty as the blessing the apostle James described: "Suppose a brother or a sister is without clothes and daily food. If one of you says to them, 'Go in peace; keep warm and well fed,' but does nothing about their physical needs, what good is it? In the same way, faith by itself, if it is not accompanied by action, is dead" (James 2:15–17).
I might paraphrase and say, "Blessing by itself, if not accompanied by personal investment and prayerful guidance, is dead."
Instruction
"Listen, my son, to your father's instruction and do not forsake your mother's teaching" (Proverbs 1:8).
Instruction founded on God's Word will touch on any and all of a spectrum of subjects. But the key is continuity. I'll use just one concept as an example. One of the things Christie and I began working through with our sons very early was the concept of trust — that the more trust you have built, the more freedoms you are allowed as a result.
"When we ask you to do something, and you do it, that builds trust. And when we ask you to do something, and you don't do it, that breaks down the level of trust."
Colby and I were recently having a discussion on a completely different issue, and it was as if a lightbulb switched on in him. "Oh, I get it," he said. "It's like when I do this, it's building that trust back up."
He had not been following the rules of the road when riding his bike. "This is important," I insisted, "because when I see you following the rules of the road with a bike, it helps me know one day I can trust you with a car."
But what do you do when your instruction is ignored, or when compliance is only marginal? Discipline becomes necessary, and too often discipline is misapplied.
Discipline
The key to godly discipline lies in your motivation. You have to distinguish between disciplining because you want your child to live up to your expectations or disciplining with their best interest for their future as your focus. Admittedly, the lines can be blurry. It's easy to think you're focused on their best interests when you're really very self-interested.
Many times our ego robs us of godly motivation in disciplining our children. I don't want people to think I'm a bad parent when my kid acts up at the restaurant. Although what they're doing isn't necessarily bad, it's embarrassing. So what happens in my child's spirit if I discipline harshly just because I don't want to be embarrassed?
Colby was about 3 when a pastor friend at a General Council offered to take us out to Ruth's Chris Steak House. We had never been. We were sitting there with Colby and our friend's son, who was about the same age. The boys were behaving fairly well; they weren't being obnoxious. But they were active at that age, and we certainly felt the eyes.
One person made a point to come nearby and say to the dining room host in our hearing, "I'd like to be seated in the non-children's section."
To discipline our child because a 3-year-old can't behave in a grown-up environment is the wrong motive. Sometimes, and perhaps more frequently than we realize, we act on the wrong motive.
But when our motive is prayerfully addressed, we cannot shy away from identifying boundaries. And the best boundaries to communicate are those outlined in Scripture. We can help our children understand when they have crossed over those boundaries and when it is appropriate that we are disciplining them. In the end, right motivation behind loving acts of discipline, in connection with God's system of boundaries, creates a parenting dynamic of immeasurable impact.
A Father's Blessing
Dads who commit to bring up their children "in the training and instruction of the Lord" (Ephesians 6:4) — through presence, modeling, verbal blessing, instruction and discipline — create a channel of divine favor into those young lives. And that channel flows in both directions. A father's blessing carries the additional promise of God's favor on the father himself.
It brings a godly dad boundless joy to observe a son or daughter digging deep into a relationship with God. The spiritually nourished child who grows into a mature and fruitful member of the body of Christ will multiply the father's influence through an ever-widening circle of touched lives.
Though Jacob's deathbed blessing of his sons was bittersweet, the full record of his influence through their lives fills the balance of Scripture and will continue to be writ large in eternity. So, too, will the complete narrative of the generations to come that can be shaped by godly fathers today.