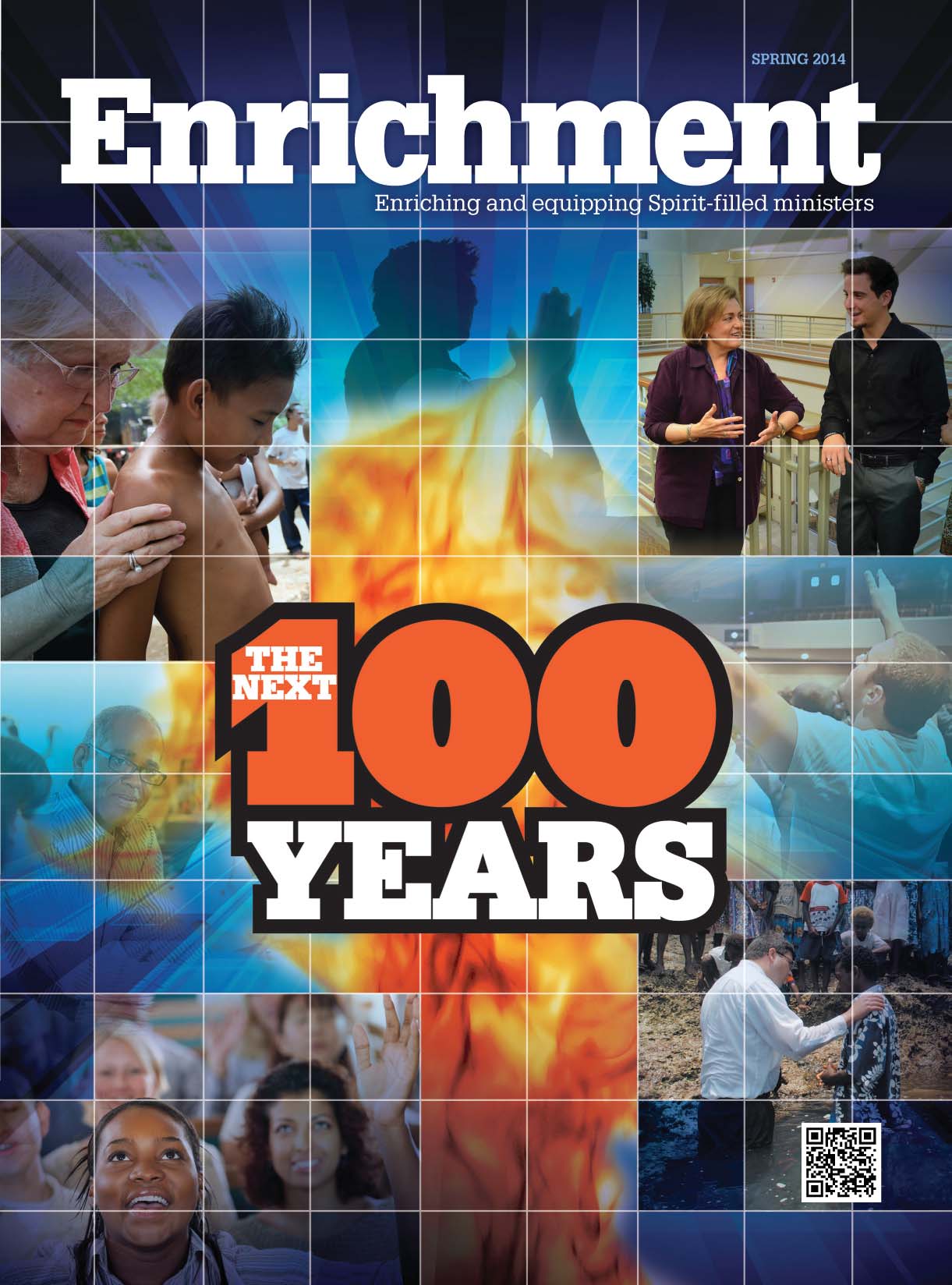 Downloads:
The Next 100 Years
Challenges & Opportunities Interview with GEORGE O. WOOD General Superintendent Wood discusses cultural changes and their impact on the future course of the Assemblies of God.
by George O. Wood
---
As the Assemblies of God concludes its 100th year of ministry, a number of important issues and questions must be considered: What challenges and opportunities does the AG face in the future? What cultural changes will help Pentecostals evangelize and disciple the next generation? What cultural changes will hinder Pentecostals from evangelizing and discipling the next generation? To answer these and other important questions, Enrichment interviewed Dr. George O. Wood, general superintendent of the Assemblies of God (USA) and chairman of the World Assemblies of God Fellowship.
On August 5–10, the General Council is hosting a Centennial Celebration in Springfield, Missouri, to mark its 100th year of ministry. What events are planned for this celebration, and how can Assemblies of God ministers participate?
The Centennial Celebration is really three events in one: the Centennial Celebration itself, the World Assemblies of God Congress, and our first-ever Global Church Planting Summit.
There will be plenty of time for celebration, inspiration, and encouragement during the meetings, of course. God has done amazing things in and through our global Fellowship over the last 100 years.
When we bring this many people together, however, it's important to offer opportunities for learning and networking alongside of celebrating. So we've invited some of our national and world leaders to speak at these events.
I want to invite every AG minister here in the United States to Springfield for the Centennial Celebration. Visit 100.ag.org for more information about it, the Congress, and the Summit. You can also register on that site to attend. The main sessions will be live-streamed for those who can't attend in person.
The Assemblies of God has grown tremendously in the last century. As it enters its 100th year of ministry, it faces the challenges of success: institutionalism, respectability, and longevity, among other things. How should the Assemblies navigate these challenges?
Before I address the challenges the AG faces, let's stop and give thanks to God for the growth He has produced in our Fellowship.
From small beginnings in 1914 in Hot Springs, Arkansas, the Assemblies of God has grown to over 66 million adherents in 250 countries, territories, and provinces. Today, an Assemblies of God church will be planted somewhere in the world every 39 minutes. Here in the United States, we have approximately 3.1 million adherents in nearly 13,000 churches. In 2012 — the last year for which we have complete records — AG church planters started a little over a church a day, statistically speaking.
This growth cannot be attributed merely to human effort, however. Yes, pastors, evangelists, and lay ministers labored hard over the years. But as Paul wrote in 1 Corinthians 3:6: "God has been making it grow." This Movement is His Movement, and we ought to praise Him for the souls He has saved and brought into Assemblies of God churches.
Once we've given thanks, we need to get back to the hard work of planting and watering. A few years ago, my friend Scott Wilson — pastor of The Oaks Fellowship in Red Oak, Texas — wrote a book called "Steering Through Chaos." In that book, he pointed out that churches make changes too late. They change when they begin to experience decline. The right time to make changes, Scott argued, is when your church is increasing in size or influence. You have to make changes in order to anticipate and accommodate the growth God wants to bring to your church.
Scott's insight has several implications for us as a growing movement. First, as Loren Triplett [former Assemblies of God World Missions director] once said, "You don't measure yourself by your success. You measure yourself by the unfinished task." When it comes to the work of evangelism, then, we must relentlessly focus on the task God has given us to "make disciples of all nations" (Matthew 28:19).
Here are two statistics we need to keep in mind, both taken from the Pew Research Center: (1) Christians accounted for approximately 31.5 percent of the global population in 2012. (2) That same year, one-fifth of Americans claimed no religious affiliation. According to the American Religious Identification Survey, the number of religiously unaffiliated people — the so-called "religious nones" — was only 8 percent in 1990. Can we be satisfied with our Movement's growth when 68.5 percent of the world's peoples do not confess Jesus Christ as Savior and Lord? Can we be satisfied with our growth when the number of religious nones in our own country grew by 250 percent in the last two decades? Clearly not! We have our work cut out for us.
Second, we need to remember that our message — the gospel of Jesus Christ — is unchanging, but our methods aren't. When I became general superintendent in 2007, I discovered that our Foundations for Faith class still used a nearly 50-year-old curriculum to teach adolescents the basics of the Pentecostal faith. The content was sound, of course, but the delivery model was badly outdated. So we developed the Faith Case curriculum, which makes use of 21st-century technology to reach 21st-century kids. As a publisher, we realized that we were using Gutenberg technology in a Google world, so we made sure that our books were offered in tree-book and e-book formats. And we've expanded our use of Internet technology to reach others.
The point is this: We need to use timely methods to deliver a timeless message. But this requires that we constantly evaluate how we're saying things to make sure that those to whom we're saying it understand what we're saying.
Third, we need to keep in mind that our institutions should serve our mission, not the other way around. People — especially unreached people — don't exist to serve the Church. The Church exists to serve them — to reach them for Christ, to grow them in Christ, and to release them for Christ. If we're not doing these things, we're not doing what Jesus called us to do.
Since the AG was founded in 1914, American culture has changed, often drastically, for both good and bad. What are some cultural changes that will help Pentecostals evangelize and disciple the next generation?
My family has a rich missionary legacy. My parents, George R. and A. Elizabeth Wood, were pioneer missionaries in northwest China and Tibet, along with my uncle and aunt, Victor and Ruth Plymire. My other uncle and aunt, Paul and Virginia Weidman, were pioneer missionaries in Africa. In those days, it could take months to reach the field. Living conditions were comparatively primitive and unhealthy. Communication with home was infrequent. It wasn't uncommon for a missionary term to last six or seven years between furloughs. Uncle Victor lost his first wife, Grace, and young son, John, during one especially cruel winter. Uncle Paul and Aunt Virginia lost their 7-year-old son, Paul Jr., to black water fever.
By contrast, travel is much quicker today. The journey to China that took my parents 30 days takes 30 hours today. Through the Internet, missionaries can Skype or FaceTime with family and friends back home. Better health insurance gives missionaries access to healthcare that would have saved the lives of many pioneer missionaries and their family members.
Obviously, these technological advances make the life of missionaries easier. But more importantly, they make the task of spreading the gospel easier. The Internet, satellite TV, and radio reaches countries where missionaries cannot go. Global University can send entire libraries of books about the Bible and Pentecostal theology to its students on Kindle reading devices. Network 211 is using the Internet to evangelize and disciple people in countries where missionaries are prohibited to go. The information superhighway is to Christians in the 21st century what Roman roads were to Christians in the first century — a way to get the gospel out quickly.
Then there's immigration, which, combined with technology, has made the world much smaller. In my parents' day, if you wanted to evangelize China, you had to go to China. Today, if you want to evangelize China, you can go to China or you can evangelize and disciple Chinese exchange students at the local state university. I recently spoke with a Chi Alpha missionary here at Missouri State University. Over half of that school's exchange students come from China, and Chinese students make up about 80 percent of that Chi Alpha's international student ministry. In the past, we had to leave America to evangelize the world. Now the world is coming to America, and we need to seize the opportunity that immigration, foreign exchange students, and the global marketplace afford us — without forgetting to send missionaries abroad, of course.
Another benefit of immigration has been the breaking down of racial, ethnic, and cultural barriers that so often plagued American Christianity. Frank Bartleman said of the Azusa Street Revival that "the color line was washed away in the Blood." Too often in our own Fellowship we redrew the color line the Blood had washed away. Today, our Fellowship is 40 percent ethnic minority. Thank God for that! God is increasing the racial, ethnic, and cultural diversity of our Fellowship, strategically positioning us to reach an increasingly diverse America.
A final positive cultural change is the increased respect for the contributions women make at all levels of society. The Assemblies of God ordained women for ministry before they had a right to vote. My mother and aunt made the most of that opportunity when they set out for China as single women missionaries. Today, women are stepping into positions of leadership in all levels of society, and this gives Pentecostal women unique opportunities to exercise salt-and-light influence on the world. If we're going to reach the whole world with the whole gospel, we need to make sure we're empowering the whole Church — men and women — to get the job done.
On the flip side of the coin, what are some cultural changes that will hinder Pentecostals from evangelizing and discipling the next generation?
The first is the growth of so-called "religious nones," that is, people who claim no religious affiliation. In 2012, approximately one in five Americans claimed no religious affiliation, a percentage that grew 250 percent between 1990 and 2012. What is especially worrisome to me is the high number of young people among the religious nones. People aged 18 to 29 years old account for 22 percent of the American population. Religious nones are overrepresented in that age demographic (at 35 percent), while self-identified Christians are underrepresented (at 18 percent). In the Assemblies of God, people aged 18 to 34 account for 23.3 percent of our total population.
Part of the reason for the growth of the religious nones is the Christian Church's bad reputation among people in that age group. In "unChristian," Gabe Lyons and David Kinnaman argued that young non-Christians view Christianity as a damaged brand. In a subsequent book, "You Lost Me," Kinnaman showed that even young Christians often felt ambivalent about the Church. A good deal of opposition to the Church among these young religious nones is political. Religious nones adopt liberal stances on issues like gay marriage and abortion more often than do self-identified Christians.
Some of the rise of religious nones may also be explained by the decline of the traditional family, since children of single parents are less likely to attend church than children of married parents. Whatever the cause, there are more religious nones than 25 years ago, and they are less likely to think about social issues like Christians do.
A third cultural change has to do with the increasing hostility some sectors of American society display toward Christian beliefs and morality. We have a long history going back to the Garden of Eden that understands marriage as the union of a man and a woman. There are good reasons for this history, rooted in biblical teaching and what philosophers call natural law. But increasingly, law courts and popular entertainment dismiss these reasons as mere prejudices, akin to racism. It's hard to evangelize a group that perceives you as bigoted.
Some of the religious nones are atheists or agnostics. But many of them could be classified as "spiritual, but not religious." Put simply, they're interested in God but not organized religion with its institutions and doctrines.
Why is it important for Pentecostals to encourage a both/and perspective — that is, vital spirituality together with sound doctrine and church membership?
We should encourage a both/and perspective because the Bible itself does. Think about certain episodes in the Book of Acts. In chapter 1, the Church selects Matthias as the replacement twelfth Apostle. This is an institutional concern. Then, in Acts 2, the Church is gloriously baptized in the Holy Spirit. This is Pentecostal experience par excellence. But notice that Peter explains this experience in terms of biblical prophecy about Jesus Christ. This is doctrine. Those who believe in Jesus are baptized in water, added to the church roster, and begin to participate in the church's rhythm of corporate prayer, Bible study, and compassion for the needy. This is church membership. In just the first two chapters of Acts, then, we see a church that is characterized by a live encounter with the Holy Spirit, that preaches the truth about Jesus Christ, and that lives out His teaching in a community setting.
Think of it this way: emphasizing experience at the expense of sound doctrine and church membership is like gas without a car. Emphasizing doctrine and membership at the expense of experience is like a car without gas. It's only when you put the two together that you can go anywhere.
What can AG ministers do to make sure their churches and ministries embody this both/and perspective?
Make sure that you've got gas in your tank!
Speaking from my own experience as a pastor, I know that it's easy to get so caught up preparing your messages and leading your church that you forget to seek the Lord with all your heart, mind, soul, and strength. We preach Jesus Christ to others, but are we walking in close fellowship with Him ourselves?
So, the first thing I'd encourage AG ministers to do is to make sure you personally are walking with the Lord every day through prayer and Bible study. Find a group of friends — whether other pastors or people in your congregation — who build you up for the work of ministry God has called you to do. And don't forget to read edifying works of theology and devotional literature.
Then, make sure that those in your church's leadership circle are doing something similar. Whether they're staff members or volunteers, the people who lead your congregation need to lead by personal example. They can't lead others into a life-giving relationship with Jesus Christ if they do not have one themselves.
And finally, make room for the Holy Spirit in your church meetings. Plan your worship service. Prepare your message beforehand. But make sure to include time in your meetings for people to respond. You are preaching the gospel of Jesus Christ. As you're doing this, the Holy Spirit is calling sinners to repentance. He's calling people to follow Jesus more closely in lives of ever-increasing holiness. He's calling them into the mission field. Do you have a time in your service where people can respond to the Spirit's calling and come forward for prayer?
I firmly believe that many people — including the religious nones — reject Christianity because they haven't seen the real thing. They've seen doctrine, and they've seen church membership, but they haven't seen a church on fire with the Spirit of Jesus Christ. So let's give them the real thing!
In recent years, the Assemblies of God has witnessed a decline in the number of people experiencing Spirit baptism. If this trend continues over the next 100 years, we risk being Pentecostal in name only rather than in practice. How can we best preserve our key distinctive for the next 100 years?
Some of that decline may be a statistical trick. When I was growing up, churches had Sunday night services that focused on helping people receive the baptism in the Holy Spirit. Many churches have stopped having Sunday night services and use camp meetings, weekend retreats, and small groups to lead people into an experience of the Holy Spirit. The results of those meetings often don't get counted on our ACMRs [Annual Church Ministries Reports].
But let's say there has been a decline in baptisms in the Holy Spirit. How do we reverse that decline? Three things:
First, we need to teach about baptism in the Spirit. People cannot learn what we do not teach them. So we need to preach regularly on this important experience.
Second, we need to make room in our weekend worship services for people to receive the Baptism. Let's not so over-program our worship services that we crowd out the sovereign move of God in them.
Third, we need to emphasize initial physical evidence as well as long-term substantive evidence. Jesus Christ baptizes us in His Spirit so that we might fulfill the Great Commission. Spirit baptism is power for service, in other words.
If there has been a decline in Spirit baptisms in our Fellowship — and I'm not yet convinced that there has been — we must take appropriate steps to reverse it. Most of the world is not Christian. Increasing numbers of Americans claim no religious affiliation. If ever there was a time when the Church needed a greater, deeper baptism in the Holy Spirit, to be filled to overflowing with His divine power, this is that time!