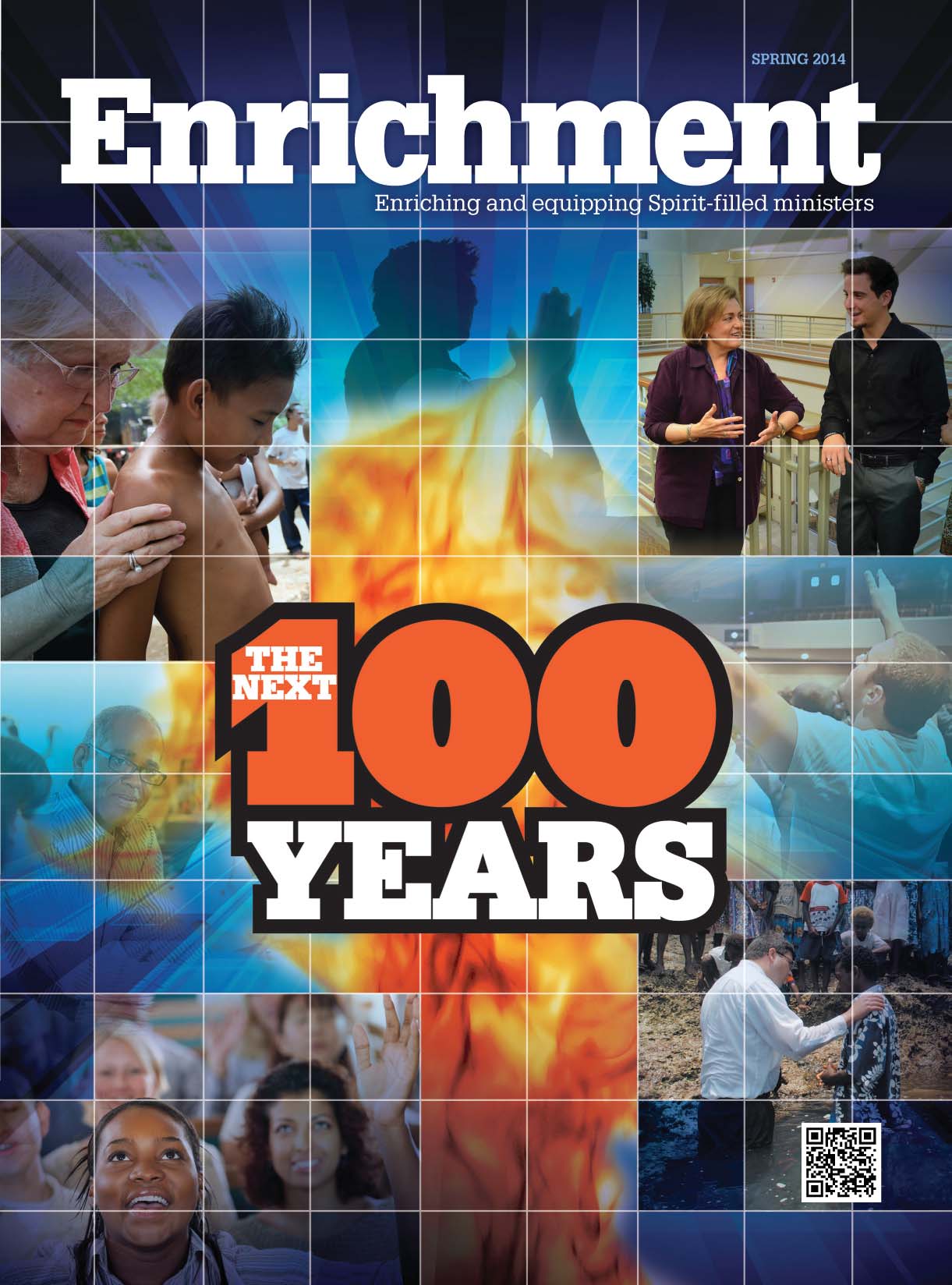 Downloads:
Introduction Back to the Future
The Assemblies of God's Next 100 Years
by George P. Wood
---
In April 2014, the Assemblies of God completes its 100th year of ministry and begins its 101st. God has blessed the Assemblies of God in the first century of its existence, granting fruitfulness to the faithfulness of its ministers and laypeople. From humble beginnings with 300 pioneers in Hot Springs, Arkansas, the Assemblies has grown to encompass approximately 66 million people in 252 countries, territories, and provinces. And for this, we thank God.
Rather than cast a look backward at our first 100 years, we have decided in this issue of Enrichment to look forward to the next 100 years. How can we be faithful to the call God has given our Fellowship in the midst of new social and cultural realities? What must we do to experience new fruitfulness in ministry in a global culture that is very different from that of our Movement's founders?
In The Evolution of Civilizations, Carroll Quigley argued that the decline of a civilization is not inevitable. Rather, it occurs because the instrument of a civilization's growth becomes an institution. The instruments of a civilization are concerned with real social needs. Its institutions are concerned only with their own needs.
Something similar can happen in churches. A church that focuses on the needs of the lost, the last, and the least is an instrument of divine love. A church that focuses on the wants of its current members has become an institution of human selfishness. Only the first type of church is faithful. Therefore, only the first type of church will be blessed by God with real fruitfulness.
The Assemblies of God Fellowship has four reasons for being: evangelism, worship, discipleship, and compassion. These four reasons have shaped the organization of this issue of Enrichment. After an interview with General Superintendent George O. Wood, Jeff Leake and Sarah Davis [pseudonym] address aspects of our evangelistic mission. Mark Batterson and Scott Wilson focus on individual and corporate worship, respectively. Charlie Self explores how discipleship can prepare Pentecostal Christians for all of life, not just their spiritual life. And Wilfredo De Jesus describes what it means to be a compassionate, Matthew 25 church.
Alongside the articles that address our four purposes, Mike Clarensau combs through All Church Ministry Reports (ACMRs) to outline the measurements and best practices of a health church. Carol Taylor provides sage advice about how we can provide spiritual roots and organization wings to the next AG generation. And I explain why, contrary to John MacArthur's latest book, Pentecostalism is both biblical and good.
As we begin the next hundred years—should the Lord tarry—of ministry, let us keep in mind the words of 85-year-old Caleb, who was unafraid of the perils he faced in realizing the promise of God: "Now give me this hill country that the Lord promised me that day… [T]he Lord helping me, I will drive them [i.e., the Anakites] out just as he said" (Joshua 14:12).
Age, you see—whether individual or organizational—is never a barrier to those who are confident in and faithful to God.