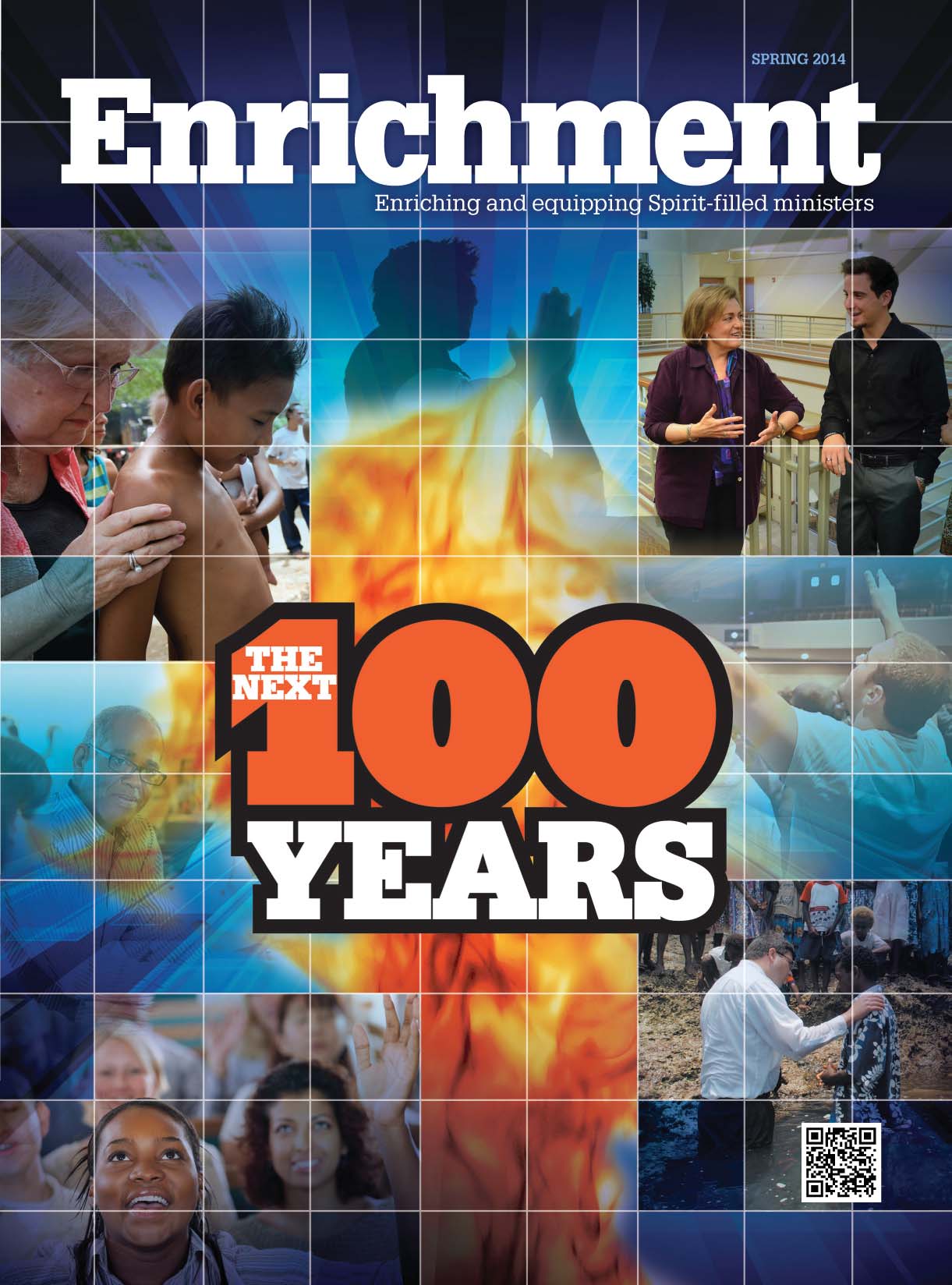 Downloads:
Final Word
Copy and Paste
by James T. Bradford
---
Rachel Sizelove, a Free Methodist evangelist living in Los Angeles, visited the Azusa Street Mission in the fall of 1906 and received a dramatic baptism in the Holy Spirit.
She later wrote, "There was a great open space in my heart, and He just came in."
Months later, she travelled cross-country by train to visit her sister, Lilly Corum, in Springfield, Mo. Lilly was a 30-something-year-old housewife who loved Jesus but became hungry for more of God, spurred on in part by Rachel's experience.
After talking and praying all night with her sister, Lilly powerfully experienced the baptism in the Holy Spirit at 5 a.m. on June 1, 1907. She said the rest of the day she felt like she had slept all night. Soon Lilly's neighbors started attending prayer meetings at her house and were also filled with the Spirit. Lilly, in essence, became the first pastor of what is now Central Assembly of God in Springfield, Mo. Years later, the Assemblies of God National Office located onto property adjacent to Central Assembly.
It was my privilege to be the lead pastor when Central celebrated its centennial anniversary. We held it over the weekend of June 1, 2007, 100 years to the day that Lilly became the first Pentecostal in Springfield. The next Sunday, after the celebrations were over and the guest speakers were gone, it fell to me to preach.
As I prayed about what to say on that first weekend of our second century, a simple word processing image came to mind: "copy and paste." If you want to take something from one document on your computer and put it into another, all you have to do is select it and click "copy." Then go to the other document, select a location, and click "paste." There it is!
The question came to me, "If I could copy anything out of the first 100 years of our history and paste it into the second hundred years, what would it be?"
The two things I selected to "copy and paste" for Central Assembly are the same ones that I would select for our Fellowship as a whole at the beginning of our second hundred years: a primitive dependence on the Holy Spirit and a passionate desire to include others.
Our history began with God infusing people with His life-giving Spirit. Our forefathers were smart people, but their dependence on the Spirit was "primitive" in that they did not become impressed with themselves but constantly sought the dynamic moving of the Spirit through them and in their churches. Ministry in the young Assemblies of God was supernatural and spiritually alive.
Creativity, facilities, and programs may follow, but they do not lead. As we enter our second hundred years, may God unusually energize and empower us. May we not be embarrassed to talk about the Holy Spirit or pray for people to be filled with the Spirit. May we call people to the one thing that will put a fire in their hearts that is stronger than the fire of the world's affections. May the Spirit's power saturate and anoint our evangelizing, worshipping, fellowshipping, and serving.
The second thing I would like to copy out of our past and paste into our future is a passionate desire to include others. May we recover the passion of our roots to preach a Jesus-centered gospel to our local communities and to people groups around the world without access to the gospel. May our churches be marked in this second century with a new love for people that will take us past inwardness, self-fixation, or lack of vision. May we be less programmatic and more relational. May we open our hearts and churches to new people, not just to grow numerically, to disciple and serve them for God's glory and the expansion of His kingdom before Jesus returns.
A dependence on God and a desire to include others have brought us this far. May they also shape the century ahead with God's grace and favor upon us.