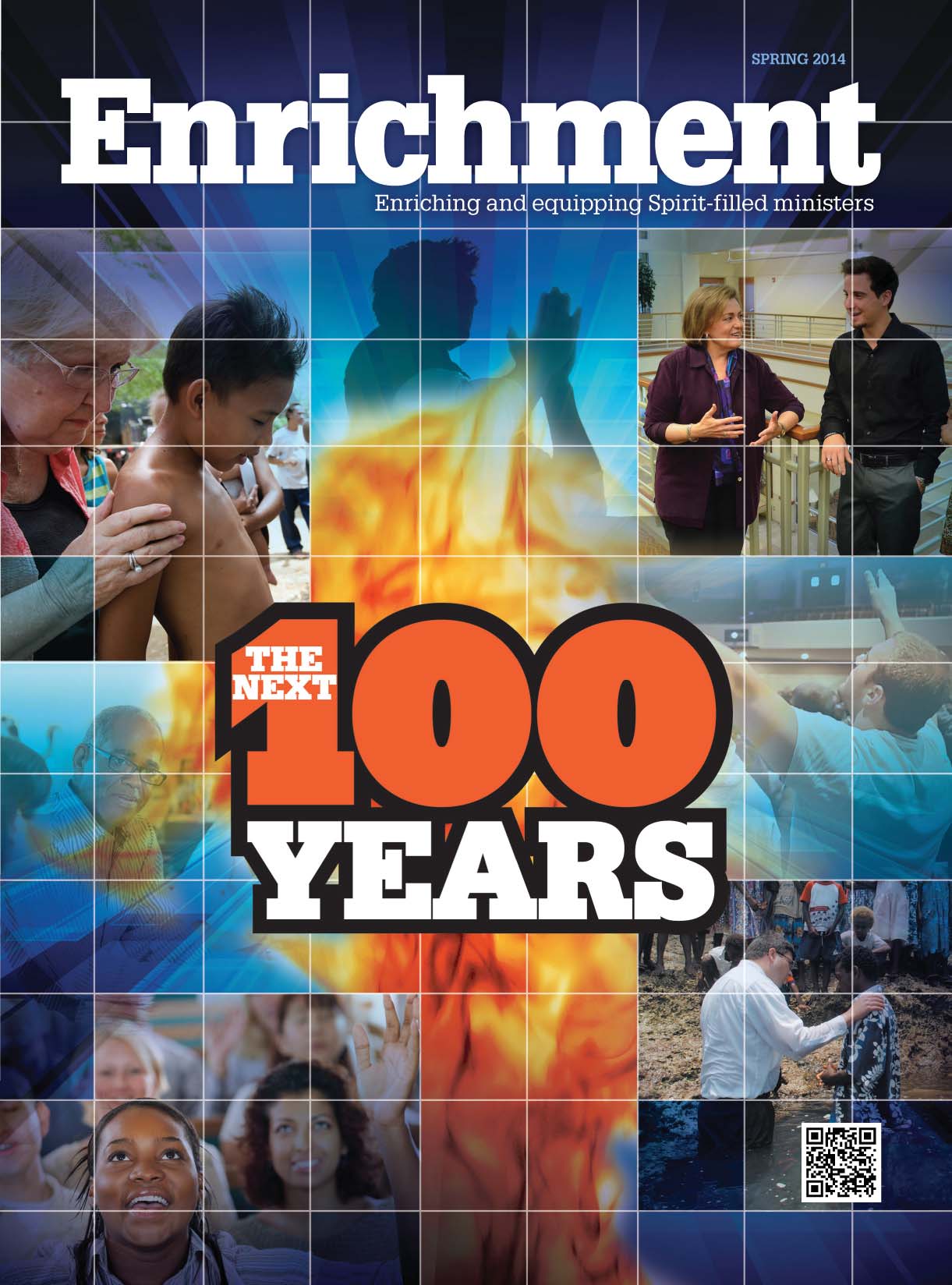 Downloads:
Discipleship for the Other Six Days
As we enter the second century of Pentecostal mission, the Holy Spirit is calling all believers to be and make disciples.
by Charlie Self
---
As we enter the second century of Pentecostal mission, the Holy Spirit is calling all believers to be and make disciples.
Kerry was happy that the missionaries had ample time to share their exciting and harrowing stories of church planting and rescue efforts in a sensitive country. Along with calls for prayer and faith promise commitments, the pastor invited the congregation to come forward to receive the baptism in the Holy Spirit.
"Spirit-baptism is God's gift so we can fulfill the Great Commission across the street and around the world. Come forward, whether it is your first time or you want a fresh touch from the Lord," he said.
Kerry went forward, prayed in tongues as the Lord baptized her in the Holy Spirit, and felt God's presence in a way she had not experienced since youth camp 15 years earlier. As she drove away, she saw the church's sign: "You are now entering the mission field." She was excited but felt uneasy. At home she had a 9-month-old boy with an ear infection (her husband stayed home so she could go to church), loads of laundry waiting, and a project deadline looming at work. She wondered if she should accept the mayor's invitation to the Arts Council, helping her town celebrate its centennial. What did it mean to "make disciples" in Kerry's everyday life? Kerry had led a friend to the Lord recently and several girls in her M-Pact Girls class made decisions for Christ. Still she wondered how the missionary language fit her daily routine.
God's Mission and Ours: Pentecostal Purpose
Our loving God is on a mission. From His promise to Abraham that all nations would be blessed through his heirs (Genesis 12:3), and culminating in the person and work of Jesus Christ, God is offering reconciliation through the Cross (Romans 5:1–11; 2 Corinthians 5:14–6:2; Ephesians 1:10; Colossians 1:15–22). Five times Jesus commissioned His followers as partners in sharing the good news (Matthew 28:18–20; Mark 16:15; Luke 24:47; John 20:21; Acts 1:8), and then God baptized these disciples in the Holy Spirit on the Day of Pentecost, receiving power for witness (Acts 2:4ff.).
The sovereign move of the Spirit that birthed the global Pentecostal movement — from Azusa Street to Hot Springs, from India to Wales — created communities that were excited about the Lord's imminent return and passionate about evangelism. Some purchased one-way tickets to distant lands; others brought the experience of Spirit baptism to their hometowns. We still enjoy the fruit of this outpouring as hundreds of millions have come to Christ in the past century, and the Assemblies of God has grown from a few hundred to a global movement of over 65 million.1
The Missing Dimension
In our enthusiasm for evangelization, we often forget that most of God's work in the world takes place through ordinary people who spend most of their waking hours working at secular jobs. While we affirm the priesthood of all believers (Exodus 19:6; 1 Peter 2:9,10) and believe that God poured out the Holy Spirit on all flesh (Joel 2:28,29; Acts 2:4; 10:34–48), we tend to separate everyday life from spiritual things and elevate those in full-time ministry, causing some laity to feel less important than the ministers they support.
God does anoint and appoint spiritual leaders, and He sovereignly calls women and men as evangelists, missionaries, and pastors for equipping God's people and evangelizing in distant and local regions (Romans 15:14–22; Ephesians 4:11–16; 1 Timothy 3). Jesus' commission is for all His followers. The key to the whole church taking the whole gospel to the whole world is realizing that God wants more than the leisure time of the laity. He deserves "every nanosecond" of our day.2
Work is Good
God is a worker (Psalm 19:1–6; John 5:17), and He appointed humankind to take care of His world (Genesis 1–2). God made us in His image and to share His creativity. Work is all meaningful activity apart from leisure and rest. The economy is the social system of value exchange we participate in every day. Work is not a consequence of the curse. The Fall makes our work difficult, and we may find ourselves in systems that are oppressive (Ecclesiastes 2:10,11; 4:4). Our Redeemer makes our work meaningful (2 Thessalonians 3:6–13).3
In Jesus, God is forever a human being. There is no greater affirmation of our human identity than God's own participation in human life. Jesus spent most of His earthly life as a carpenter in the Galilean economy of the first century. As we grow in Christ, He calls us to faithful work.
Matthew 25 places all facets of life in perspective. The Parable of the Ten Virgins (verses 1–13) reminds us we must be ready for the imminent return of Jesus. The Parable of the Talents (verses 14–30) reminds us the Lord expects a return for His investment in us. Then we have the Lord's teaching on the Sheep and the Goats (verses 31–46), reminding us selfless service is a sign of true discipleship.
Hal Donaldson responded to the Holy Spirit's prompting to understand the broken, and years later Convoy of Hope is ministering to millions around the world.
Robert Padgett left a successful pastorate, and in the past two decades Assist International has networked business and medical professionals and resources for Christian causes around the world, blessing the needy and opening doors for missions.
Brett and Lyn Johnson are beginning their third decade of empowering business professionals to consult with companies and leaders, transforming ordinary businesses into Kingdom enterprises. Instead of separating work and ministry, Christian leaders learn that their business is their mission by understanding the ways of God for their work and awakening to the Spirit's leading.4
A factory worker in charge of a machine press paused from his repetitive and skilled work as the owner stopped to say hello. When the owner asked, "How are you doing today?" the machinist replied, "I am king of my domain." God wants all followers of Christ to know where they fit in the economy. God is working through the:
artist who brings beauty in the midst of brokenness.
athlete who plays fair and inspires teamwork.
entrepreneur who creates jobs that are answers to many prayers.
prayer warrior that lifts up missionaries and pastors.
politician who serves and stewards resources well.
volunteer who mentors a child.
missionary planting a church in the midst of persecution.
retail clerk who makes people smile and goes the extra mile.
pastor who preaches the truth on Sunday and sits with a grieving family on Thursday.
reporter who goes where the facts lead.
family who creates a community garden.
Discipleship: Mission and Transformation
Our Lord is not gathering decisions — He is transforming men and women into the image of Christ (Romans 8:28–30; Colossians 3:1–4; 1 John 3:1,2). The work of the Holy Spirit is more than anointing for mission. God has given us a new nature and called us to live by the Spirit, allowing God to transform every part of our character (Romans 12:1,2; Ephesians 4:22–24). From the Beatitudes of Jesus in Matthew 5:3–12, to the fruit of the Spirit in Galatians 5:22,23, to Peter's list of virtues (2 Peter 1:4–10), discipleship is Christ formed in us.
We find the framework for our transformation in the Great Commandment of Matthew 22:37–40. Jesus declared that above all other commands we are to love God with all our being and love our neighbor as ourselves. In these words we find our way forward for practical Christian discipleship.
Life in Deep Ellum in Dallas, Texas, is an outreach led by Joel and Rachael Triska. Their building is more than a place for church. They incubate new business, lease space to community groups, oversee an art gallery and coffee shop, and gather believers for discipleship and worship. By their structure they communicate integration and 24/7 Kingdom life as they are cultural, economic, intellectual, and spiritual leaders (across from farmers' markets, art galleries, and professional sports headquarters).
More Than Rules
Too often we convey discipleship as a series of classes or set of disciplines. If we take the classes (usually basic doctrine, morality and spiritual disciplines, along with discovering our gifts and committing to giving and serving), and practice certain disciplines (prayer, Bible reading, tithing/giving, sharing the faith, serving in the church, etc.), then we are good disciples.
The classes and disciplines are good as divinely appointed means to a greater end. Their aim is transformation. The important question is how do we biblically measure and celebrate progress in our discipleship?5 Look at each of these and discover the shape of a life dedicated to God.
Loving God: Our Spiritual Formation
God's love created us (Psalm 139) and sent Jesus for our salvation (John 3:16,17). He delights in us (Zephaniah 3:17) and rejoices when we love Him (Luke 7:9; 10:21). Our weekly worship, daily Bible reading and prayer, fasting, and learning God's ways help us grow more in love with God. Discipleship is becoming like the One we behold (2 Corinthians 3:17,18). We begin to measure progress by:
learning prayer "without ceasing," that praises God, offers our burdens, and intercedes for others.
cultivating hunger for God's Word and how it applies to all we do.
looking for opportunities to share Christ.
Loving Our Neighbor: Healthy Relationships
First John 2:9 and 4:8 proclaim that true love for God leads to practical love for others. Love is the motivation for sharing Christ with unbelievers (2 Corinthians 5:14). Love is a new disposition and discipline that comes from God's love poured into our hearts by the Holy Spirit (Romans 5:5). Healthy relationships can include:
serving family members.
being a team player at work and in our volunteer activities.
learning wise boundaries with some people so we serve without burning out.
Loving Ourselves: Personal Wholeness and Godly Self-Esteem
From Hebrews 12:2 we discover, in the words of Michael Card, that Jesus would "rather die than live without us." The Incarnation (John 1:14) is God's affirmation that being human is good. We are worth the precious blood of Christ (Acts 20:28; Romans 5:9; Hebrews 9:11–14). The world perverts self-worth into pride and self-absorption or inferiority and self-hatred. Jesus calls us His brothers and sisters (Romans 8:28–39; Hebrews 2:11). Some ways to measure this are:
learning to forgive others quickly and completely.
overcoming anxiety and fear by allowing the Lord to heal our hurts.
taking responsibility for our decisions and getting help for addictions and habits that hinder growth.
Loving Our Purpose
In addition to the general will of God for all believers, God has specific good works prepared for us (Ephesians 2:10). We discover our particular callings by doing the will of God where we are each day. Destiny comes through discipline. Growth in this area is measured by:
being good stewards of resources.
understanding how our work connects with the Kingdom and integrates in our community.
developing all our gifts in service of the church and world.
The Other Six Days
God's work takes place through believers who spend most of their week working. In the past 3 years, Valley Christian Center in Dublin, California (Pastor Roger Valci), has commissioned its members to over 18,000 hours of service through more than a dozen nonprofits in the county. Here is being "salt and light" every day.6
What if our testimonies included creating jobs as well as physical healing? Will we count being on the local school board as Kingdom service as well as Royal Rangers leadership? What if every church sought the "prosperity of the city" by seeking God about what they can do for the local culture, economy, and safety of the community?7
The Exciting Days Ahead
As we enter the second century of Pentecostal mission, the Holy Spirit is calling all believers to be and make disciples. All the spiritual gifts (1 Corinthians 12–14; Romans 12:3–8) are operational outside the church walls. Opportunities for witness come naturally as we carry out our assigned tasks with excellence and joy. May the testimony of the next century of Pentecostal mission be even greater as the Holy Spirit empowers all disciples for their arenas of influence.
Kerry can now drive home encouraged that the laundry, work project, cranky baby, and opportunities in the community create the stage where she can fulfill the drama of the Great Commission. All her daily and weekly disciplines now have a context for her to flourish.
Notes
1. Statistics from The Assemblies of God World Missions Office as of October 2012. Personal conversation with administration.
2. Christopher J.H. Wright's summation of the Lausanne Movement goal for global evangelicalism. From a lecture in October 2009 at Assemblies of God Theological Seminary. "Every nanosecond" is a quote from Mark Green in a presentation in South Africa at the Lausanne Conference, 2010.
3. See the excellent white papers and Economic Wisdom Maxims of The Oikonomia Network, an outreach of the Kern Family Foundation. http://www.oikonomianetwork.org/
4. The work of Brett and Lyn Johnson, including resources for Kingdom discipleship through business, may be found at the following websites: www.repurposing.biz and www.bizcipleship.com.
5. For more details on new discipleship frameworks and assessments, see www.discipleshipdynamics.com and especially the latest version of "The Discipleship Agenda" for measurable evidences of growth in Christ.
6. See "Pastor Roger's Tracts" at www.comediscovervcc.org, the website of Valley Christian Center, an Assemblies of God church in Dublin, California.
7. Charlie Self, Flourishing Churches and Communities: A Pentecostal Primer on Faith, Work, and Economics for Spirit-Empowered Discipleship (Grand Rapids: Christian's Library Press) 2013.