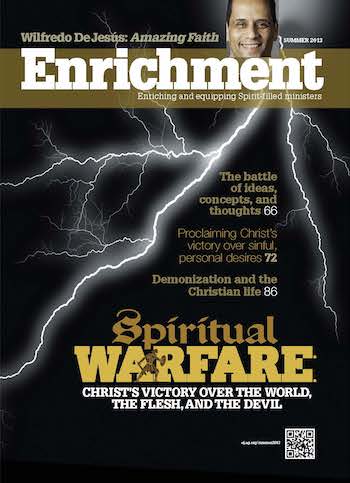 Downloads:
Why I Believe God Still Heals
Why does God heal some and not others? An honest look at Scripture can teach us valuable lessons concerning healing. Journey with this author as she discovers some lessons on healing.
by Ada Brownell
---
God heals some and He does not heal others. This mystery confuses many, and the body of Christ sometimes staggers under a spirit of unbelief.
I have entered that valley, too; but, as a Christian and retired medical reporter, I still believe in miracles.
My faith journey began as a child. My friend, Velda Jean Bailey, had leukemia. My brother-in-law told me about her condition: "The doctors say Velda Jean probably has only 2 or 3 weeks to live."
A woman in my home church tearfully requested prayer for my friend.
A few days later Velda's grandfather had been praying with her when her mother saw a change come over her daughter. "She looked as if new blood were going into her veins," her mother says.
Velda's symptoms disappeared. Her parents asked for new tests. Diagnostics revealed God had completely healed Velda. She was alive the last I heard — 25 years later.
Our daughter, Gwen, did not need tubes surgically inserted into her ears after she went forward for prayer. God healed our youngest daughter Jeanette's elbow so it no longer slipped out of joint.
Years later, our granddaughter, Melissa, suffered from croup. Our son, Gary, and his wife, Janice, were moving to Tulsa, so they left anyway. Gary drove the truck and Janice followed in the car. Janice's mother and I went to our knees in prayer.
Snow fell so fast as Janice followed the truck that the wipers couldn't keep the windshield cleared. Janice had to stick her head out the window to see, bringing the cold air in on Melissa and her little brother, Justin.
When they arrived in Tulsa safely, Janice called us.
"How is Melissa?" I asked.
"The croup is gone. She's not sick anymore."
I had heard that sometimes cool, moist air helps chest congestion — but cure a fevered child with croup?
At numerous times physicians thought a member of our family was in trouble physically. A few years ago, a test showed Gary had only 40 percent kidney function; but, after prayer, a specialist found nothing wrong. Gary never had kidney problems again.
At about age 30, Gwen had symptoms of multiple sclerosis. After prayer and many tests, physicians said she was fine — and she is fine, 10 years later.
Our six younger grandchildren are miracles. Complications during their mothers' pregnancies could have endangered four of their lives or their futures, but God intervened. Two other grandchildren came to us through the miracle of adoption.
With five children, and now grandchildren, we have had many medical problems changed from serious to insignificant after prayer. Yet, Carolyn, our oldest daughter, died at age 31 from an aggressive form of lymphoma. Our son, Jaron, has suffered from asthma since age 2.
But I still believe for Jaron's healing and know God heals.
I have studied the Bible almost all my life. Although answers to why some are healed and others are not is a mystery, here are a few things I have learned.
1. All humankind is destined to die because of sin. God told Adam and Eve that if they ate of the forbidden tree, they would die. Satan, the liar, said, "You won't die! He just wants to keep something good from you" (my translation). Adam and Eve ate and became mortals. We, as their offspring, inherited the curse of sin. Read Genesis 3.
The King James Version explains it in Romans 8:22,23: "We know that the whole creation groaneth and travaileth in pain together until now. And not only they, but ourselves also, which have the first fruits of the Spirit, even we ourselves groan within ourselves, waiting for the adoption, to wit, the redemption of our body."
2. Healing is in the Atonement. Centuries before Jesus came Isaiah wrote, "Surely he took up our pain and bore our suffering, yet we considered him punished by God, stricken by him, and afflicted. But he was pierced for our transgressions, he was crushed for our iniquities; the punishment that brought us peace was on him, and by his wounds we are healed" (Isaiah 53:4,5). Peter quoted these verses and said, "By his wounds you have been healed" (1 Peter 2:24).
Our Savior knows what it is to suffer. His beard was plucked, and His flesh removed from His back for our healing. Yet, even before pain gripped His body, Jesus had compassion and healed many among the multitudes who followed Him.
3. An atmosphere of doubt interferes with God's Spirit working in us. Jesus himself could not do many miracles in Nazareth because of a spirit of unbelief (Matthew 13:57,58). In Luke's description of the Lord's visit to His hometown, Jesus told how many lepers in Israel needed healing, but God only healed one — Naaman. God had shut the heavens to many widows in Israel in the days of Elijah, but because of unbelief God sent Elijah to only one — the widow of Zarephath.
Jesus does have the power for miracles among a throng of doubters, but we often absorb the unbelief.
4. What our minds feed on affects our personal faith. Romans 10:16–18 says faith comes through hearing the Word of God. Many today attend services 90 minutes a week. We complain about 45-minute sermons and have no time for prayer in the altars, but we spend several hours each day watching TV. We will sit in a snowstorm for 3 hours to watch a football game. Romans 8:6, 7 indicates that when we allow our flesh to take charge of our minds, it interferes with walking after the Spirit.
5. We build our faith by remembering miracles God has done. In every church and prayer group I have attended, these signs, including healing, have followed them that believe (Mark 16:17). I spoke to a youth group and had a half dozen people with testimonies of God's intervention in a crisis share their experiences.
The father of a large family who worked on a highway crew urgently prayed because the weatherman had forecast rain and he could not work in the rain. Rain followed the paving machine all day, but it never rained where they worked.
Several told of miraculous healings — two where doctors had given no hope. One woman told how God turned away a forest fire racing toward their house as she and the children stood at the window praying and repeating Psalm 91. (I wrote their testimonies for the Pentecostal Evangel in a story, "What Prayer Can Do.")
Yet, a serious diagnosis such as cancer of the pancreas strikes faith-paralyzing fear. Part of that is Satan's spin on truth. Like every expert of propaganda, he uses a smidgeon of truth in his destructive lies. While treatments have advanced, cancer of the pancreas has meant almost certain death. But God healed gospel singer Jimmy Blackwood, son of James Blackwood, of pancreatic cancer in 1984. I interviewed him about it for the newspaper where I worked. Jimmy is still singing.
6. We have a drought of God's power because we do not seek the gifts of healing, faith, and miracles. God gives the gifts of the Holy Spirit to those for whom He has a specific purpose, but He also tells us to ask for them (1 Corinthians 12). Jesus said, "Heal the sick, raise the dead, cleanse those who have leprosy, drive out demons. Freely you have received; freely give" (Matthew 10:8).
7. Lack of fasting and prayer affects spiritual outcomes. In Ezra's time Israel fasted and prayed for God's protection over their families (Ezra 8:20–22). The disciples could not cast out demons because they did not fast and pray before they went out (Mark 9:28,29). God is able to do more than we can ask or think, but it is according to the power that works in us (Ephesians 3:20,21). According to the Word, prayer and fasting increase that power.
8. Although we know our sin does not cause most sicknesses, sin can cause us to be sick or even die. Paul wrote, "For those who eat and drink without discerning the body of Christ eat and drink judgment on themselves. That is why many among you are weak and sick, and a number of you have fallen asleep. But if we were more discerning with regard to ourselves, we would not come under such judgment" (1 Corinthians 11:29–31).
When, however, some people witnessed the healing of a blind man and asked who sinned, the man or his parents, Jesus said, "Neither, so that the works of God might be displayed in him" (John 9:1–3).
9. God does not heal or deliver some people because of "the greater good." For instance, when our oldest daughter was near death from cancer, she left a witness. Four people gave their lives to Christ and others recommitted themselves to God. When people experience a death close to them, they realize their own mortality and need of a Savior.
10. Often God uses faith and works, and we should give Him credit for these miracles. James said, "What good is it, my brothers and sisters, if someone claims to have faith but has no deeds? Can such faith save them? … faith by itself, if it is not accompanied by action, is dead" (James 2:14–16).
People prayed for me several times because of knee pain. When I had knee replacements, the pain disappeared. Medications, along with God's mercy, have helped Jaron live triumphantly with asthma for 40 years. I consider that a gift from God.
I believe the Lord gives knowledge to physicians today; and, furthermore, it is a sign of Christ's coming. God told Daniel, "But you, Daniel, roll up and seal the words of the scroll until the time of the end. Many will go here and there to increase knowledge" (Daniel 12:4).
On the medical beat at the newspaper where I worked, over and over physicians told how doctors could not do much for diseases and medical conditions until the 20th century. The most important things that changed health and longevity, according to physicians I have interviewed, are clean water, immunizations, and antibiotics — but God also has given wisdom for diagnostics, medications, and treatments.
11. Sometimes healing does not come because we are being tested, as Job was. "These have come so that the proven genuineness of your faith — of greater worth than gold, which perishes even though refined by fire — may result in praise, glory and honor when Jesus Christ is revealed" (1 Peter 1:7).
12. God's sovereignty means He always has the last word. God has the last word in everything, including how many days we live. We have promises throughout the Bible about healing which we can grasp and believe, but we need to put the whole Bible together for correct doctrine. It should give us comfort, and not fear, to know everything is in His hands. "This is the confidence we have in approaching God: that if we ask anything according to his will, he hears us. And if we know that he hears us — whatever we ask — we know that we have what we asked of him" (1 John 5:14,15).
But His "last words" to His children always are words of love. (See John 3:16.)
Ada Brownell, a retired newspaper reporter, is author of the books, Swallowed by LIFE: Mysteries of Death, Resurrection, and the Eternal ; Confessions of a Pentecostal; and 275 articles in 40 religion publications, including 120 articles in the Pentecostal Evangel.