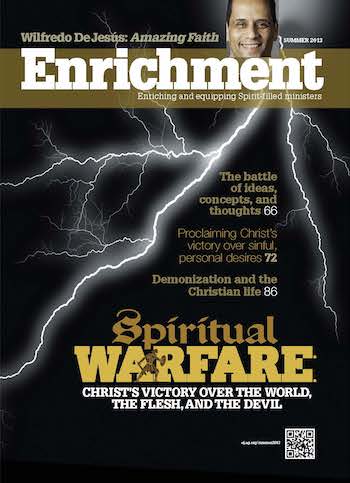 Downloads:
SIDEBAR: More Enemy Strategies Aimed at Pastors
by Stephen Lim
---
Besides spiritual "thorns," Satan may employ against pastors he also uses three other strategies against believers.
Attack and Destruction
First, the enemy seeks to attack and destroy. Peter warns us that he "prowls around like a roaring lion, looking for someone to devour" (1 Peter 5:8). Jesus says He "comes only to steal and kill and destroy" (John 10:10). Paul describes these attacks as "flaming arrows" (Ephesians 6:16). As a minister of the gospel, Paul endured multiple imprisonments, beatings, and whippings, and even survived a stoning. Attacks may also include discrimination, harassment, seizure of property, and death. All the apostles except John died for their faith. Pastors and believers in many countries today regularly suffer persecution and attacks. Only God's enabling through prayer enables them to endure.
Demonic Influence
Second, the enemy influences Christians to the degree they permit through disobedience or spiritual carelessness. As spiritual beings, either the Spirit of God or alien spirits influence us. When we limit the leading of the Spirit in our lives, evil spirits gain greater influence. We see two striking cases of leaders who succumbed in King Saul (1 Samuel 16:14; 18:10; 19:9) and Judas, whom the devil "prompted … to betray Jesus" (John 13:2). Let's keep full of God's Spirit (Ephesians 5:18) and minimize the influence of other spirits.
Deception
Third, Paul warns that Satan "masquerades as an angel of light" (2 Corinthians 11:14). Those he cannot attack or influence to sin, he tempts them to take actions that appear to be harmless, good, and even noble, but which are contrary to God's will and purposes. For example, Jesus' first two temptations in the wilderness appear reasonable and even scriptural, but were contrary to God's will (Matthew 4:1–7).
To avoid such deception, we need to: immerse ourselves in God's Word, walk closely with Him, seek the gift of discernment, and make ourselves accountable to a small group of believers who know us well.
Overcome
Aware of enemy strategies, pastors can overcome by putting on "the full armor of God," taking "the sword of the Spirit, which is the word of God," and praying "in the Spirit on all occasions" (Ephesians 6:11,17,18).
STEPHEN LIM, D.Min., Springfield, Missouri