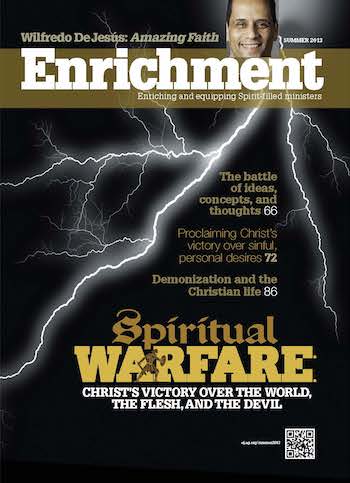 Downloads:
SIDEBAR: A Pattern for Intercessory Prayer
by James T. Bradford
---
When Nehemiah heard that the walls of Jerusalem were broken down and its gates burned with fire, he wept and fasted for days. The essence of his prayer, as recorded in Nehemiah 1:5–11, models for us a practical pattern for intercession.
P – Praise
Nehemiah did not begin his prayer with a request, but with an expression of praise. In doing so, he focused on those attributes of God he would need to rebuild the walls. He started with the dimensions of God greatness rather than the dimensions of his problem.
R – Repent
Approaching God's presence inevitably makes us aware of our own sinfulness and unworthiness. Yet repentance clears the way and, in the words of John the Baptist, prepares "the way of the Lord." So Nehemiah confessed both his own sins as well as those of his nation.
A – Ask
Prayer is not twisting the arm of a reluctant God, but touching the heart of a willing God. Nehemiah made his request for rebuilt walls by appealing to God's promises. God's promises express God's willingness. Nehemiah quoted God's Word, stood on His promises, and, in doing so, humbly asked for God's intervention and help.
Y – Yield
Nehemiah knew that sometimes the Lord calls us to be part of the answer to our own prayers. He closed his prayer by personally surrendering to God's purposes and yielding to God's strength. Rather than saying "amen," he simply yielded to and said "yes" to God's favor.
JAMES T. BRADFORD, Ph.D., Springfield, Missouri.