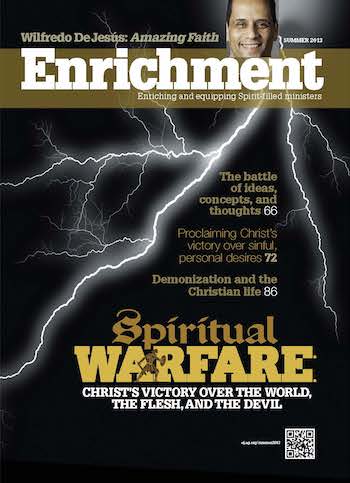 Downloads:
Introduction Spiritual Warfare
Christ's Victory Over The World The Flesh, And The Devil
by George P. Wood
---
Spiritual warfare is a controversial topic among Christians.Understanding Spiritual Warfare, a recent book from Baker Academic, outlines the contours of the controversy by surveying four models of spiritual warfare that Christian authors have developed in the last two decades.1 The editors of that book label those models the "world systems model," the "classical model," the "ground-level deliverance model," and the "strategic-level deliverance model."
Each of these models focuses on a different enemy against whom Christians wage spiritual warfare. The world systems model focuses on the ideologies and institutions that oppress human beings. The moral conflict against the flesh by the Holy Spirit within the individual is the central theme of the classical model. The other two models identify demonic entities as the enemy. The ground-level deliverance model focuses on the demonic oppression and deliverance of the individual. The strategic-level deliverance model, on the other hand, adds to this a concern for the identification and exorcism of "territorial spirits."
The editors organized Understanding Spiritual Warfare as a debate among proponents of these four models. Each of the proponents offers a case for his or her model, then the proponents of the other models critique that case. The book is a fascinating read, which I highly recommend.
And yet, I wonder whether we can so easily limit our understanding of spiritual warfare to one or another of these models. If you asked the biblical writers to choose what humanity's greatest enemy is, my guess is that they would have answered, "All of the above." Unjust systems, unholy desires, and the host of hell all are our enemy, not one or the other, and not one more than the other. In biblical terms, we go to war against the world, the flesh, and the devil.
Understanding how that unholy troika works and how to defeat it is the theme of this issue of Enrichment. As you read these articles, I pray that you will lift up your voice and pray to the Lord — in the immortal words of Thomas Cranmer's Book of Common Prayer: "from all the deceits of the world, the flesh and the devil, deliver us!" And then, get back in the battle.