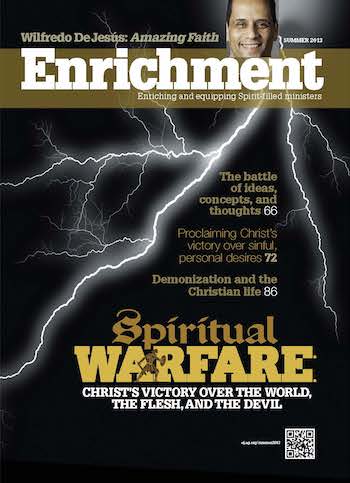 Downloads:
Hand to the Plow
Chicago Pastor Named to TIME's 100 List Keeps Gaze Fixed on Poor
by Cara Davis
---
A week after landing on the cover of TIME magazine, and days before being named to the TIME 100, Assemblies of God pastor Wilfredo De Jesús boarded a plane to speak to just 44 people gathered in a small church in Nebraska. Given his recent notoriety, such a small gathering may seem like an odd choice for the senior pastor of one of America's largest churches. But not to Pastor Choco. "It's not about numbers; it's about people. It doesn't matter if it is 10,000 people in Miami or 44 people in Nebraska. When God calls, I go. I am always humbled and honored when I'm invited to spend time with men and women of God wherever they are."
In his first book, Amazing Faith (Influence Resources), De Jesús shares his life story and message: "No one is too lost, too evil, too wounded, or too hopeless," he writes. "No one is beyond the transforming power of God's love. When we let Him, God fills our hearts with His love, strength, and purpose, and we become complete." That message and his humble spirit may be at the core of why Pastor Choco finds himself in the media's spotlight.
It Takes a Movement
De Jesús is senior pastor of New Life Covenant Ministries, one of the fastest-growing churches in Chicago, and the largest Assemblies of God church in the nation. When De Jesús became pastor of the church in July 2000, it averaged 120 attendees per weekend. Today, New Life has 17,000 people through four church campusesand church plants and boasts more than 130 ministries reaching those in need within the community.
While he has been senior pastor for 13 years, it's only been in the last 3 that word has spread about what's happening there. "For many years I was in Chicago, and no one knew about me, and yet we were the largest church in the Assemblies," he said. "And I was fine with that."
A few years ago Tommy Barnett, senior pastor of Phoenix First Assembly of God, one of the fastest-growing churches in America, encouraged De Jesús to invite George O. Wood, the general superintendent of the Assemblies of God, to visit his church. "He was the one who told me, 'You need to call Dr. Wood. He needs to see this.' That's when people started to take notice."
Dr. Wood became a mentor and "spiritual father" to De Jesús. "I love him and respect him dearly," De Jesús said. "He's been very instrumental in shaping me, and also helping me to be a better pastor. Seeing how he loves the Assemblies of God helps me love my city and care for the poor."
When De Jesús became aware of the potential TIME magazine coverage, Dr. Wood was the first phone call he made. "I wanted him to hear it from me," he said. "My relationship with Dr. Wood only continues to enhance my relationship with the Assemblies of God. It's through him that I'm able to expand and grow. I appreciate the Movement and what we're trying to do around here, around the country, and around the world."
De Jesús is quick to point out that growing a megachurch and obtaining national and international media attention isn't anything he sought. "Know that this isn't something I asked for," he said. "If pastors who are ministering want to grow big churches and grow megachurches, my advice is, 'Don't get into it for that.' I never wanted to be a megachurch pastor. I never wanted to be in the limelight because of the responsibility."
However, now that the light is shining on him, De Jesús recognizes that with the new media exposure comes added responsibility. "I don't let myself focus on the media, per se, because that comes and goes," he said. "But it's shifted my perspective — I understand that I bear upon my life the responsibility to represent the interests of the people, the Assemblies of God, the Hispanic community, and my family."
The First Ministry
De Jesús, 48, feels his first responsibility is to his family, which he calls his "first ministry." "I'll be celebrating 25 years with my wife Elizabeth on June 11," he said. "No doubt Elizabeth has been very instrumental in assisting me and shaping me to be a father, husband, and pastor. My three kids — Alexandria, Yesenia, and Wilfredo, Jr., — they were my first ministry and now all three of them serve the Lord and are involved in church out of their own free will. I just want to praise God for them and their support. My family has always been there — and my family the church, New Life Covenant — they've always embraced what God has placed in my heart, so I'm really appreciative of the church and my staff for their support through all these years. It takes a team to achieve a dream."
De Jesús has extended the church beyond the four walls and into the community. Outside of the church's thriving youth group and children's ministry — New Life operates an affordable private school (Salem Christian School), a free residential program for at-risk youth (Axis Teen Center), and an intensive discipleship program for college-age students (Chicago Master's Commission). Under De Jesús' direction, New Life has launched several nonprofit entities that help those who are hurting in a practical, tangible way. Among these are the Chicago Dream Center, New Life Family Services, Camden Dream Center, New Life Foundation, and others. These organizations operate multifaceted programs: food and clothing pantries, transitional shelters, residential recovery and job training programs, mobile soup kitchens for the homeless and shut-ins, gang and at-risk youth intervention, human trafficking advocacy, world missions and humanitarian relief, after-school tutoring and sports programming, mentoring, prison outreach, immigration advocacy, and much more.
Engaging Powers, Establishing Credibility
The key to expanding ministry, he said, is to establish credibility within the community. "The pastor will always engage powers in the local community," he said. "Your voice only gets stronger when what you do for the community begins to resonate with people. In other words, what gave me credibility in Humboldt Park in the city of Chicago was that I adopted 15 schools and gave 6,000 book bags to children. That gave me credibility to speak into government bodies and social issues that had nothing to do with the church but had everything to do with how my community was being mistreated."
He continued, "There's a lot I do that's outside of the pulpit, but I can only speak like that when I've established a credibility within our community to be heard. Then elected officials and the other agencies and institutions say, 'Okay, this is Pastor Choco, let's hear what he's got to say because not only does he have a large church, but he does a lot for our community."
In Due Time
De Jesús has advice for small-church pastors and church planters. "To those pastors who have mission churches or ministries that are just starting and beginning to get off the ground, put your hand to the plow and continue to help those whom God called you to serve. Just do the ministry. Don't worry about anything else. Always operate in faith and God will honor your faith based on how you move within your city. Love the people you are serving, and God in His due time will honor His servants."