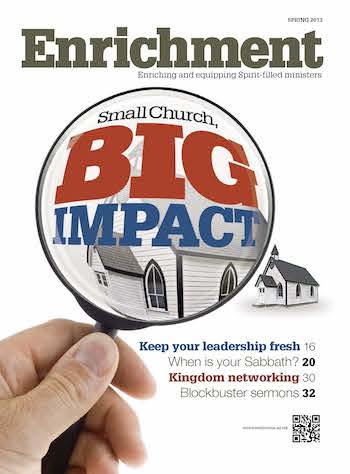 Downloads:
Welcome! Seven Diverse Churches, One Inviting Atmosphere
by Efraim Espinoza and Scott Temple with Scott Harrup
---
How seven small ethnic churches are applying fundamental ministry principles and experiencing steady growth and influence, often on a scale belying their size.
By Efraim Espinoza and Scott Temple With Scott Harrup
"I looked, and there before me was a great multitude that no one could count, from every nation, tribe, people and language, standing before the throne and before the Lamb" (Revelation 7:9).
A unified and glorified Church seems more imminent in our increasingly interconnected world. Followers of Christ around the globe are cooperating in the Great Commission, strategizing at international conferences, and building interpersonal relationships through a range of Web resources. In the United States, an unceasing flow of internationals populate our colleges and communities and present an ever-expanding harvest of people for our churches.
The U.S. Assemblies of God is experiencing a 21st-century metamorphosis. A growing array of language and ethnic districts and fellowships are moving the larger Fellowship closer to an earthbound reflection of John's heavenly vision. Seven churches offer seven reference points within a much larger picture of Christ-directed domestic outreach to the nations. These churches are applying fundamental ministry principles and experiencing steady growth and influence, often on a scale belying their size.
Innovation Feeds Expansion
Ethnic churches understand their harvest field naturally precludes any kind of cookie-cutter approach to ministry. Creative and accessible locations, outreaches that connect the unchurched with a church community, and a commitment to be a daily presence are fundamental principles for an effective community presence.
Like many nascent churches of this generation, Hope of the City Church (AG) in suburban Seattle, Washington, is foregoing a traditional building to get a jump-start on reaching their community. By developing a presence at Westfield Southcenter Mall, in Tukwila, Hope of the City is striving to live up to its mission of "Bringing Hope to Every Life."
"We were willing to take a risk and take the gospel to the marketplace," says Ruth Solero, who leads the congregation with husband Luis Solero. Six days a week the Soleros, both from the Philippines, do just that. God has honored these risk-takers by bringing people into His kingdom. Most who attend Hope of the City have recently come to Christ.
From the second level of the mall near Sears, Hope of the City impacts their community by being accessible; the mall is a nonthreatening atmosphere, and the church maintains office hours throughout the week. The goal of Hope of the City is to build a strong and healthy multicultural church, but not just one. Surrounded by franchises in the mall, they have a vision to take that multiplication principle and open 50 healthy multicultural churches like theirs.
Located 5 miles from JFK Airport, Bethlehem Punjabi Church (AG) in Richmond Hill, New York, is impacting one of America's largest and most diverse communities using an array of literature and media tools. Pastor Jatinder Gill coordinates the broadcast of testimonies, teachings, and music through local television channels and over the Internet.
Broadcasting a Sikh convert's testimony of coming to Christ is attention getting. When a Pakistani or an Indian comes to Christ, the church broadcasts his or her testimony. Bethlehem Punjabi Church also impacts its community through vacation Bible school and Community Gospel Festivals. Eighty people attend this church, small in size but great in impact.
Pastor Hang Lee and the families of Elevate Church (AG and formerly Hope in Christ Church) of Saint Paul, Minnesota, have a heart for the spiritual needs of 70,000 Hmong immigrants living in the state. A unique way Elevate Church impacts the community is through "Vision Videos." Media teams visit local businesses and record a 3- to 4-minute video interview on the vision of each business. They show these vision videos the last Sunday of every month during a service they call Community Sunday, and they encourage the featured business to bring their employees, families, and friends.
This creative interface exposes the church community to local resources, the church appreciates and honors business owners, and most important, the church exposes people who have never heard the gospel to Jesus Christ.
Prayer Builds a Foundation
Prayer must energize everything a church undertakes in the cause of the gospel. Regardless of church size, location, or congregational makeup, prayer maximizes any church's attempt to identify and fulfill its God-given mission.
Just east of New York City, Pentecostal Mission John 3:16 (AG) in Stamford, Connecticut, is a thriving Hispanic congregation with attendance hovering at 200 and growing. Pastor Jesus Garcia, Jr., insists the prayer emphasis in the church provides a strong spiritual support for every other ministry of Pentecostal Mission John 3:16.
The church has at least two prayer services per week, but its commitment to prayer is not limited to scheduled gatherings. If an individual or family in the community is confronting a serious need, church leaders will offer to lead a prayer meeting in the home. These home prayer meetings provide opportunities to serve and to evangelize newcomers, especially immigrants who are new to the community.
Pastor Mario Gamez relies on the prayer service at Templo Betania (AG) in Oakland, California, to connect participants with the presence and power of God in their time of need and draw them to the church's other services and outreaches. He regularly observes individuals not connected with any specific congregation coming to these weekly meetings. As well, church members involved in the various ministries of the church come to the prayer services to prepare spiritually for their activities or responsibilities in the church.
Bethlehem Punjabi Church's mission is to bring salvation and healing to unreached people. It trains members to do the work of evangelism and is committed to planting disciple-making churches among Hindi-, Punjabi-, and Urdu-speaking peoples throughout the world. They are establishing prayer centers to back up these spiritual advances.
Language Encourages Unity
Too often people perceive language as an exclusionary reality in ministry. Ethnic churches, perhaps better than congregations with less diversity, understand the attracting power of a language. Ethnic churches also navigate the generational shift in language use that can occur in immigrant communities.
At Templo Betania, the staff gives much care to assure that they do ministry in both Spanish and English. The mission of Templo Betania is to reach individuals at their point of need and guide them beyond the experience of salvation to understand and grow in their relationship with God. Pastor Gamez describes that mission as "Kingdom ministry that is encouraging spiritual maturity to transfer a legacy of faith to the next generation."
Pastor Gamez assigns Bible school students returning home for the summer or between semesters to minister in the church and in the outreach ministries of the church. One student will minister in English while another translates into Spanish.
"We want to equip believers to serve all people at all times in all places," states Pastor Gamez.
Bethlehem Punjabi Church breaks through language barriers by reaching first- and second-generation immigrants simultaneously. The church does this through worshipping in a variety of languages. They translate messages into English. They also have Bible study groups in single languages to give members opportunity to gather with their own language group.
More churches are utilizing English not only as a drawing card for attendees during service, but as a means to connect with immigrant communities outside the church. For example, Hope of Israel Church (AG) in Brooklyn, New York, and Amazing Grace (AG) in Mesquite, Texas, offer classes in English as a Second Language.
Compassion Invites Commitment
Immigrant communities face an array of challenges in the United States, and churches must address material as well as spiritual needs if they are to gain credibility in sharing the gospel.
Templo Betania's ministries extend beyond dynamic services and scheduled activities at the church. Congregants focus on reaching people facing practical needs during the week. Some immigrants who move into the community do not have permanent employment. They gather on street corners and wait for opportunities for daily work. Members of Templo Betania prepare sack lunches and distribute them to those looking for work.
At times, the church becomes aware of a family or individual in the community who does not have the finances to travel to their home country when serious illness or death impact a loved one back home. Helping these individuals with an offering sows "seeds of kindness" in their lives. Pastor Gamez insists the church must be a place where all people can hear about the love of God and experience this love in a tangible way as believers serve them in their moment of need.
Amazing Grace is only 3 years old with some 70 attendees, and yet the church has impacted Dallas/Fort Worth in many ways and through various partnerships. Pastor Bright Osigwe and Amazing Grace families have connected at some level with 12,000 refugees in the area. But their outreach is not limited to ethnic communities. They have also fed more than 20,000 area residents through their efforts to combat hunger. They have a monthly outreach of food and supplies through partnership with World Vision. They have distributed 5,000 pairs of shoes to refugee children and their parents.
Amazing Grace has partnered with Convoy of Hope outreaches in their community. They provide job training and help immigrants get employment. Campus Crusade for Christ sent a team to work with Amazing Grace in cleaning 120 apartments, leading many refugees to Christ. Annually the church organizes a school outreach where they donate 150 backpacks. Amazing Grace set up 45 computers in the activity room of a refugee apartment complex where members assist refugee kids with their homework. They even teach refugees how to drive and help them get a vehicle.
"The greatest impact is seeing many of these refugees accept Jesus Christ as their Lord and Savior," says Pastor Osigwe.
In Connecticut, having a food bank at the church, organizing a soup kitchen on a regular basis, and taking up benevolence offerings to people in need have been opportunities for Mission John 3:16 to serve its community in a tangible way.
"We want individuals and families to experience the love of God in their lives, whether they make their home in Stamford, move to another state, or return to their home country," states Pastor Garcia, Jr.
Generations Perpetuate the Gospel
Balancing assimilation with tradition is a key challenge to immigrant communities. And ethnic churches play a role in helping families achieve that balance. Ethnic churches, like any church, also face the challenge of perpetuating the gospel to each generation in a relevant manner.
"Mision Juan 3:16 (Pentecostal Mission John 3:16) has existed over 50 years yet is very young," says Pastor Garcia, Jr. "Our Hispanic community is young, and it is reflected in our congregation. We have 40-50 boys and girls in our children's ministries, and we have over 40 young people in our youth ministry."
Pastor Hang Lee and the families of Elevate Church see themselves as the transitional generation called to break the curse of traditional Hmong religions. Some 60 percent of their members have come to Christ in just the past 3 years. Four words summarize Elevate Church's vision: Come – Love – Find – Serve. Come as you are; the church is for everyone. Join with a community that loves God and people. Find and then follow Jesus Christ. Serve where you are gifted and in an area where you are needed.
In Tukwila, Hope of the City focuses on strong children's programs and youth ministries, and by including youth in their worship ministry, they are reaching and discipling the second generation. The Soleros believe their focus on children and youth actually invites first-generation parents and grandparents to attend because they see their faith and Pentecostal experience passed on to the next generation.
"The amazing distinctive of Templo Betania in Oakland, California, is that at least 25 percent of the congregants are young people and the senior pastor, Mario Gamez, is one of our veteran ministers who is over 80 years old," states Roger Ovalle, superintendent of the Northern Pacific District. "Pastor Gamez is pastoring an exciting, vibrant church that is effectively ministering to the growing Hispanic community."
God Orchestrates Every Strategy
Whatever a church's makeup, whatever its ministry strategy, the fact remains — it is Christ who builds His Church in its many expressions, and the Head of the Church often surprises His servants.
No one would have expected Pastor Jan Berkman, an African immigrant pastor, to take the helm of an Assemblies of God Russian-speaking Messianic congregation. Hope of Israel Church is located in the epicenter of Russian-speaking Jewish immigrants in America — Brooklyn, New York. Most of the 70 people who attend are Russian by language, Soviet by upbringing, and Jewish by heritage.
Hope of Israel Church is committed to "Faith Working Through Love." They intentionally impact their community in many ways, perhaps none more evident than through their essential diversity of Jew and Gentile, African and Caucasian, worshipping together. A sign on the building where the church meets declares, "Hope of Israel, Jesus is the Savior and the Light of the World."
Light impacts darkness through this smaller church. The power of the gospel emanating from 70 faithful believers is impacting countless thousands around them in ways that might never be reported in their church bulletin.
And that power is evident in Connecticut, Texas, Washington, Minnesota, and California as ethnic and Hispanic Assemblies of God churches carry out the Great Commission in its truest expression — taking the gospel to every nation, even when those nations are just down the street.
That mandate continues from generation to generation, with these pastors committed to passing the mission forward.
"I want our people to know that I believe in them and that I want to invest my life in them," says octogenarian Mario Gamez. "They will be tomorrow's leaders in the church and in the community. We want to transition so they will fulfill their calling to continue to lead individuals to the transforming power of God."