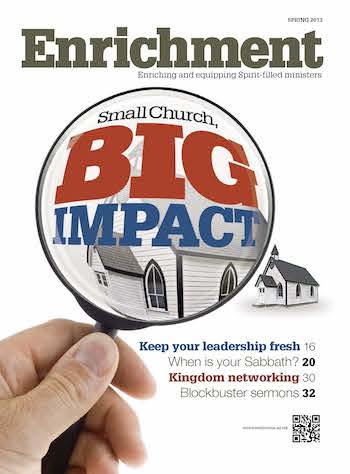 Downloads:
The Other 80 Percent
How to Recruit, Resource, and Refine Big-Impact Volunteers
by Warren Bird
---
See Also:
If smaller-church pastors are to lead their congregations into greater influence, they must think rightly in order to lead well.
How well does the following statement describe your church? "We enjoy an abundance of gifted, deeply committed, and skilled laypersons."
That quote comes from Lyle Schaller1, whose consultations with over 4,000 congregations helped him identify elements of effective, big-impact churches. The truth, he says, is that most churches have far more people who match that description than most pastors realize. Many are likely present in your church, even if some of them are still in the rough. Your role in identifying, empowering, and supporting them is essential for the vitality of your church.
Foursquare pastor Wayne Cordeiro discovered this reality in the early years of the first church he pastored. Six months into his ministry in Hilo, the southern-most island in Hawaii, Cordeiro was at a churchwide picnic. He was having a great time until a man with a condescending tone struck up a conversation. "Do you know what kind of people you have in this church?" the man asked.
"Nice ones?" Cordeiro responded with a smile.
The man didn't laugh. Instead, he replied with a growl. "They're sick," he said, explaining he had lived in the community for a long time. "I know them," he affirmed.
He then gave Cordeiro a verbal tour of the congregation. He pointed to a teenager. "That girl was raised by a mentally handicapped grandmother because her own mother abandoned her," he said. "She does strange things."
Then he pointed out someone else. "That guy is on crack," he said, "and that one is on probation. He has to go back to jail each weekend. Better watch him."
Pointing out another cluster of people, he said, "That guy has a swindling problem. He can tap the church till, and you'll never know it."
After offering a similar commentary on other members, he looked at Cordeiro and sighed, "Your church is full of sickies."
Cordeiro didn't know what to do. Until recent moments, he thought they were wonderful people. After this narration, he started looking at them through different eyes. That girl does act a bit strange at times, he observed. He also began to wonder about the guy standing near her — the one on probation. His eyes are shifty.
After whining to God about all these "sickies," he sensed that God reminded him that all people, including, Wayne Cordeiro, need the restoration of the Great Physician (Mark 2:17). God also reminded him that God's power is "made perfect in weakness" (2 Corinthians 12:9), and that the church is a place for people to be restored into God's image (Romans 8:29; 1 Corinthians 15:49; Colossians 3:10).
Cordeiro began to perceive his job as seeing God's potential in people. He concluded that not only his church, but every church, is full of people being developed to receive a huge spiritual inheritance, as described in Galatians 3:24–26 and 4:1–7. Cordeiro's job, along with the leaders of other churches, is to develop cultures in which believers, especially emerging leaders, can mature to the point where they can steward the inheritance of Christ.
Cordeiro's conclusion about the people in that Hilo church? According to his account in Culture Shift, "If you have the eyes of a pessimist, your outlook will affect all you see. If you're insecure, you will not see many options for empowerment. If your congregation embarrasses you, it will affect how you see them. You will treat them differently as a result. The culture you create will be largely a product of how you see those whom God has placed you with. You have to think rightly in order to lead well."2
This perspective enabled Cordeiro to learn to recruit, resource, and refine big-impact volunteers, and to develop that small church into a healthy congregation that influenced its community far beyond what its size would otherwise have warranted.
Who Says Pareto Belongs at Your Church?
If smaller-church pastors are to lead their congregations into greater influence, they must "think rightly in order to lead well," as Cordeiro learned. One essential step is to believe that your congregation contains those gifted, deeply committed, and skilled laypersons that Schaller's opening quote describes. Another is to challenge stereotypes that only a small percentage of those people will step forward.
I recently coauthored a book, The Other Eighty Percent.3 The subtitle describes what coauthor Scott Thumma and I believe can happen: Turning Your Church's Spectators Into Active Disciples. Our goal is to help congregational leaders reverse the commonly noted observation that roughly 20 percent of the people in a church do roughly 80 percent of the work.
Some have popularized this 80–20 concept by calling it the Pareto Principle. (See sidebar "What Is the Pareto Principle?") Our research found that the Pareto Principle is an observed and accepted pattern of behavior, but not an immutable law of nature for churches. It may happen that only 20 percent or so of your congregation is active, while around 80 percent stand too much on the margins, but it doesn't have to be so.
Jesus Did Not Say, "Feed 20 Percent of My Sheep"
Nowhere in Scripture are two different levels of participation encouraged for those who follow Jesus — the 20 percent and the 80 percent. Rather, God's call to church leaders is to watch over and spiritually develop the entire flock. Is it acceptable to neglect the one sheep that strayed, to allow the widow's mite to remain lost, or to write off the Prodigal Son rather than longing for him to return and rejoicing when he does?
The answer is obviously no. Each child, young person, and adult is precious in God's sight, and we need to nurture and mature them in our churches. That process includes helping them step forward to serve, and even to find their sweet spot where they will have the biggest impact.
To shift the analogy, the story in John 21:15–19 is almost too familiar: Three times Jesus asked Peter if he loved Him, three times Peter said yes, and each time Jesus responded with the commands, "Feed my lambs. … Take care of my sheep. … Feed my sheep."
Ministers know this passage and yet most of them feel fortunate to see even half their flock at church and only a portion of them volunteering. We acknowledge that too often at church 20 percent of the membership does 80 percent of the work. We know this falls far short of taking care of the membership God has entrusted to our care, yet most clergy do not know how to change this reality.
Moving Marginal Participants More Toward Active Involvement
I began with these Scriptures and stories to emphasize that the essential foundation for recruiting and training volunteers in the smaller church is one of perspective, especially in smaller-church settings. You will not see more volunteers surface if you are not willing to actively challenge the Pareto Principle that 20 percent of the workers accomplish 80 percent of the work.
Only after he has armed himself with the right attitude is a leader ready to explore the mechanics for understanding and motivating the marginal people associated with a congregation. If everyone is spiritually gifted, why isn't everyone working? Better practices in modeling, recruiting, training, and supporting will help a church move out of Pareto territory and toward every-member ministry.
The Other Eighty Percent: Turning Your Church's Spectators Into Active Participants presents considerable research on more than 100,000 individuals, numerous church staff, and thousands of congregations. It proposes that the first action a church's leadership needs to take is to learn by listening. This listening can happen one-on-one, through a listening team, or through focus groups. In larger churches it also happens through surveys and forums, as our book explains.
Listening to the Many Segments of Your Church
You probably already know that we can identify the 20 percent of a church as the most active core. It is vital that we understand this group and how and why they volunteer. But do not assume their motivations and patterns represent the rest of the church.
For example, what about the next segment of roughly 20 percent — those who are currently moving toward the core? What excites them most about ministry, and what causes them to be more greatly engaged? Their reasons may be different from what those already in the core would say. It is important not just to hear what is helping them increase their engagement, but then to open those same doors to others, if possible, and to draw attention to them as well.
What about yet another group — typically a segment also of roughly 20 percent — but who are currently moving away from the core? What is no longer working for them that is causing them to drop away? Do not be satisfied with general answers such as "not enough time." Probe until you find some specific themes, even if the news is painful to receive. Give serious, prayerful consideration to what you learn, and make changes where possible and if appropriate. Then loop back with this group to let them know you have heard them and the action you have taken.
What about yet another segment of roughly 20 percent who are not involved with any active role in ministry, but still connect with one or more persons in the congregation? Maybe Jim and Laschandra used to be part of the prison ministry, but have not been involved at church in any way since the church discontinued that ministry years ago. But they still regularly play tennis with another couple in the church. How could you help the active members of your congregation learn about the spiritual needs of these friends or relatives, and then report this back in a way that the church's leadership can help your active members discern ways to reach out to these people?
Engaging volunteers is not one more thing for busy and perhaps already overworked pastors to take on. It is something for the whole congregation to own, and something to happen in a way that brings joy, energy, and new momentum to everyone, present leaders included.
Following are a few of the most important discoveries from our findings of churches that engaged more of their flock in ministry:
The most involved members are also by far the most spiritually fulfilled, engaged, and satisfied. This is also true for those members who have said they are becoming more involved, compared to those who have in the last 2 years become less involved. In other words: When people are involved, they also report that they are growing spiritually. This is good news.
The commonly accepted ideas for why people drift away from involvement have some validity — too busy, demands of their children, and illness — all contribute to inactivity, but people consider these less important than feeling spiritually unfulfilled, not having one's spiritual needs met, and perceiving that they are not growing spiritual or developing into spiritual leaders. The mundane everyday reasons are convenient excuses when someone's spirit isn't engaged and growing.
Even those who are decreasing their involvement or who are no longer involved claim that they still want to be involved. They long for fulfillment and for the church leadership to reach out to them. Many homebound, hurting, and unhappy/disgruntled former members still wish to be involved, saying they want a connection if only the church would reach out.
Above all, we suggest that a focus on increasing member involvement is not just a church-growth strategy in disguise; it is a desire to care for the spiritual lives of the entire flock. Involvement and participation are the correlates of spiritual growth and a person's spiritual fulfillment. A full sanctuary is not the goal; spiritual growth of a healthy sheep is. And as people grow, they will want to volunteer — if you provide a meaningful framework to welcome and support their greater engagement.
One Church Started With 12 People
Churches of all sizes can leverage their volunteers for greater impact. In the Assemblies of God, 84 percent of its churches in the United States have 199 or fewer people in their Sunday morning worship services; 65 percent have 99 or fewer; and 36 percent have 49 or fewer. This means most Assemblies of God senior pastors minister in one of these smaller-attendance churches.
Wilfred Bard, Jr., took a church near the bottom of that ranking. Today we know it as Liberty Church (AG), Shrewsbury, Massachusetts. It had 12 people when Bard became its pastor in 1994. Twelve years later [2006] the church had grown to the point that it planted a campus 18 miles away in Worcester, Massachusetts.
Bard and his staff estimate that about 50 percent of the new campus' initial core group volunteered in a significant way. "From the early days of Liberty Church, I worked hard to create a culture built on volunteers — by welcoming, empowering, cheering, and supporting them," says Bard. "We would not be who we are today without their vital role."
The congregation seems to enjoy an environment marked by an abundance of volunteers. "The uniqueness of Liberty Church is that we have an abundance of volunteers," says Luis Miro, campus pastor.
One example is the illustrated sermon production the media team creates once or twice a year. This involves dozens of volunteers creating a drama that uses the Bible as its script, presenting it during a Sunday morning service, and making a DVD from the live performance.
"Like everything we do around this church, it's not a spectator event. Everyone is participating in some shape or form," reports Luis Diaz, the church's graphics and media director. "Our volunteers are so excited about it and work such long hours on it that we have to kick them out at night to get them to leave. Otherwise they'd sleep on the floor of the church building if we let them."
These volunteers love what they are doing, and it is little wonder that their engagement through their church has generated a huge impact on their community as many people are saved through watching these dramas, and as they disciple many new Christians through being part of the cast or crew. Through illustrated sermons and numerous other community-impacting ministries, this church is contagious in helping people move from spectator to participant.
As volunteers step forward, not only do they extend the church in ways that the pastor personally cannot, but they are also the same group that is most active both in inviting others to church, and then, helping each wave of newcomers also find ways to serve.
Clearly that passion for engagement starts with senior pastor Bard. "Outreach is my heartbeat, and clarity of vision and mission are critical," he says. "We are always on a learning curve to get people connected in ministry."
This what Jesus did with a small group of disciples. This is what Cordeiro and Bard did with their nucleus groups. This is what you too can do. Veteran church consultant Carl George has pointed out that the need for volunteer leaders is the biggest ministry cap in most churches. "The creation of pastoral, ministry-capable leadership must become the core value of the church of the future, second only to listening to God,"5 he says.
Take the first step of listening to and believing God's promises that He has wired your under-involved members with a motivation for ministry. Then be prepared for some very pleasant surprises as you help these people not only step up into ministry, but step out to influence your community with an impact that is "immeasurably more than all we ask or imagine, according to his power that is at work within us" (Ephesians 3:20).
Notes
1. Lyle E. Schaller, A Mainline Turnaround: Strategies for Congregations and Denominations (Nashville: Abingdon, 2005), 150.
2. Story adapted from Robert Lewis and Wayne Cordeiro with Warren Bird, Culture Shift: Transforming Your Church From the Inside Out (San Francisco: Jossey-Bass, 2005), 25–28. Summary quote from page 28, emphasis added.
3. Scott Thumma and Warren Bird, The Other Eighty Percent: Turning Your Church's Spectators Into Active Disciples (San Francisco: Jossey-Bass), 2011.
4. Carl George with Warren Bird, Nine Keys to Effective Small-Group Leadership, rev. ed. (Taylors, South Carolina: CDLM, 2007), 46. See also page 68.