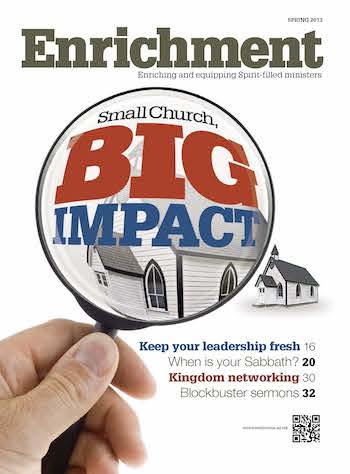 Downloads:
The Healthy Church
How to Assess Your Church's Well-Being Whatever Its Size
by L. Alton Garrison
---
For those who determine a church's effectiveness and success by nickels and noses, the descriptive phrase, small, strong congregation may sound as oxymoronic as jumbo shrimp. With an inordinate amount of emphasis placed on bigger is better, the thought that a small congregation could actually be a healthy, missional church impacting its community and achieving its Kingdom potential seems incongruent.
Bigger is bigger, not necessarily better, healthier, or more effective. Likewise, smaller is smaller, not necessarily sick, unhealthy, or ineffective. God invites you and your congregation, regardless of size, to share a mission that matches both the field where God places you and the strengths with which He blesses you. A church can be big and unhealthy just as a church can be small and unhealthy. God desires small churches to be healthy just as much as He desires big churches to be healthy.
I recently visited my hometown and spoke at an anniversary of the church where my dad spent the first 22 years of his ministry. The building is much improved, but it is still very small with a seating capacity of about 90 people. When I say small, I mean little. We did not even have a foyer — you were either in or out of our church.
Dad did not receive Christ as his Savior until he was 37 years old. At the time of his conversion, he was a high school dropout and hopelessly addicted to alcohol, which rendered him undependable as a provider and undesirable as a husband. But he accepted Christ, and Christ miraculously transformed him and delivered him from alcoholism; baptized him in the Holy Spirit; and within 24 months of his conversion, the district appointed him pastor of Sour Lake Gospel Tabernacle before he had ever preached his first sermon. It was illogical for him to become the pastor. God, however, called him and helped him in spite of his deficiencies. It was thrilling to hear the stories of the impact of his and Mom's ministry in that little community of less than 2,000 people and a church that would not seat 100 people.
Basic Assumptions
We in ministry sometimes make basic assumptions that lead us to believe the incomplete or even false declarations made by others. Serving as district superintendent in Arkansas gave me opportunity to observe the vitality of churches serving small communities.
Not all small churches are weak and dying, but some are. In his book, Small, Strong Congregations, Kennon Callahan says there are three types of small congregations: "small and strong, small and weak, and small and dying."1 Weak or dying is not the result of being a certain size; it is the result of a way of thinking, planning, and acting. If a small church is small and weak or small and dying, the journey to health can be painful and slow. This is not only possible, it is also God's will. It is His church, and He wants every church to become everything He has designed it to be.
Big churches are not just small churches, only larger. No, they are entirely different. Small churches are not mini-mega churches. In reality, they lack the people and financial resources to staff and finance multiple programs and ministries. Smaller churches have a distinct orientation, a unique culture, and a necessity for people and pastors to understand them for the value they have. Health generally leads to growth. A small church, however, may not necessarily be preoccupied with the numeric growth of the congregation but with the spiritual growth of the people that leads to transformed lives and eventually a new hope for the church to reach their friends for Christ.
One size does not fit all. Dr. Gary McIntosh, a well-known author, consultant, and professor at Talbot Seminary, has written a book, One Size Doesn't Fit All. He says different size churches have their own orientation, structure, and leadership styles. Roles of pastors are different; people make decisions differently; change occurs differently; and growth patterns and growth obstacles are different.
Facing Realities
I am not excusing any church, regardless of size, for its lack of spiritual disciplines, dysfunctional behavior, absence of vision, or passion for fulfilling the Great Commission. But there are some realities that may be contributing factors to their size. These realities can bring a new level of awareness for becoming healthier.
Reality #1: About 36 percent of Assemblies of God churches are 49 or less in attendance in public worship and almost 65 percent are 99 or less.
Our Challenge: Current research by McIntosh says it takes at least 24 family units (attending and giving regularly) to sustain the necessary resources for a traditional church ministry. Attendance is not the only issue; there needs to be one leader for every 10 people attending. Lack of leaders and dedicated workers are always an issue in smaller churches. In surveys conducted in both Arkansas and South Dakota, the No. 1 need of pastors was recruiting workers, teachers, and leaders.
Reality #2: Rural America is aging and shrinking in size.
Our Challenge: While communities are aging, it feels like churches are aging even more rapidly than the communities they are in. When the average age of people in a church is 10 years or more above the average age in the community, the church finds it is no longer able to relate to the community. Fewer visitors attend; and, when there are visitors, there is a low retention rate. Demographic realities tell us when young people leave for work, military, or college, most never return.
1,769 (14 percent) of our churches are in communities of less than 1,000.
4,132 (33 percent) of our churches are in towns of less than 5,000.
5,702 (46 percent) of our churches are in towns of less than 10,000.
McIntosh's grid shows the drastic differences between the structure and orientation of small and large churches. Those differences are either not well known or rarely considered.
We tend to populate our conferences and teaching opportunities with well-known speakers who have had visible success (large churches). They frequently, and understandably so, share experiences and instructions with pastors of smaller churches that may not work and may even be toxic. I am not insinuating that one cannot be inspired, challenged, and changed by an anointed message from a God-called man or woman of God, regardless of his or her context. But, based on McIntosh's information, trying to lead a small church in the same manner as a large church can be ineffective at best, and at worst, extremely dangerous.
I have been guilty of giving directives based on my personal experience without considering how applicable my information might be to the hearers. As a pastor, I have said, "I am singularly responsible for only four things: casting vision, primary preacher, discipling staff, and stewardship development." Implied, but not stated: "I am not the primary caregiver or the primary counselor." That may be appropriate for a larger church with an adequate pastoral care team and counselors; but, in a church of less than 200, it is not acceptable for the pastor to miss a hospital call or refuse to see someone who wants an appointment. That pastor may get introduced to the "U-haul" ministry.
In spite of the challenges, there are many small, strong congregations. Johanna and I recently visited our friends, Allen and Alice Cartwright, who pastor in Viola, Arkansas, a town of 381. The Sunday we were there, 200 were present in the service. That is a small church in a small town making a big impact.
Dave Campbell pastors Timbo Valley Assembly of God in Timbo, Arkansas, a town with less than 100 inhabitants. The last time I visited the church, 117 were present and that church routinely gives $100,000 annually to missions.
God's will is for His church to be healthy, accomplishing His mission.
The road to church health, regardless of size, begins with asking the right questions.
Are we healthy? Can we agree on the definition of healthy church? Do we have the courage to assess ourselves? Will what has happened in the last 3 years likely predict what will happen in the next 3 years? The Healthy Church Network has assessment tools designed to help a church determine its current condition and prescribe a path to health.
Why do we exist? What is our mission? Do we really strive to fulfill the Great Commission and the Great Commandment?
Where are we going? What is our vision? What is God's picture of our preferred future?
How do we behave? What are our values? What is our unique personality as a church — our DNA?
What is our plan? Is our model producing the desired results? Do we have a strategy to get to where we need to be?
Am I the right leader? Do I have a divine call to this church? Whom am I attempting to please — people or God? If the church has plateaued or is declining, am I willing to seek help?
A Healthy Church Is God's Idea
Matthew 16:18 declares that Jesus is the head of the Church and He is the builder. You cannot imagine that the builder, Jesus, would use a faulty blueprint to build the greatest institution ever conceived.
The Early Church must be our model for a healthy church. The disciples birthed the Acts 2 Church in prayer and the Holy Spirit empowered it. Although it had some problems, it was able to impact the then-known world.
Jesus and His Word are the foundation of a healthy church. Acts 2:4 describes the force of heaven that empowered the church at its inception.
With the challenges I have mentioned (and there are many more), it would be senseless to attempt to effect a change in the lives of people by just utilizing our own ingenuity, intellect, and human effort.
"You have an anointing from the Holy One. … The anointing you received from Him remains in you" (1 John 2:20,27). Compare the flow of the Holy Spirit (the anointing) to electricity. Electricity is generic in its flow but specific in its output. The Holy Spirit tailors His empowering anointing to a person's individual gifts, temperament, and abilities.
The anointing will help us be more than we actually are. "But you shall receive power when the Holy Spirit comes on you" (Acts 1:8). The Spirit of God helped a shepherd boy become a king, a fisherman become a disciple, and a murderer become the most prolific author of the New Testament.
The anointing will help us say more than we actually know. When they spoke in tongues as the Spirit gave them the utterance, the word Luke used is apophtheggomai — Spirit-inspired speech. On that same Day of Pentecost, Peter stood, possessing a holy boldness derived from a special anointing, preached a sermon, and 3,000 were saved. It is difficult to believe he was the same person who had recently denied he even knew our Lord. The same "Spirit-inspired speech," enabling those in the Upper Room to speak in a language they did not know, enabled Peter to speak in a language he did know. In response to his sermon, the people were cut to the heart and went from "what does this mean?" to "what shall we do?" The Holy Spirit can take our words and use them supernaturally.
The anointing will help us do more than we can actually do. With the anointing, we can overcome impossible situations. Samson killed 1,000 with a jawbone; Shamgar killed 600 with an ox goad; and Gideon overcame odds of 450 to 1 when 300 defeated 135,000 with trumpets, clay pots, and lamps.
The Acts 2 Church had Jesus as its foundation and the Holy Spirit as its force. If we are to have healthy churches today, we need the same foundation, Jesus, and the same force, the Holy Spirit.
After God birthed the Church, the Holy Spirit gave a pattern for its ongoing behavior in Acts 2:42–47.
The National Leadership and Resource Center is using that pattern as our strategy to help churches become healthier. We derived our strategic plan from the functions Luke wrote about:
Connect (evangelism, fellowship) — vertically to God and horizontally to people.
Grow (discipleship).
Serve (gift-oriented ministry).
Go (evangelism/missions).
Worship.

Our consultants, Mike Clarensau, Ron McManus, and Rick Allen, are engaged in several districts leading numerous churches to health in a 1-year process we call the Acts 2 Journey. We are grateful to God for His blessings on our efforts.
L. Alton Garrison, is assistant general
superintendent of the General Council
of the Assemblies of God, Springfield, MO.
We are grateful to God for His blessings on our efforts.
Notes
1. Kennon Callahan,Small, Strong Congregations (San Francisco: Jossey-Bass, 2000), 11.
2. Gary McIntosh, One Size Doesn't Fit All (Grand Rapids: Fleming H. Revell, 1999).