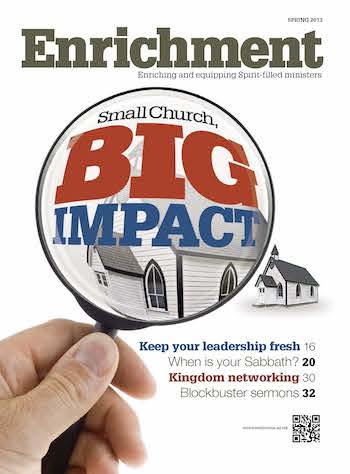 Downloads:
The Externally Focused Small Church
How to Move from Maintenance to Mission
---
See Also:
You may never be the best church in the community but you can become the best church for the community. Here is how.
When two pastors meet, within the first 2 minutes, inevitably one asks, "What are you running?" or "How many folks do you have on a Sunday morning?" Men like to know how they measure up against their colleagues. But what if the conversation changed? Instead, ask, "Tell me about the impact your church is having on your community?" We begin to measure, not size of the church, but the size of the church's footprint in the community. And the smallest church, pound for pound, is capable of having the greatest impact.
A Different Scorecard
Externally focused churches have a different scorecard. The definition I use for an externally focused church is a church that measures its effectiveness, not by attendance on Sunday morning but by the transformational effect the church is having on its community. Being an externally focused church is not about trying to be the best church in the community, but being the best church for the community.
How can a small church have a big impact? In this article I outline the advantages of being small, expose some helpful theological constructs, put forth ways to get started, and through sidebars expose you to small churches who are creating a big footprint.
The Advantage of Small
Play to your strengths. You are what large churches are striving to become. Small is the new big. Read almost any book or article on megachurches and look at what they are trying to do. They are trying to become smaller. Through small groups, multisite campuses, smart use of common spaces, and building small on-campus chapels, they intuit that people want to be part of a community where people know their names, their children's names, and that they would be missed if they stopped attending and participating. They would love to have 58 percent of their congregants attend weekly, as small churches have, as opposed to the current 28 percent who attend weekly in churches over 2,500. They would love to have intergenerational worship as you have. They covet your percentage of volunteers and lay leaders and what you are able to do with such a few number. They sense that someone called pastor should really pastor and shepherd people, not just be a CEO of an organization. In so many ways, they want to be like you.
Externally Focused Theology
Movements of God begin when people read the Scriptures with fresh eyes. I have seen a few theological constructs that have emerged and taken wings around externally focused ministry.
1. Serving is part of God's big plan for every follower of Jesus Christ. Most of us can quote Ephesians 2:8,9 as to how salvation occurs: "By grace … through faith … gift of God … not by works." When we come to Christ through faith, this fills the God-shaped vacuum in our lives. Verses 8 and 9 tell how we are saved. But Ephesians 2:10 tells why: "For we are God's handiwork created in Christ Jesus to do good works, which God prepared in advance for us to do." The fact He prepared in advance the works we are to do signals the presence of a second vacuum in the lives of believers — a purpose-shaped vacuum. So a critical part of being a disciple is to figure out through experimentation the intersection between our passion and God's purpose where we feel God's pleasure or where we feel fully alive.
2. We learn through preaching, devotions, and Bible study, but we really don't grow (beyond a certain point) until we begin serving others. In the past years, Diana Garland and her colleagues at Baylor University have researched how faith relates to service. They surveyed 7,300 people from 35 congregations and discovered that those involved in service to their community "reported that they prayed, came to worship services, and gave financially, all significantly more than those not involved in service. … Children and teenagers — as well as adults — grow in faith by being engaged in service. In fact, service was more powerful than Sunday school, Bible study, or participation in worship for the faith development of teenagers."1 Did you get that? If we want our congregants to be growing as disciples, we have to engage them in service.
My son and daughter-in-law have served in China the past 8 years. Many Chinese college students are coming to faith. My son told me, "Each week after we come together, before we do Bible study, we go and serve the poor or the migrants in our city for a half-hour or so." When I asked him why, he said, "Remember how Jesus ended His story of the Samaritan? 'Go and do likewise' not 'go and think likewise.' It is our goal to help people become like Jesus. I cannot tell if they are becoming like Jesus by the answers they give me in Bible study, but I can tell if they are becoming more like Jesus when they give themselves to those who can do nothing in return for them."
3. Engaging outside the walls is something your people, as Christ followers, really want to do. When I preach or teach I often ask, "How many here want to change the world? Raise your hand." Large church or small, young church or old, inevitably nearly every hand goes up. Everyone wants to make a difference. No one wants to feel they have lived life in vain. Indeed, God has planted eternity in our hearts. Could your church be that place where believers are regularly given the opportunity to change the world in such a way that something in the world would be different?
Again we turn to Baylor University for the requisite research. In 2007, Baylor researchers surveyed 50 congregations to identify no more than three (of the 52 choices) topics that "you would like your church to help your family and other families with." Garland sums up their findings: "Almost without exception, in the more than 50 congregations we surveyed … help in serving others is the most frequently expressed need in every congregation. … Every kind of family asked for help serving. Never-married adult families named it more often than items like dating, preparing for marriage, and romance and sexuality in single life. Divorced persons listed it more often than reconciliation and forgiving. Widowed families listed it more often than help with grief and coping with crisis. Families living with major stress — financial, health, relational — still want guidance in serving others."2
Most churches have goals for every year. What if you threw out the challenge that at the end of the year everyone had a story to tell of how he or she changed the world? We need to define "change the world" to mean: leading someone to Christ, teaching a third-grader to read, helping a single mom.
Turning Liabilities Into Strengths
Recognize the power of small things. One small, well-placed stone brought down a giant. The smallest of seeds grows into the mighty tree, a little leaven changes everything. The DNA of Jesus is in the individual Christ-follower, not in a church building. The smallest missional action is one Jesus-follower meeting the needs of another with the resources God has given him. No act is too small. How small is a cup of cold water? How small is a portion bread and fish? How small is a mustard seed? Part of the pastor's job is to help equip each saint (whether 30 saints or 3,000 saints) for works of service (Ephesians 4:11,12). Mother Teresa reminded us that "there are no such thing as great deeds, only small deeds done with great love."
In June 2012, I attended the Hampton University Ministers Conference on the campus in Hampton, Virginia. Each year, for 98 years, thousands of pastors convene for this weeklong gathering and celebration. Dr. David E. Goatly, the executive director of Lott Carey International, posed challenging questions: "What if you told your people on Sunday, 'Don't come back to church until you have blessed someone'? It doesn't make sense that we bless people just to bless them. We bless people so they too can bless others." He then challenged: "What if you had a hundred people in your church and what if each one went out to bless people during the week before coming back to church the following Sunday? What would happen in your community and church if that was the expectation?" What if your 35 or 50 or 200 people did the same? One hundred people doing one act of love just once a week for a year would result in 5,200 acts of love. Small deeds done with great love change everything.
Some Low-Hanging Fruit
Start by following the heart of God. A good place to begin is with James 1:27 — "to look after orphans and widows in their distress." For an easy-bake template, check out New Commandment Men's Ministries (www.newcommandment.org). The idea is simple. Every church and every community has widows, single moms, and people who are in distress — including those who have a spouse overseas in the military. The church identifies people in distress and assigns teams of three to four men to each person. One Saturday morning each month the men do the basic list of chores or fix-ups that most of us find ourselves doing in our own homes — fixing leaky faucets, light painting, replacing a screen, raking leaves, replacing light bulbs, etc. After several hours, the men gather and pray with and for the person they are caring for. Over 600 churches, including mine, have adopted this model. If you have three men and one person in distress in your community, you can do this ministry. It's like wheels on a suitcase. Why did it take so long to think of this one?
Kids and schools. Did you know that learning to read at third-grade level by the end of third grade is the most determinative component of a child's future? One administrator told me, "Up until third grade kids learn to read; after grade three they read to learn." Not reading at third-grade level is tied to dropout rate, teen pregnancy, drug use, poverty, and incarceration. Eighty-five percent of U.S. juvenile inmates are functionally illiterate. Just investing an hour a week at your nearest elementary school could make a big difference. Many churches work through Kids Hope USA (www.kidshopeusa.org). Just having the presence of a caring adult improves academic test scores of children.
How about teachers? With leaner budgets teachers spend an average of over $350 of their own money to buy school supplies and instructional material for their students. What could the people in your church do to bless the teachers in your community? Many people, each doing one small thing, could make a huge difference.
The Evangelistic Connection
Unconditional love, expressed through service, tees up conversations about Jesus because people always want to know "Who are you?" and "Why are you doing this?" Good deeds create good will and good will creates the opportunity to share the good news.
All over the world people find themselves thinking differently about what the church could be and should be. They are sensing that, if a church is not serving beyond its club members, it is really not the church for which Jesus gave His life. If this is what you find yourself thinking, that's your qualification for leading your church to move from maintenance to mission. You may never be the best church in the community but you can become the best church for the community.
Notes
1. Diana R Garland, Family Ministry: A Comprehensive Guide (Downers Grove, Illinois: Intervarsity Press, 2012), 641
2. Ibid, 639