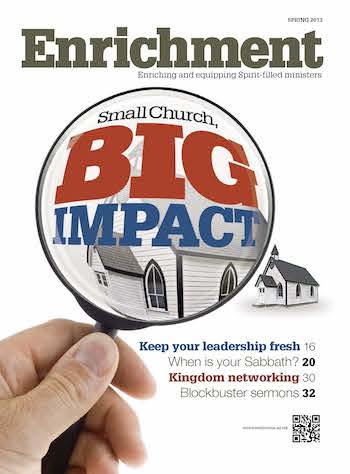 Downloads:
Tent Making in the 21st Century
How to Turn Bivocational Challenges Into Opportunities
by Tim Leathers
---
God is calling a new generation of ministers who can take the added responsibility of bivocational ministry and turn it into opportunities to be salt and light to a lost and dying world.
"It is not what a man does that determines whether his work is sacred or secular, it is why he does it."These words by A.W. Tozer are relevant as we look at bivocational ministry in the 21st century.
Bivocational —meaning "having more than one job" — sounds like a lot of work, especially working as a minister and holding a secular job. We search for meaning and fulfillment in our vocations. We long to see growth, achievement, and success. But in ministry, how do we measure success — by comparing ourselves to the church down the street or across town? Is the bivocational pastor less effective for the kingdom of God?
Scripture provides an example of a successful bivocational minister. God called the apostle Paul to minister, but Paul was a tent maker as well. Being a tent maker allowed him to support himself and maintain freedom in his ministry. Because he did not have to rely on people for his financial support, he had more freedom to preach as God led him (1 Corinthians 9:12–23). As you can tell by reading Paul's writing, being bivocational also gave him great sermon material.
In the past when I was with other pastors at seminars or district council, I would mention I was bivocational. They would say something like, "When will your church get to the place where you can get back into full-time ministry?"
My response? I would often say, "Don't feel sorry for me, because I get to minister to hurting people outside the church every day."
I believe being bivocational is full-time ministry. I believe God is calling a new generation of ministers who can take the added responsibility of bivocational ministry and turn it into opportunities to be salt and light to a lost and dying world.
My Story
I was raised the son of Charles Leathers, a successful Assemblies of God pastor in the Southern Missouri District. While attending Evangel University from 1982–86, I was my father's youth pastor in Marshall, Missouri. I received my first taste of bivocational ministry as a full-time college student doing ministry on weekends at my dad's church 2½ hours away from school. I had to find balance between my school life and my ministry.
I married my college sweetheart in 1989, and we spent the next few years in full-time youth ministry in churches in Missouri and Illinois. Following many years of full-time youth ministry, a small, struggling church in Wilton, Iowa, called us to be its senior pastor. One year after following God's call to this congregation of about 50 people, I felt He was asking us to support missions. Twenty-five people supported this vision and stayed at the church. We knew God had called us to this church; but due to dwindling numbers, we struggled financially. That is when I decided to find a second job.
After working in retail and construction for a short time, the chief of police offered me a job as a police officer in our town of 3,000 people — an opportunity that would provide for my family, meet our bills, and provide benefits, such as insurance. This position offered more than just money; it was an avenue of ministry to reach into the community and touch hurting people. So, at 40 years of age, I headed to the police academy. One year later, God opened the door to serve as the chief of police for Wilton.
Journalists mostly wrote newspaper articles about my position being a cultural oddity. Headlines read, "A Bible in One Hand and a Gun in the Other." However, this unique position provides me opportunity to minister to people who are hurting, lost, and hopeless. While many people think these two jobs are a strange mix, I feel they complement each other. My bivocational necessity is a platform to help me accomplish the Great Commission of being salt and light in my community.
Bloom Where You Are Planted
According to official statistics, 84 percent of Assemblies of God (AG) churches in the U.S. have 199 or less people in their Sunday morning worship services; 65 percent have 99 or less; and 36 have 49 or less. Most AG senior pastors minister in one of these small-attendance churches. With these statistics in mind, a majority of AG pastors are in smaller churches, which makes it quite possible that many are struggling to make ends meet. Many pastors search for ways to grow a thriving congregation, while lack of finances and pressure to pay bills sends them looking to "greener pasture." All the while, God may be giving opportunities to make tents; He may be offering new and fertile opportunities to minister to people outside the walls of the church. Many job opportunities can be platforms to preach the good news. A secular job gives opportunity to touch people just like Jesus did — on a roadside, beside a well, in a home, or in a prison cell. Most of Jesus' ministry was meeting and touching people where they were in communities. I look at bivocational ministry like this; I have twice the opportunity to live what I preach.
God uses opportunities in my week as a law enforcement officer to enlarge my congregation on Sunday mornings. One night I spent the entire night with a young man I knew personally. As I walked into his home, he was sitting on his couch with a revolver to his head. He told me that his wife and children had left him, and he was going to "check out." After hours of negotiation, he handed me the pistol. We prayed together, and he was in our service the next Sunday.
Obviously, not every one has opportunity to work in law enforcement while pastoring a church. Other vocations can also serve as a complement to ministry and life assignment. Some elements to look for in a second vocation are flexibility, alignment with your calling, and opportunity to reach the lost. First responders, teachers, substitute teachers, retail sales, and bus driving are all great opportunities. The important thing is to be ready to bloom in the place God plants you.
More Than Just Paying the Bills
If you look at bivocationalism solely as a means to pay the bills, you will miss opportunities for God's Spirit to flow through you. Bivocational ministry provides many opportunities to touch a hurting world. When I was in full-time ministry sitting behind my desk, I longed for divine appointments. Not many people walked through the door of my office. Don't get me wrong — at times someone would walk in off the street and generate an opportunity for one-on-one ministry. But because I'm bivocational, nearly every day I have opportunity to touch someone's life for Jesus.
Just last week I was called to a car accident. I was the first officer on the scene. The victim was a 16-year-old girl; she was ejected from her car and killed instantly. Within moments I recognized the victim — Justice – a young lady from my church. Justice loved Jesus, so I knew she was in the presence of her Savior.
The coroner and county sheriff commissioned me to do the death notification. The mother was also part of my congregation. When I arrived at the mother's workplace, I told her Justice had been killed in an auto accident. After the initial shock of the news — the screaming and the tears — we drove to her house to tell the siblings. Following a long day with the family and much weeping, I sat with the family and the funeral director to make the final arrangements. The mother grabbed my hand and said, "Pastor, there is no one in the world I'd rather have give me the news of my daughter's death than you."
While it was difficult to do my job that day, being the chief of police gave me the opportunity to minister to a grieving family in a way I could not have otherwise if I had only been her pastor.
I frequently say: "The world is getting tired of hearing how much Jesus loves them; they need to see how much He loves them." I have had the privilege to lead more people to Christ in my office as the chief of police than I ever have in my office as a pastor. God opens doors for ministry that never open just sitting behind a pastoral desk.
As we pray as Jabez does in 1 Chronicles 4:10, "Oh, that you would … enlarge my territory," we must realize that God is using our second vocation to do just that. It is more than a second job to pay the bills; it increases the sphere of our influence that gives access to the fertile ground outside the church. It broadens our territory to a dark world that would never come to us inside the church.
An added bonus to bivocational ministry is the awareness it gives me into the hearts of those attending my church. I can minister to them in more insightful, personal ways through sermons, counseling, and relationships.
More Than a Stepping-stone
I used to look at bivocational ministry as a stepping-stone to greater ministry opportunity. I used to dream of a time when I didn't have to work two jobs. If I continued in this mindset, I would have missed opportunities to do great things for the Kingdom.
I began this article by letting you know why I am working a bivocational job, but the story does not end there. Financially, I no longer need to work bivocationally. My church has grown to a size that can more than take care of my family's needs. However, I choose to allow God to use me in my town as the chief of police. My church can use the extra money for other ministries — missions and outreach within the community. Someday God may call me in a new direction, but for now I am content where I am and with what He has called me to do. He gives me strength to do both jobs; He brings other people and staff alongside me at the church to do the work that needs to be done.
My church is supportive of my dual vocation status. When God calls you, He works out all the details. We must not minimize the importance of the ministry God has called us to at this time. Lives are in the balance. They need to hear the gospel and see Jesus in a real way.
"It's the same with Jesus. He was crucified outside the city gates — that is where he poured out the sacrificial blood that was brought to God's altar to cleanse his people.So let's go outside, where Jesus is, where the action is — not trying to be privileged insiders, but taking our share in the abuse of Jesus. This insider world is not our home. We have our eyes peeled for the City about to come. Let's take our place outside with Jesus, no longer pouring out the sacrificial blood of animals but pouring out sacrificial praises from our lips to God in Jesus' name" (Hebrews 13:12–15, The Message).