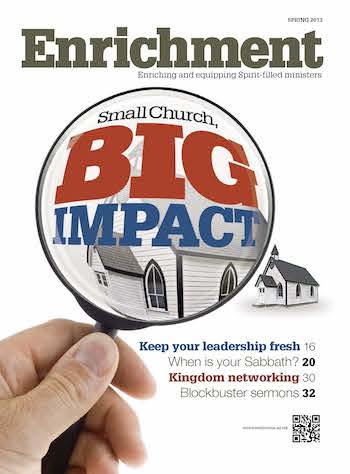 Downloads:
Small Towns ... Big Possibilities
Leading our Communities to Become a Better Place to Live
by Steve Donaldson
---
Here are six keys that will enable your church to take a leadership role that will influence your community.
I heard an Ivy League professor lecture about a study he conducted of small communities. His research reflects what I observe as I travel from small town to small town meeting with pastors. He finds that in the past the family, public school, and the local church were the three foundations of a small town; with the church typically being the center of the community. His findings consistently indicate the family has splintered, the church has lost much of its influence, and the public schools remain the only foundation.
An effective church must engage in making the community a better place to live for children and their families. Pastor Robert Lewis challenges our imagination on what small churches can be like by describing your community's response to ministry from your church:1
Can you imagine your community being genuinely thankful for your church?
Can you imagine city leaders valuing your church's friendship and participation in the community — even asking for it?
Can you imagine a significant number of your church members actively engaged in, and passionate about, community service, using their gifts and abilities in ways and at levels they never thought possible?
Can you imagine the community actually changing (Proverbs 11:11) because of the impact of your church's involvement?
Can you imagine many in your city, formerly cynical and hostile toward Christianity, now praising God for your church and the positive contributions your members have made in Jesus' name?
Can you imagine the spiritual harvest that would naturally follow if all this were true?
Currently I am witnessing a movement toward the church increasing its influence in rural America. The church can be a principal leader in all aspects of community life. Church walls are intended to protect us from wind and weather, but they should not separate us from our communities. We do not want people in our communities to know us as Catacombs Assembly of God. The church must be the "salt of the earth" and engage with our towns.
Rural Is a Vital Calling
I was in a town of 420 people where the pastor has served for 14 years. Many of his friends and colleagues have said, "Tim, someday God is really going to bless you." Essentially, his friends were saying, "Someday you will be in a bigger city and a larger church." Despite his friends' assumptions, this pastor told me he would be satisfied if God's lifelong calling for him is to serve his current community.
Along with helping lay the foundations for Convoy of Hope and Rural Compassion, I was fortunate to pastor in rural America. I grew up in a bigger city; but, as He has for others, God called me to small places. My wife and I planted a church in a community in a valley surrounded by mountains, with a population of 1,200. Our church reached out to single mothers, widows, the schools, cowboys, and was involved in serving our county's poor and disadvantaged. We had three core commitments:
Our valley will be a better place for families and children to live because of our church's involvement and presence.
Every person in the valley will have opportunities to build a relationship with a mature follower of Christ.
Every person who regularly attends our church will have opportunity to become biblically knowledgeable and a mature follower of Christ.
God gave us a huge vision to reach our entire community. He is calling many rural pastors to do the same.
The Answer
When our son Jordan was in the eighth grade, he severely broke his leg. Doctors sent him home with pain medication to decrease the swelling before setting the bone. The first night Jordan lay awake in tremendous pain. As we sat with him, we prayed for God's comfort. My wife gave him the prescribed medication to help control the pain, but the pain persisted. Finally at 5 a.m. Jordan fell asleep. In the morning my wife called her sister, an RN, for advice. Her sister asked what medication the doctors had prescribed. As my wife read the name of the medication to her sister, she started to laugh. "You're giving Jordan stool softener and not the pain medication," she declared.
Much like Jordan's wrongly administered medication, people in smaller communities will often take the wrong medication to address pain in their lives. Alcohol, drugs, pornography, and physical abuse are just a few of the ways people try to cover their pain. Your church has the right medication: it's Jesus. However, grace can be messy. As we strive to look past actions, we see people through Christ's eyes. Jesus set an example in the Gospels of love for people as they are rather than how they should be. Our prayer ought to be, "Let my heart break with the things that break God's heart."
There are keys that will enable churches to take a leadership role that will influence their community.
It starts from the top. The pastor is the most important person to get involved in serving and building relationships. By building relationships in your community and serving others, you will encourage and ignite your congregation to do the same. You cannot teach what you do not know; you cannot lead where you will not go.
Assess your community needs. The culture and needs of each small town are unique, but similarities among communities do exist. Pastors can uncover needs in their community that others are not addressing. Websites such as www.epodunk.com, www.census.gov, and www.dataplace.org will help you. Survey members of your community concerning what they feel are their most pressing needs. Ask, "In your opinion, what would be the best thing our church could do for our town?"
Meet with community stakeholders. A rural pastor must be intentional in developing solid relationships with community leaders. Stakeholders can be the mayor, school principal, high school coach, business owners, or others. Community leaders know firsthand the issues their community is facing.
Community involvement. How can the church plug into the community calendar? Look for events that your church could host or join and partner with the community. Events could include:
Meals on Wheels
Hero Day for police officers and firefighters
Senior center activities
Tutoring program for local students
Kids Fest in the park
Mega sports camp
Hunting clinic
Horse-riding clinic
School supplies drive
Have an adoption program. What groups, places, or organizations could your church adopt? This program could include adopting teachers, social workers, firefighters, sports teams, classrooms, the senior center, or the local park. One church in Kansas adopted the town's main street, and the youth washed all the windows of the downtown businesses. A church in Iowa painted the benches on Main Street.
Partner with suburban churches. These relationships include opportunities to serve the vision of the rural church. Suburban churches can take missions trips to small towns for evangelistic outreach, to work on facilities, and for humanitarian assistance. Some create a sister church relationship where they assist financially. Larger congregations with specialized staff can create structure for ministry to children, youth, seniors, or worship.
The process of change is slow, but God will be faithful in seeing your vision and dreams become a reality. Isaiah 58:11,12, " 'The Lord will guide you continually and satisfy your desire in scorched places and make your bones strong; and you shall be like a watered garden, like a spring of water, whose waters do not fail. And your ancient ruins shall be rebuilt; you shall raise up the foundations of many generations; you shall be called the repairer of the breach, the restorer of the streets to dwell in' " (ESV2).
Your church can be a transformational force in making your community a better place to live. God wants to create a spark for Christ in our small communities to assist the spread of His kingdom throughout the United States and the rest of the world. You can reach the world from your community. As we get more intentional about reaching our towns, we will see the church expanding its influence and impact lives. And the church will once again regain its place as a foundation in rural America.
Note
1. Robert Lewis and Rob Wilkins, The Church of Irresistible Influence: Bridge-Building Stories to Help Reach Your Community (Grand Rapids: Zondervan, 2001).
2. Scripture quotations marked ESV are taken from The Holy Bible: English Standard Version, copyright © 2001, Wheaton: Good News Publishers. Used by permission. All rights reserved.