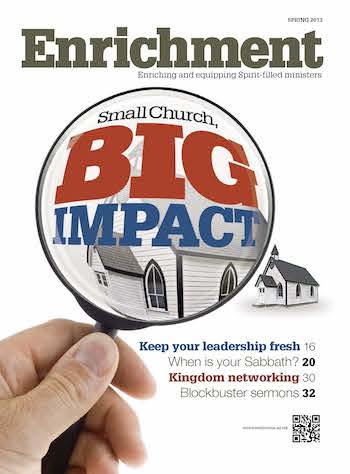 Downloads:
SIDEBAR: Oswego Assembly of God Oswego, Kansas (pop. 1,800)
---
Oswego, Kansas, is a snapshot of rural America — small town charm coupled with a sluggish economy, budget-slashed schools, single moms, and blended families. But Pastor Steven McBrien of Oswego Assembly of God looks at his town through a different lens — the lens of opportunity. "When you read about Jesus' ministry, you see that 90 percent of it took place outside the walls of the religious structures. To be like Him as His followers is, by definition, to be outside our church walls, loving people, helping people, serving people."
McBrien tries to model to his congregants what living outside the walls looks like. He serves as president of the Chamber of Commerce and chaplain of the local football team. Each fall the church blesses all the teachers in their town with "survival kits" — those supplies and niceties teachers need but must pay for from their own paychecks. The church includes a letter of appreciation, affirmation, and thanks to each teacher, letting him or her know the church will pray for them.
Each fall the church hosts a cookout for all the high school sports teams. Rather than having a church-based "fall fest" at Halloween, they join their strength to the city's celebration to help create a "win" for the city. "We think the key of effective blessing is looking for what the city needs most and do that one thing. We have got to get the church into the community before we can ever expect to get the community into the church."