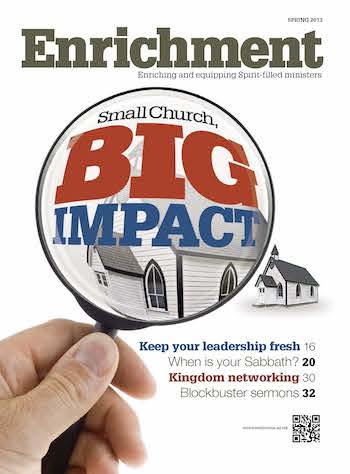 Downloads:
Keys to Influencing Spiritual Transformation in Smaller Communities
by Steve Donaldson
---
Pray.
Be willing to take the Spirit-filled life into your community.
Engage regularly with the community's stakeholders.
Believe God has called you and your church to be a significant influence in your community.
Train the people in your congregation to involve themselves in the activities and leadership roles in your town. Equipping the saints for ministry is not limited to inside the walls of the church.
Be involved with local service clubs.
Avoid criticizing your community. Disparaging remarks limit opportunities to minister.
Build relationships with community members. Remember relationship, relationship, relationship.
Show the compassion of Christ. If we have a passion for God, we will show it by showing compassion for all people.
Look for ways to tell public service personnel (teachers, law enforcement, firefighters, social workers, etc.) thank you for what they do for your town.
Build a church environment that loves and welcomes people. You catch fish before you clean them.
Keep your church relevant to the people God has called you to reach.
You must have longevity. Clarence St John refers to "the law of 4 — 7." It takes 4 years for your church to embrace you and 7 years for the community to embrace you. Persevere though tough times. Plant yourself and bloom where you are planted.
Be faithful in the mundane.
Adjust to your community's diversity. With the trend to return manufacturing back to the U.S., this will lead to greater diversity in rural America.
Do everything with excellence. Excellence is not just for suburbia.
Look for God to do miracles. You cannot solve some of the difficulties in rural communities through natural means; you need the supernatural power of God.
If needed, rebuild the church's reputation. In a small town, if the church has a tainted history, everyone knows it.
Work together with other Bible-believing churches.
Maintain an attitude of optimism. Because God is, what ought to be will be.
Create a balance between attractional and incarnational ministry. Do not just plant a church or go into a rural community simply to pastor an existing church. Establish a vision to pastor the entire town and, as a church, serve your community.
Prepare your church for change.
Maintain a sense of urgency.
Partner closely with other Assemblies of God rural churches in your region. Learn from and assist one another.
STEVE DONALDSON, Ozark, Missouri