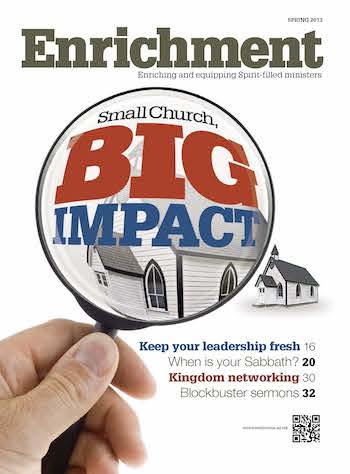 Downloads:
SIDEBAR: How the Funnel Works for New Churches. The Gateway Fellowship Story
---
John and Stephanie Van Pay started Gateway Fellowship Church in Helotes, Texas, in 2008. They prepared for their launch service by using the funnel approach. The Gateway Fellowship launch team created awareness through traditional advertising strategies and positive community connections. Every team member committed to track the names of people they met throughout the week. The focus of their weekly launch team meetings became sharing the names they had collected and praying for them. They recorded these names on a large paper taped on the wall. As they prayed for these individuals, God began to work in their lives and some of them moved from just names on the wall to friendships.
John established a friendship with a guy named Val through his participation in a triathlon. John added Val to his prayer list. They started working out together. Through their conversations, Val discovered that John was starting a church. It was almost a deal breaker for Val. He told John he was not interested in religion. But John continued to be his friend, working out with him in preparation for the next triathlon.
One day Val shared some bad news with John. Doctors had diagnosed Val with a aggressive form of cancer. John asked Val if he was ready to give his life to Jesus. Val declined; but he indicated that if he ever did decide to follow Christ, John would be the first to know.
Shortly after this conversation, Val died suddenly while undergoing a procedure at the hospital. John was devastated. He had every reason to believe that Val was not ready for eternity. Val's widow contacted John and asked him to hold a memorial service for Val. She gave John Val's diary to help him with his preparation. As John read the next to the last entry in Val's diary, his sorrow turned to thanksgiving as he read Val's confession of faith in Christ. Dozens of Val's friends came to faith in Christ after hearing his confession of faith as John read from his diary at the memorial service. This all happened before the church ever had a public worship service. You can watch a video of Val's story here.
By the morning of their launch service in February 2008, the GFC launch team was praying for 1,310 people and had relationships with hundreds. Over 280 attended their opening day. Most of them were new friends the launch team connected with while participating in activities guided by the start-up funnel concept.