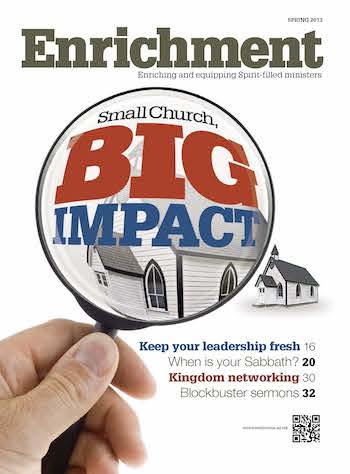 Downloads:
SIDEBAR: City Reach Network Envisions 50 Church Plants in 10 Years
---
Church Planting Myth: It takes a large, established church to plant a new congregation.
While City Reach Church in Pittsburgh, Pennsylvania, was established through one such traditional partnership, it sees no reason to wait for its own growth before multiplying itself.
City Reach Church recently became City Reach Network. The Network is already energizing three main campuses, gaining a reputation for compassion ministry, and intent on planting 50 churches in 10 years.
Pastor Brian Bolt helped establish City Reach Church in 2006 under the leadership of Pastor Jeff Leake and nearby Allison Park Church (Assemblies of God). City Reach Church became sovereign in June 2011.
From their opening Sunday, Bolt and the congregation of City Reach have seen themselves as not just a church plant, but as church planters. "We planted our first church just east of the city in Braddock, Pennsylvania," Bolt says, "and then we planted another in Reading. We felt like the Lord was expanding our vision, that He wanted us to plant 50 churches in the next 10 years."
Two days in Bolt's life — March 17, 2000, and April 13, 2012 — go a long way toward defining the man and his passion for church planting.
On St. Patrick's Day 2000 Bolt got into a fight in a Los Angeles bar. The man he argued with shot Bolt point-blank in the head with a .22 caliber pistol. Before Bolt passed out and went into a coma, he remembers the ambulance arriving and a paramedic's chilling words.
"He told me, 'Son, you've lost a lot of blood. You're not going to make it to the hospital. You're going to die,'" Bolt says. "Then he said, 'Before you die, I want to ask you this question: Do you know Jesus Christ as your Savior?' "
In the back of the ambulance, Bolt said a simple prayer asking Jesus into his heart. That's the last thing he did for 75 days.
On April 13, 2012, City Reach Pittsburgh was holding a Friday night service. "We were praying for souls, praying for church planting, praying for the mission of Christ," Bolt says. "And then something happened, and this thick presence of God took over."
The overwhelming sense of divine visitation carried over to Saturday when several healings took place. The weekend energized additional church services.
"We're in a unique season at City Reach right now," Bolt says. "We have services Wednesday, Thursday, Friday and then two on Sunday morning."
Multiple services fuel a continuing vision to plant churches, with eight sites planned for 2013. Besides spiritual preparation and revival, Bolt prioritizes a very practical key as well.
"A lot of times I hear pastors say they don't have enough money or enough people," he says. "Or I hear, 'We don't have the leaders.' But if we're intentional about seeing people fulfilled in what God has called them to be, the rest kind of falls into place. Keep it simple and just invest in people as God starts to raise them up and equip them."
From his own transformative encounter with Christ, the former drug addict knows God can use anyone to plant a church — or many churches.
"God has been so good to me and to all our churches," Bolt insists. "I'd like to say that I'm some strategic genius, but I'm not. It's all Jesus. It's the Holy Spirit."
SCOTT HARRUP, managing editor, The Pentecostal Evangel, Springfield, Missouri