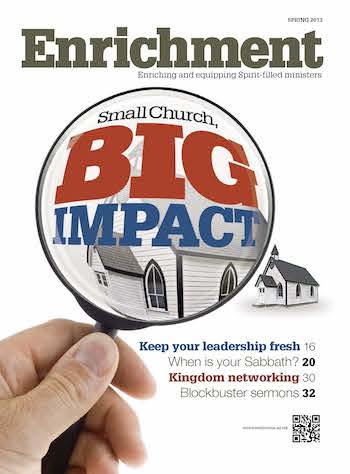 Downloads:
SIDEBAR: Challenges in Bivocational Ministry
by Tim Leathers
---
BALANCE: You must be able to balance your spiritual life, health, family, ministry, secular job, and social life. If you find any of these areas suffering, you may need to reevaluate your situation.
UNDERSTANDING: You need an understanding congregation. If you are bivocational, the church will need to designate a board member, staff member, lay minister, or congregant to do some jobs in the church that they may have expected you to do. Keep in mind that rarely is ministry ever a part-time profession. It is usually a full-time job, along with your secular job. Ministry is demanding, and it is no respecter of a time clock. Your secular employer may not be understanding of your ministry, and you may need to use vacation time for funerals, emergencies, special events, and pastoral conferences. Make sure your family is aware of this.
PRIORITIZE: There may be things you will not have time to do in ministry that you would like to see happen. You will need to prioritize a list of things that need to be done. God can give you wisdom on what to keep, what do place on the back burner, and what to throw out.
BURNOUT: You must depend on the Holy Spirit's power and leading to help prevent you from burning out and wearing out. "Let us not become weary in doing good, for at the proper time we will reap a harvest if we do not give up" (Galatians 6:9).
TIM LEATHERS, Wilton, Iowa