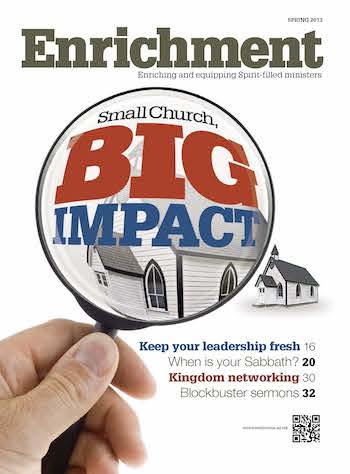 Downloads:
Reaching for the Top
Pastors may have talent, motivation, and knowledge, but still not accomplish their desires. What may be holding them back? Healthy personal attitudes can be the key to success.
by T. Ray Rachels
---
We are all fellow strugglers in pursuit of good attitude patterns for excellence. Here are a few worth working on.
"Keep your eye on what you're doing; accept the hard times along with the good; keep the Message alive; do a thorough job as God's servant" (2 Timothy 4:5, The Message1).
One of the earliest pastoral leadership books I read was Spurgeon's Lectures to My Students. Spurgeon said, "We are, in a certain sense, our own fools, and therefore must keep ourselves in order."
In other words, our attitudes will either add dignity or discredit to our ministry. In other words, the work of ministry is essentially our lives.
Navigating your emotional life, your outlook on life, your point of view, your personal attitude, directly affects not only your performance; but, in the big picture, it drives your ministry's success or failure. You may have talent, motivation, and knowledge, but still not see a breakthrough in accomplishment and fulfillment. We find the key to success, I believe, in healthy personal attitudes.
"For as he thinks within himself, so he is" (Proverbs 23:7, NASB).
To "think" is "to measure, estimate, or fix the value of anything." Attitudes are the "fixed values," the "estimate," we place on our life and work patterns. When I audit my attitudes, I can check whether they are moving me forward or holding me back.
We are all fellow strugglers in pursuit of good attitude patterns for excellence. Here are a few I'm working on:
Self-esteem. I need to see myself as capable and qualified to accept challenges. "God has been kind enough to trust us with this work. That's why we never give up" (2 Corinthians 4:1, CEV2).

I am who God says I am. Believe that, think that, live that. "I can do all things through Christ" (Philippians 4:13, KJV).
Responsibility. Stewardship is a big word, one I need to own and let challenge me. My accountability is to both God and man.
Optimism. The first great modern missionary, William Carey, said, "Expect great things from God; attempt great things for God." You can do it, with God's help. Don't let an "overcast" day compromise your vision. The sun is always shining behind the clouds.

"Cheerfully pleasing God is the main thing, and that's what we aim to do, regardless of our conditions" (2 Corinthians 5:9, The Message).
Goals. Look forward; plan ahead. "By no means do I count myself an expert in all of this, but I've got my eye on the goal, where God is beckoning us onward — to Jesus. I'm off and running, and I'm not turning back" (Philippians 3:14, The Message).
Imagination. Focus on the message of Philippians 4:8,9: "Summing it all up, friends, I'd say you'll do best by filling your minds and meditating on things true, noble, reputable, authentic, compelling, gracious — the best, not the worst; the beautiful, not the ugly; things to praise, not things to curse. Put into practice what you learned from me, what you heard and saw and realized. Do that, and God, who makes everything work together, will work you into his most excellent harmonies" (The Message).
Awareness. Beat tunnel vision. Myopic leadership stunts growth. Be alert to your world and relate your message to it.
Creativity. Be a resource person. Find ways to express new approaches and opportunities to old problems and issues. Read for fresh ideas. Become involved with healthy ideas and healthy people.
Communication. Connect with your world. Life is full of give and take. Listening is as important as talking.
Grow. Exchange unprofitable routines for new profitable patterns of work. If a thing simply isn't working, you have a decision to make.
Respond positively to pressure. Don't lose courage. Build your spiritual and emotional stamina. Pressure that steams you forward is a better engine to ride than pressure that grinds you down. A pause is often more powerful than action.
Trust. Learn to lean on people who prove worthy of your trust and confidence. Those who don't rarely reach the top. Everybody needs somebody. Find somebody.
Take the upward look. Pass on the joy of the Lord to this weary world. I like the part of the Episcopal liturgy that concludes with passing the peace.
Risk-taking. Everything achieved in life involves risk-taking. Remember the man who built the tower and the king who went to war in Luke 14:28–33. First they counted the cost, then took reasonable risks.
Living in the now. Procrastination damages your motivation, destroys your sense of accomplishment, and deteriorates your enthusiasm. Think about this: Is now the time for your decision? Risk? Action? Timing is often the most crucial element in a decision. Always ask yourself: Is now the right time?
You want to live a full life.
You want to realize your full potential.
You want your life to make a difference in the world.
You want your ministry to be filled with excellence.
You can get there by prayerfully and intentionally building a positive and healthy attitude. It won't come without work and attention to details. But, thank God, it is there, available, and waiting for you to take hold of the possibilities.
T. Ray Rachels, former superintendent, Southern California District of the Assemblies of God, Irvine, California
Notes
1. Scripture taken from THE MESSAGE. Copyright © 1993, 1994, 1995, 1996, 2000, 2001, 2002. Used by permission of NavPress Publishing Group.
2. Scripture quotations marked CEV are taken from The Contemporary English Version [computer file]: with Apocrypha.—electronic ed.—Nashville: Thomas Nelson, 1997, c1995 by the American Bible Society. Used by permission. All rights reserved.