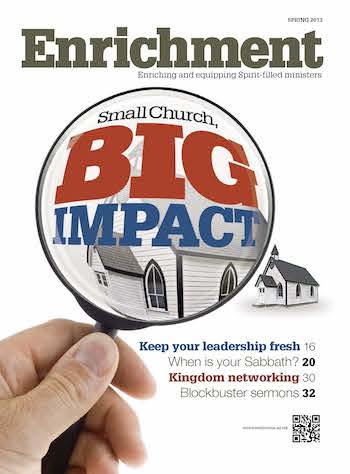 Downloads:
PROFILE: All Tribes Christian Fellowship
Reaching Across Cultural, Denominational, and Economic Boundaries
by Christina Quick
---
All Tribes Christian Fellowship, a Native American majority congregation in Phoenix, has adapted to a shifting ministry landscape in recent years.
Hard-hit by the housing market crash, the Phoenix area has experienced an exodus of young workers formerly employed in the construction and labor industries. Adding to the city's aging demographics are elderly Native Americans relocating from reservations to assisted living facilities in the metropolitan area.
"There's a tremendous need to minister to senior Native Americans," says Marcus Collins, who has served as the church's pastor for more than 20 years. "Many of these seniors are unreached and speak only their tribal language."
Two years ago, All Tribes Christian Fellowship started a senior adult ministry, which includes outreaches to nursing homes and senior centers. With many single adults and young families leaving the community to find work, three-quarters of the congregation is now made up of senior citizens.
"You have to be open to the changes in your community and be willing to adapt your ministry structure and paradigm to meet those needs," Collins says. "A church that is only interested in maintaining the status quo becomes inward focused and can't respond to the mission field that is there."
In addition to ministering to senior Native Americans, the congregation has broadened its evangelism focus over the past few years to reach people from diverse cultural and ethnic backgrounds. The church's facilities serve as meeting places for Hispanic and Burmese congregations. A Croatian congregation previously met there as well. All Tribes Fellowship has also planted a church for African refugees.
"Our vision has really grown to include not only reaching out to Native Americans but also other ethnic groups in the community," Collins says. "We have outreaches that are meeting needs among a wide variety of people."
Twice a month, the church gives away more than 100 boxes of groceries through its food bank. The outreach always includes a devotion and salvation invitation. Though attendance at the service is not mandatory, about 90 percent of those receiving help opt to stay and hear the gospel.
"We have a wide variety of people who come in," Collins says. "Most are homeless — living in cars or sleeping on the streets."
Collins took over the congregation in 1991 when his father, Carl Collins, stepped down after 13 years as senior pastor. The church currently has an average Sunday morning attendance of 80.
Collins says there is still a tremendous need for ministry in the Phoenix area.
"Here in Metro Phoenix, there are over 100,000 Native Americans," Collins says. "On the best Sunday of the year, across all denominations, less than 1,000 attend services."
All Tribes works closely with other local churches to bring together Christians for outreaches, community events, prayer, and fellowship.
"Partnering across cultural, denominational, economic boundaries and organizations is one the most significant part of our ministry," Collins says.
CHRISTINA QUICK, freelance writer, Springfield, Missouri