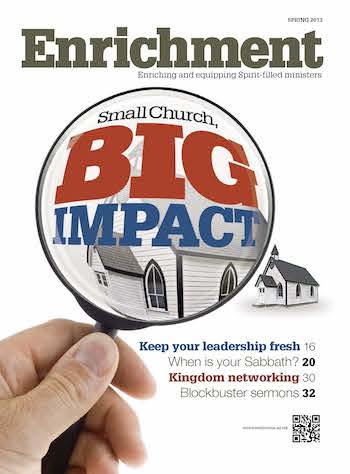 Downloads:
Five Habits of a Kingdom Networker
The more expansive your network, the greater the opportunity God has to multiply the work you are already doing.
by Justin Lathrop
---
All of us have habits. Some we are proud of, others we are not. A habit forms in the midst of repetitive behavior. It does not emerge after a one-time experience but is indicative of a series or pattern of experiences that reinforce a particular thought, action, or response. Habits can be positive or negative, but never both.
In a way, our habits define us. Perhaps we are the one who is always on time. Perhaps we are the one who always seems to be working on the same project but never making measurable progress. Whatever our habits, they greatly impact the way people perceive us and the chance to be good stewards of the time and resources God has entrusted in us to build His kingdom.
I have observed one thing while spending time with high-capacity leaders involved in church ministry: Success is rarely an accident. In fact, you might say the things that led to their success are a direct result of developing good habits and avoiding bad ones.
People often ask what contributes to success in church ministry. I believe forming the right habits ensures our priorities are in the right order and our focus is on the right goal. As someone committed to Kingdom networking, I believe there are five things we should do well around which to form our habits. This list is not intended to be exhaustive. As time goes by and I collect new experiences, I might modify this list. Life is dynamic, so it makes sense that we would grow and develop in the midst of it.
One thing remains the same: Building a Kingdom network has never held anyone back, caused anyone harm, or inhibited God's movement in and through His people. The opposite it true. The more expansive your network, the greater the opportunity God has to multiply the work you are already doing.
Consider adopting these habits to accelerate the effectiveness of your Kingdom-building efforts.
Habit #1: Relationships Come First
It is easy to become consumed with tasks and projects. There will always be opportunity to fill our schedules with things we will eventually check off our to-do lists. We each have 24 hours every day that come to us in 60-minute increments. How we use our time determines the kind of life we live and the legacy we leave.
Anyone in church ministry for any length of time understands why the apostle Paul talked about concepts such as endurance and perseverance. Without a commitment to endure, no one is likely to survive. Somehow, we must limit tasks and leave room to build relationships.
Kingdom networking is about people. Send handwritten notes, make calls, and travel a distance to meet someone and share a meal. Doing life together is where we influence and are influenced. This does not require much, but it does require time.
Habit #2: Value Young Leaders
The future is coming faster than anyone likes to admit. I am not the youngest guy in the room anymore. I now make it a point to surround myself with younger leaders to be sure I stay in touch with the way they view the world. Their perspective, choices, and values may be different from mine, but I should not immediately discount them because of their age or experience level.
It is important to evaluate the connections we are making from time to time. We should make sure there is a balance between those older than us, similar in age to us, and younger than us.
Habit #3: Prefer Collaboration
We must never confuse Kingdom networking with personal agendas. Networking only works when you approach others with sincerity and integrity. We must not see others as stepping-stones to our success, but as people God has allowed us to intersect for a specific reason, purpose, and season.
Collaboration is most likely to take place when we find common ground with other people. Our culture and our theological training often condition our minds to constantly deconstruct the world around us. While this is profitable in an academic setting, it can become a destructive habit that robs us of our ability to see the gift God has given us in the people who cross our path.
Habit #4: Commit to Results
People are drawn together when collectively reaching toward a common goal. Possessing a Kingdom mindset means we must let go of any feelings of territorial ownership about our church, parachurch ministry, or other endeavors. God does not see His children separated by different 501(c)3 incorporations. Rather, He sees His children as one force working together to bring about the kingdom of God on earth until Christ's return.
We can make progress when we work together. There must be a sense of equality in our dealings with others. We must be willing to take the lead at times and follow at times. We must ensure we understand others before we require them to understand us.
Habit #5: Seek Wisdom From Others
Knowledge is cheap. The Web has ushered in the information age. The world has never had more access to more information than it does right now.
There is, however, a difference between knowledge and wisdom. Wisdom comes from experience, and we can only acquire it over time. It comes at a high price, that is why it is so valuable.
A good Kingdom networker knows how to ask questions and places great value in counsel from the success of others. Technology has also thrown doors wide open for crowdsourcing with people all across the planet. What an incredible opportunity to expose ourselves to an even more diverse group of leaders.
One common thread throughout these habits is a focus on interacting with real people. While I love every piece of technology I use in my work (and if I am honest in my play), it does not replace human interaction. Technology allows us to stay connected in between our interpersonal encounters but should never serve as a substitute for them.
Kingdom networking is not something that will yield immediate benefits. Just like starting anything new, it takes time to undo old habits and form new ones. If you will commit to rethinking your schedule, you will find time to build your network.
Commit to using this time to interact with others, whether it be by phone, in person, or video chat. Find a way to see the expression on their face or watch their eyes light up, more than just hearing their voice. You will find that even though the work of church ministry may be lonely at times, you are never really alone.
The benefits of building good habits around Kingdom networking boost our ministry potential both within and outside the churches we serve. Putting these habits into practice may not lead to fame, wealth, or success by this world's standard. It will, however, create the opportunities for God to shape you through other people.
Jesus could have issued a heavenly decree. He could have called the angels from heaven to announce that He was the Savior of the world. He chose, however, to work through 12 people in whom He invested himself during His earthly ministry. Maybe we should consider building similar habits into our own ministry.