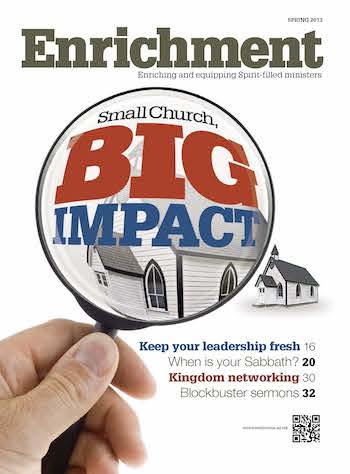 Downloads:
Fast and Furious … but Still Fresh
Jesus was both the Great High Priest and the employee of a carpenter father. Even after His public entry into ministry, Jesus kept the carpenter's persona and robe.
by Scott Hagan
---
The most emotionally graphic and self-reflective question a pastor can ask his or her congregation might be: "Outside of the role I play on Sundays, do you buy into me as a leader?"Not far behind on the risk meter is: "Do you see anything in my life that will keep me from reaching my full potential?" Few leaders have the guts to ask this of their friends, let alone their critics.
I have come to slowly realize during my 30-year leadership experience that, if I am to make it as a lifelong leader, I must first commit to being a lifelong learner. No leader can merely love people into change. What a leadercan do is create the conditions of the Kingdom so a person or a congregation can go "aha." A shift can then occur in both their desires and choices resulting in the God-turnaround for which we so passionately hoped.
The challenge though is that today's leader straddles the line between presentation and performance. More and more it seems like ministry requires that I act theatrical just to keep the fascination levels high with my congregation. Creativity is a beautiful thing. Borrowing someone else's song and dance just to keep the audience focused on the stage is not.
I do not know about you, but it is exhausting to feel relevant. Becoming a leader that people buy into, staying true to their perception, yet keeping them attracted is tough plowing. The demands come fast and furious in leadership. Continually presenting something deep that you have bathed in solitude and study sometimes feels impossible as an ongoing way of life. If leaders go through a long and drawn-out season where they feel compromised and fraudulent, that they have become more wardrobe than warrior, then at some fast-approaching point the flame inside them dies and the precious authenticity that marked the origins of their leadership dies with it.
The capacity to stay fresh … believable … current … and most of all energized in your sense of otherness and their needs, is the Jordan that separates one leader from the next. Nothing about society is slowing down. Managing distractions is the new skill set that separates average from excellence in leadership. Some leaders simply stare at the moving waters instead of the shore beyond and remain where they are; others dampen their sandals and cross. Most leaders I know are effective at initial risk taking. But success requires more than first-step risk taking; success requires a second skill beyond risk taking. This involves staying reflective and flexible to the endless adjustments a leader must make over a lifetime to ensure that his or her freshness and credibility remain.
Here is one fast and furious suggestion to help us in leadership stay fresh and reflective in the midst of a high-speed society that demands everything of us, but nothing of itself.
Think Like a Carpenter, Not a Priest
Jesus wore an interesting garment on earth. He was both the Great High Priest and the employee of a carpenter-father. He represented two fathers — One in heaven and one down at the carpenters union. Even after His immersion and public entry into ministry, Jesus kept the carpenter's persona and robe. The Jews wanted a King; Joseph's son was too great a drop-off in their opinion. Had Jesus strutted, at the very least like a Pharisee, or the local high priest, He could have garnered widespread acceptance by the Jews. Instead, Jesus carried himself in the authority of His Heavenly Father, but the demeanor of His earthly dad. Throughout His public life, Jesus never ceased His carpenter-likeness even though all authority under heaven and earth was His. No one ever sensed a shift in Jesus nor identified Him with the Pharisees or the temple priesthood. Against false teachers? Yes. Friend of sinners? No doubt. Arrogant? Never.
Too many leaders today go through a wardrobe change reflecting some type of programmed identity based on the title they bear. It is imperative we resist this wardrobe change as pastors — that we remain the donkey and not the Messiah. The cheers are for Jesus, not us.
When we walk into a room or stand behind the counter at Starbucks, people perceive us as either approachable or on edge. As already mentioned, we need to manage distractions. It goes with the call. People pull at us publicly; there is no clean guideline for this. A pastor gets bothered and interrupted. Megachurch or rural, it's all the same. But maybe the real reason it feels intrusive is because of how the leader perceives himself, and not because anything unusual is actually happening. If you see yourself as someone above everyday people and their concerns, then everyday people and their concerns will irritate you even with a good night's sleep.
Some pastors have intellectually delegated away their role in the everyday needs of people. Sermons and books are their contribution to society. Why? Because they think they have reached a new level that requires a more insulated life.
I doubt carpenters actually think like this.
I have never met a pastor yet who has figured out how to create a clean buffer from the world, while at the same time coming across as Christ-caring and accessible. It takes wisdom, savvy, and a willingness to engage in personal inconvenience to stay fresh and credible in leadership. No one will figure this out for you. Instead of beguiling an intrusive world, it takes forethought about creating personal conditions for spiritual self-safety while not appearing aloof.
But for all of us, thinking more like a carpenter than a high priest when we leave the house is a safe place to start.