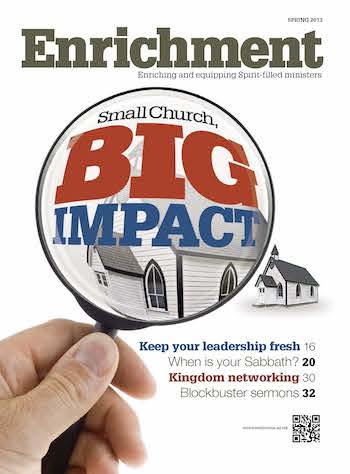 Downloads:
Interview Challenges and opportunities Facing Smaller Churches
Three small-church pastors share their successes and challenges.
by David Campbell, Karen Rydwansky, and David Silva
---
Approximately 84 percent of Assemblies of God churches are under 200 in weekly attendance. Pastoring the smaller church presents a unique set of challenges and opportunities. George Paul Wood, Enrichment journal's executive editor, visited with three pastors of smaller churches to discuss how smaller churches can have a bigger impact on their community.
David Campbell is lead pastor of Timbo Valley Assembly of God in north central Arkansas. The church is located in a town of 40 people. Stone County has a population of 10,000.
Karen Rydwansky is lead pastor of Crossroads Worship Center in Weymouth, Massachusetts. She also serves as the Boston area presbyter. She planted Crossroads 8 years ago in a suburban community with the same issues facing larger city churches. Crossroads is an international church with 45 nationalities.
David Silva has pastored Elim Assembly of God, a Hispanic church, in Corpus Christi, Texas, for 8 years. Services are in Spanish with an English translation for second-and third-generation Hispanics who do not speak Spanish.
If you could tell other small-church pastors one thing about smaller churches, what would it be?
RYDWANSKY: Think big. I never think about our church being small. It is more about believing God for great things and living in the anticipation and reality of the impact we are making in the lives of people and surrounding community. Little is much when God is in it.
CAMPBELL: We do not determine the spiritual power and influence of a church by its size. God's command to evangelize the world is the same for every church. The methods may differ according to size, but the goals are the same. Small churches are significant and necessary in small communities.
SILVA: If you are a small church, it does not mean you do not have the same heart as a larger church for what God is calling you to do. People in smaller churches love people and God just as much as the next person. We are excited about doing the work of God. We are making an impact on many lives in our corner of the world.
Smaller and larger churches must focus on both church growth and church health. How do you integrate these two components in the smaller church?
SILVA: To be a healthy church, you need to be a Christ-centered church. A Christ-centered church has a heart and passion for evangelism. We have a wide spectrum of ministries at our church, with discipleship occurring in both Sunday School and small groups. As we mature as Christians and disciple others, we should carry on Christ's passion for evangelism. Jesus said go and make disciples. You cannot make disciples unless you reach out to the community. Pastors of smaller churches are not teaching their churches to be healthy if they are not teaching the heart of Christ — to reach the lost.
RYDWANSKY: I keep evangelism as a key focus. A healthy church must focus on evangelism, because a healthy church is a growing church. The church I pastor has initiatives to reach out to the community. In my preaching and teaching, I talk about having a heart to win the lost. I often say: "In your circle of influence, on whom is God already working? Invite them to church. Reach them through friendship evangelism." If we stop emphasizing reaching pre-Christians, we will stop growing and being a healthy church.
Not all discipleship takes place on Sunday morning, so I also emphasize growth groups, where the focus is on discipleship.
CAMPBELL: Church growth happens as the Lord adds to the church as people are saved. Church health relates to fulfilling the ministries within the church. Church growth and church health are intertwined. As we disciple new believers, God will often lay a burden for ministry on someone's heart. As you talk to them about the ministry God has given them, their ministry becomes a part of your church's outreach.
Effecting growth in small rural areas is different because people are scattered around the county. You evangelize by being in the marketplace. People come to church because they like you and like what you say. Hopefully when they come, they will turn their lives over to Christ.
In what ways can smaller churches have a strong missions program?
CAMPBELL: A small congregation may not be strong financially, but small churches can play a significant role in supporting missions. The Lord laid it on my heart for our church to support all 19 missionaries from Louisiana. We also support about 60 missionaries from Arkansas. I asked the congregation if they could give a penny a month to a missionary. Of course, that's ridiculous. What about a nickel? A dime? Quarter? Half dollar? We continued to increase the dollar amount until the amount we had purposed in our heart to give was met.
God loves a cheerful giver. He says to purpose in your heart what you can give, and then give it. We support each Louisiana missionary with $10 per month. If every church would do that, the church's missionary needs would be met. Currently we give around $100,000 a year to missions. When God blesses us, we pass it on.
God promised me years ago that if we would give to missions, we would always have money to give to missions. This has been absolutely true. I am in my 34th year of pastoring this church. God has blessed us abundantly. When someone has a project, it is not uncommon for our church to give $20,000 – $25,000 toward it. It is because God gives it to us. We do not have anything that does not have His fingerprint on it.
RYDWANSKY: When I planted Crossroads 8 years ago, I determined we would support every one of our Southern New England missionaries. Too often smaller churches focus on what they cannot do, rather than on what they can do. I was not going to be embarrassed if we could only support a missionary with $10 or $25 a month. We would trust God to give the increase. I attribute the strength, health, and growth Crossroads has experienced to its faithfulness in giving to missionaries.
I was shocked when I went to district council the last year we were in the district-supervised category. According to the annual report, Crossroads was the top missions-giving church that year.
During a Communion service a year ago, God gave a prophetic word. He said, "You take care of the bread; I'll take care of the bricks." As a church, we are not going to worry about the money for a larger building we desperately need. We are going to stay focused on having faith to give.
We have seen God's faithfulness. We have been able to increase all of our missionary support to $75 or $100 per month per missionary. We also give $200 a month to Zion Bible College. Keep your focus. Do not be afraid of what you cannot do; focus on what you can do, and God will take care of the rest.
SILVA: I have looked back over the 56-year history of this church. The founding families and pastors decided to contribute to missions from day one. At first, the giving was a small amount, but they were faithful. God honors faithfulness. Some people in smaller churches feel they need to take care of their own needs first before giving money to help other ministries or missionaries. This is unfortunate.
We serve a huge God. He can supply all our needs. We move on faith and believe He will open the right doors and supply what we need. The church I pastor is a missions-giving church. We love our missionaries. We pray for them. We provide them as much as we can, as often as we can. When we make room in our budget for missions, God blesses us.
What are some of the greatest challenges facing smaller churches and their pastors in America today?
RYDWANSKY: One of our big challenges was starting out with less than 40 people and providing a variety of ministries for the whole family. This church was in need of an active children's ministry, youth ministry, and also good musicians. Musicians are a huge need for the smaller church. Having enough people to staff these areas is always a challenge.
Another challenge for the smaller church is complacency. Many people in smaller churches like the small environment. It is easy for them to become complacent and stop thinking about reaching lost people in the community, bringing in new people, and seeing them come to faith in Christ.
SILVA: Churches have a challenge to have everything in place to accommodate visitors' needs. When people visit they are often looking for a significant youth and children's ministries that can address the needs of their family. But finding people to fill those roles is challenging. It can be difficult for the pastor to wear multiple hats.
I once thought it would be wonderful if God would bring in a millionaire to supply the funding for everything we dream and God wants us to do. God told me, "You have everything you need to succeed and move forward with who you have sitting in the pews right now."
We need to invest in our people. We need to take time to develop leaders and train them so they can help ease the pastor's responsibilities and help develop those resources.
CAMPBELL: The greatest challenge for the small church is to remain significant and relevant in the community. The main focus is always the message of Jesus Christ — the Cross. The church that has this focus will never fail.
What opportunities for ministry are unique to smaller churches? How has God positioned them to do something that larger churches cannot do?
SILVA: A smaller setting requires the pastor to invest in and develop people around him or her. The reward is seeing them grow in their leadership capacity and become key people who hold the pastor's arms up and offer encouragement.
We have many people in our church who gave their lives to Christ, and now they are a vital part of the ministry. This does not happen overnight. It takes a lot of effort.
Small groups offer more individual contact with the congregation. We listen to people, pray with them, identify with their needs, and challenge them to believe God to do great and mighty things in their lives. We believe in God for the greatness that He sees in them, and we invest in them, and they have grown and work in the church. It is beautiful to see them mature and begin to take on responsibility, even eventually joining our staff. Without the additions to my staff from developing leaders, I could not do half of what I do now.
The small church can take the Word of God and run with it and be people of faith. We can believe God for growth, and believe God for supernatural things to happen in our small congregations.
God can turn a difficult situation around, and the pastor and congregation can rejoice in what God is doing in their life and in their church.
RYDWANSKY: The family is so broken today. The family environment of the smaller church attracts people. I live near Boston, the city of Cheers, where everyone knows your name, and says we are glad you came. This can be present in the larger church, but it is often more evident in the smaller church.
Smaller churches can bring people in and make them feel welcome and help them get to know others more easily. Sometimes a church can lose this relational atmosphere as it grows larger. Many of our young people come from families that are in disarray. Young people can be in a smaller-church environment where they have mothers and fathers in the Lord who can love on them and make them feel like they are significant.
Small churches are able to initiate change quicker. I have a saying, "We will try it for 3 months; if it doesn't work, we will change it." We have that ability as a smaller church to be able to adapt quickly.
David, what are some of the challenges you face in pastoring a church in rural America?
CAMPBELL: One of the major challenges is to overcome the small-church mindset. If God can use two fishes and five loaves, then He can use a small church. In a rural church, nearly every challenge is too large. It would not be a challenge if you could handle it. This means you must depend on God. God is not only a supplier of physical and spiritual needs, He is a supplier of ideas.
It is important that a rural church network with other churches. God has placed on my heart to network with other Assemblies of God churches when a pastor goes to a town to plant a church. If all 420 Assemblies of God churches in Arkansas would give $1,000 to a new-church plant, that pastor would have cash to purchase land and a facility debt free. Immediately, that church could support missions, and God would bless it for that. The Jehovah's Witnesses can teach us something about planting churches. In 3 days, they can erect a building in a neighboring community. If they can do that, the Assemblies of God can too.
When a smaller church is in a building program, we send it a substantial contribution. If we have a work crew in our church that has the particular skills they need, we help with their building.
Another challenge in a small church is staffing. The smaller church must rely on volunteers. The church needs capable teachers and musicians. When a volunteer moves away, they leave a big hole to fill. But we pray, and God brings us another volunteer.
Karen, you are in an urban multicultural environment with 45 nationalities in your church. Many of these people come from traditional societies without strong female leadership. As a woman pastor, what challenges and opportunities do you face in leading your church?
RYDWANSKY: I think this is probably one of the greatest times for women in pastoral ministry. When we look at the early history of the Assemblies of God, many women were pastoring. I have had few female pastor role models; I think we are in a new day and time for that.
A lot of people in this church have come out of ethnic churches that do not recognize women in ministry and may be reluctant to come to a church pastored by a woman. The anointing of the Holy Spirit breaks down their resistance. I do occasionally have people who are verbal about not believing a woman should pastor a church, but I choose not to fight that battle. I encourage them to find a church where they are more comfortable.
I am strategic about what our church's platform looks like. I make sure we have a blended male-female look and also an ethnic look on our platform. I have to be strategic about making sure that our church does not look too feminine. Even our graphics, visuals, and music have to be something that will be attractive to men.
We did a demographic study and discovered that Crossroads has a higher ratio of men to women than the average evangelical church in America. People coming into our church are often surprised by the strong male presence. We have strong men. A woman said to me recently, "The one thing I have noticed is the men really respect you, Karen." I am not heavy-handed with men. In fact, I put our men front and center. I often have men in the pulpit. Our church has not been hindered in any way by having a female pastor.
David, over the last 8 years, you have led a traditional church into a turnaround church. What are the challenges and opportunities you have faced? Tell about the challenges in a Hispanic church where the first generation wants to continue speaking Spanish, but the cultural dynamics shift with the second generation.
SILVA: I was 28 when I became pastor. My young age presented a challenge. Many people questioned my ability to pastor because of my lack of experience. But God puts His hand on you, He gives you direction, and He gives you the knowledge you need to lead the church. If we lead by our own personal knowledge, we will always come up short.
The Hispanic church is in constant change. People are migrating into this country to make it their home. They want to be connected to their roots while others are born in the United States and only speak English, but they want to be close to their heritage and culture. This presents a challenge because we need to deal with a multigenerational culture where age, language, and education all play a vital role. Somehow God has given us the favor to place our hands on all of these areas and still be effective.
Coming into a 46-year-old traditional church and introducing change is hard. If pastors are not careful, their call for change makes it look like they hate what previous pastors have done. For change to be successful and to have a good effect on the church, the pastor needs to introduce it correctly. He needs to do it with prayer and with excellence.
I often use the analogy of the land of Goshen. God placed Joseph in a strategic place of leadership in Egypt to be a blessing to the people of Israel. God meant Egypt to be a transitional state, not a permanent state. The land of Goshen was good and plentiful, and the best the land had to offer. But God never meant for Goshen to be where the Israelites would stay forever. Sometimes God sends someone to ruffle our feathers and let us know it is time to move on.
Every church has the potential to be an excellent church where God moves and does strategic things and raises it up to be a light in the community. But it needs to leave those places where it has become comfortable and traditional.
If you feel strongly God is speaking to you to step out in faith, He will take care of you. I believe a church that is in decline or shows no growth can turn around. Such a church should leave the land of Goshen and head toward the Promised Land and take steps it has not taken before.
Our church has had a huge turnaround in 8 years. Our finances have flourished. Our attendance has flourished. I was the only person on staff when I came to the church. Seven people are on staff now. The changes we introduced were first God-ordained, and then we implemented those changes with excellence.
How do you encourage the lay ministries in a smaller church?
CAMPBELL: Validation is extremely important. If God calls people to these ministries, you need to validate their call and what they do. When you validate the person, you also validate the ministry.
RYDWANSKY: Give people opportunity to minister. Come alongside them to teach them, but then be ready to make changes, if necessary.
SILVA: I believe in equipping leaders and empowering them for Kingdom work. Often we make the mistake of not giving people opportunities. It takes time and effort on our part to develop leaders, equip them, and empower them to do the work of God. This aspect of ministry is vital for the church to be healthy.
What advice do you have for smaller churches about maintaining a balance between ministry and personal life?
CAMPBELL: Block some time for yourself and your family, or there will be no time. Take care of your personal responsibilities.
RYDWANSKY: Listen to your spouse. He or she will let you know when you are out of balance in this area. Also, even though I am the pastor, I do not need to be at everything.
SILVA: You do not have to be at everything. Sometimes you think that when you reach certain goals you will have more time. This is not true. You need to discipline yourself to make time for yourself and your family now. You need to take care of yourself. If you do not, nobody else will. You cannot do everything. God is in control.
If you could say one thing to encourage smaller-church pastors, what would it be?
CAMPBELL: Do not think that small churches are not significant; they are. Do not think you are insignificant; you are significant. Do not think you have to do it all by yourself; you cannot. Be thankful for the help you receive, and always try to bless others.
Do not be too quick to leave a small church for a larger one. Know that for everything there is a season. Your church may be in the plowing season, the sowing season, the watering season, the cultivating season, or the harvest season. Recognize the season you are in, know what should occur in each season, work through each season, and you will enjoy the fruit of your ministry.
RYDWANSKY: Remember to be faithful where God places you and enjoy your church knowing God does not judge the size, rather your obedience to your call. Whatever you do, do it with passion and excellence.
SILVA: God has a purpose for you where you are. You may have dreams and aspirations for where you would like to be in ministry. But whatever your dreams and aspirations are, it is more important to be faithful where you are. You need to learn to trust God in the process, and enjoy it.