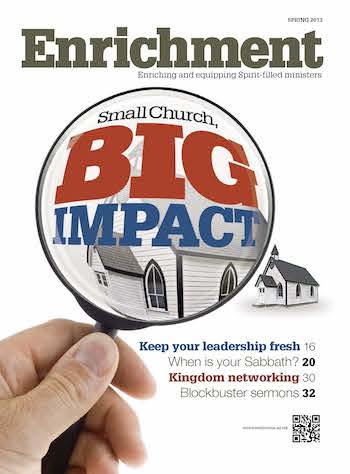 Downloads:
A Final Word
An Open Letter
---
To my fellow small church pastors: God has entrusted into our care the most powerful force on earth — the small church.
One survey indicates that approximately 56 million Americans worship at Protestant churches each week.1 Over 10 percent — or nearly 6 million2 — of these worshippers are part of the approximately 1,800 congregations3 that draw 2,000 or more in total attendance. Approximately 85 percent of churches in America have 199 or fewer people. Sixty percent of churches have 99 or fewer people.4
If these statistics are correct, there are 47.6 million worshippers on any given Sunday in churches with 199 or less in attendance. If this is the case, why do so many small church pastors feel alone, frustrated, even bitter, instead of excited, empowered, and needed?
I know your frustrations because I am one of you. For over 25 years I have been a small church pastor — 20 years at the church I currently serve. Our average Sunday attendance? It has been sitting at just over 200 for several years. But it is not unusual to hear people call us "big for our size."
Small church pastors feel frustrated because others have told them that a successful church is always a numerically growing church, and many of us have believed it. I know I did for many years. It is time for that to change.
I thank God for the ministry of megachurches. Most megachurches serve God and their communities in ways many churches cannot. While pastors in smaller churches sometimes complain that megachurches receive more credit than they do, megachurches also take a lot more heat. On the weekend the Ted Haggard scandal broke, our church was hosting a youth drama team from his church. That Sunday morning God gave us the sad privilege of mourning with those kids while national attention focused like a laser on their pastor and his sins. We need to remember that the megachurch spotlight that we sometimes wish focused on our successes goes destructively supernova on our failures and sins.
Megachurch pastors are often the church's only face for much of the world. We need to stand alongside them with our prayers. Personally, I want to say a huge thank you to those whose ministries I have benefited from.
But fellow small-church pastors, the size of their task pales next to ours. Megachurch pastors serve approximately 6 million people, while small-church pastors care for approximately 47.6 million people. So small churches minister to many more people every week than megachurches. This is more than any Christian denomination, including Catholics.
Small churches can have effective ministry. Because small churches are small, they have already infiltrated the communities they serve, making them the largest, most readily deployable force for spiritual transformation, emotional encouragement, and material sustenance.
It is time to turn them loose. And, small-church pastors, our finger is on the trigger. We can withhold or release this redemptive power on a world that has never needed us more than it does now.
This is an awesome and sacred responsibility. But I fear we have not met that responsibility well. We need to do better. We can do better. With God's help we will do better.
No more feeling guilty that Sunday attendance is not growing. No more wasting resources striving for growth that may be counter-productive to our calling. No more feeling jealous of the megachurch down the street or devising some theological justification to despise the preacher on TV.
Instead, let us embrace who we are. Let us answer God's call for us. Let us pastor the church we have, not the one we wish we had. Not settling for less than, but discovering how big small can be. When we do that, the church we have may just become the church we want — at just the size it is right now.
Let us turn our churches loose under the power of the Holy Spirit. Then stand back and watch in amazement at what an army of small churches and the 47.6 million people in them can do to bring Christ's healing power to a hurting world.
Notes
1. Warren Bird and Scott Thumma, "A New Decade of Megachurches," Leadership Network. Found at: http://leadnet.org/docs/RESEARCH-2011-NOV-New-Decade-of-Megachurches-2011Profile-Bird-Thumma.pdf. Accessed 22 August 2012.
2. Ibid.
3. Warren Bird, "How Many Megachurches?" Leadership Network. Found at: http://leadnet.org/blog/post-preview/3276. Accessed 22 August 2012.
4. Philip Wagner, "A Pastor's Dirty Little Secret," ChurchLeaders.Com. Found at: http://www.churchleaders.com/outreach-missions/outreach-missions-blogs/159146-philip_wagner_a_pastors_dirty_little_secret.html. Accessed 22 August 2012.