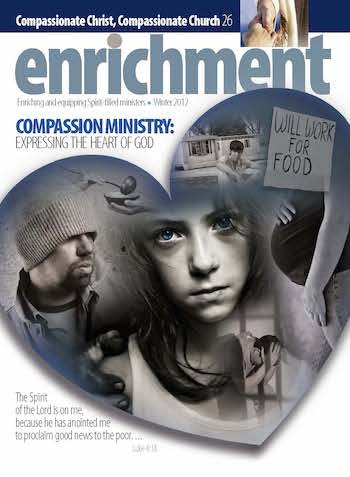 Downloads:
The Practice of Mission
Interview with Wilfredo de Jesus, Rocky Barra, and John McHaffie
by Rocky Barra, Wilfredo De Jesus, and John McHaffie
---
Many churches are doing compassion ministry. Other churches may want to start a compassion ministry, but do not know where to begin. In this interview, Enrichment journal's associate editor, Richard L. Schoonover, visits with three pastors who are enthusiastic about compassion ministry. Wilfredo de Jesus pastors New Life Covenant Church in Chicago, Illinois. New Life Covenant is an inner-city church with over 160 ministries to the homeless.
Rocky Barra pastors Connection Church in Canton, Michigan. Since 1989, Barra has been sharing his church's vision to be the most caring place it can be. Little by little the church is adding compassion ministries.
John McHaffie pastors Church on the Loop in Mount Vernon, Missouri. Church on the Loop is impacting the community, as compassion ministry becomes the DNA of the church.
What events or circumstances caused you to become involved in compassion ministry?
De JESUS: In Chicago, most of the city-funded shelters are on the south side. On the north side, where we are, there were no shelters to meet the needs of the Hispanic community. The commissioner of the Department of Human Services approached me in 1997 to see if we would consider opening a shelter. I wasn't the pastor then, so I went to the church board and told them I believed God wanted us to start a shelter in our area.
After a weekend of discussions with the board and pastor, I received the go-ahead to start River of Life. We opened River of Life in 1997 and have since had thousands of homeless people come in.
The opening of River of Life was a defining moment that opened our hearts and jumpstarted us to become involved in compassion ministry.
BARRA: The impetus of our compassion ministries comes from two directions. One, if there is a need, we start small to try to meet it. If someone is struggling in a certain area, we put together a support group or provide counseling to meet the need.
The other source comes from individuals who have a heart for compassion ministry. Nothing takes place without passionate leadership. Those who have a heart for a certain compassion ministry come to me. We talk, pray, and if it seems like the ministry will bear fruit, we do what we can to facilitate it.
MCHAFFIE: Of the 250 consistently poor counties in the United States, 244 of them are in a rural setting. And the poverty rate nearly exceeds 35 percent in most of them.
Moving from a suburban mentality differed from the way I had experienced ministry in the past. I learned that compassion is not an event; it is a lifestyle. You live a lifestyle of compassion anywhere you live; but in rural areas, people filter in throughout the day with various needs. Getting compassion ministry to be part of the church's DNA is a discipleship factor with which we work.
Pastor Tommy Barnett says, "See the need and fill it." I am seeing needs and God is opening doors.
What is the scope of your compassion ministries?
MCHAFFIE: Compassion ministry is more than just passing out a truckload of food. Compassion ministry is when we help the person at the gas station — we do things for people.
I often work with the City of Mount Vernon and Lawrence County. A few years ago an ice storm devastated our area. We developed Community Emergency Response Teams, which are now part of our compassion ministry.
We also have a Wednesday night bus ministry where we pick up kids from rural areas and feed them.
As a small rural church we do not have significant resources. However, Steve Donaldson of Rural Compassion has come along side us and provided shoes, coats, and school backpacks that we have given to over 200 children. We also have done food drops in the community and book fairs in the city park using donated books.
I am working with other pastors in the community to have a service day on Saturday and Sunday. We have nearly 200 volunteers to help people clean out their houses and garages. It's a get-your-hands-dirty type of compassion ministry.
BARRA: Our Open Door Ministry began fairly small, but last year we gave away over 1.5 million pounds of food. Now we distribute about 50,000 pounds a week. It is like a Convoy of Hope every week.
Strong leadership is helping this ministry grow. Some people have both mercy and administrative gifts, and they are doing a tremendous job utilizing them.
We do not see the community and local government as adversaries; we see them as partners. Without the help of a local foundation and Walmart, we could not afford to facilitate our Open Door Ministry as much as we do. They see what we are doing and have a heart to help.
Running our food ministry takes at least 75 people. Our local high schools include into their curriculum a certain number of hours for community service, so students come and serve. Some honor students enjoy it so much that after they complete their mandatory hours, they continue to serve.
We also have a ministry called My Sister Song that reaches out to women in the sex industry. Many of our ministries dovetail together. We have a ministry called Common Ground where ladies from area churches come together four times a year and worship. Then we present a service project. The last time we did this, 32 churches and hundreds of ladies were involved. They all gave toward this specific need.
We also have a job bank that we update daily. We coordinate it with our Open Door Ministry. If people are looking for a job, in most cases we can help them get one, even if it is only a starting position. Our goal is not just to give handouts, but also to help people all the way up.
This has changed the DNA of our church. It is not uncommon to see a college professor sitting next to a homeless person or a veterinarian sitting next to someone who just got laid off from an assembly line. Once our church embraced compassion ministry, it became who we are, and opportunities started opening up for the church.
De JESUS: Hope Fest, which started 6 years ago, is the largest back-to-school event in Chicago. We adopted three high schools and 12 feeder schools. We want every child in those schools — over 6,000 of them — to get a free haircut, immunizations, a book bag, and a uniform.
The church has taken on the mission of reducing the student dropout rate and helping to alleviate poverty in the community. Politicians, the governor, and the mayor come to Hope Fest. In the last 2 years, Frito Lay and Pepsi Co. have paid for this event. It takes around 1,000 volunteers to minister to the 15,000-20,000 people who attend Hope Fest. This is one of our 160 compassion ministries.
The church owns a farm 3 hours from Chicago. Currently, 27 ex-prostitutes and drug addicts live on the farm and in our Dream Center. Every day we teach and disciple these women. We also opened a Teen Center for 15- to 16-year-old runaway girls; four girls are in our Teen Center right now. Manna for Life is a feeding program that feeds over 200 families every Saturday. Full-time pastors and volunteers run manna for Life and the Dream Center.
These ministries give us access to the community. I meet with 15 school principals over lunch. Every school year we send apples on a stick along with a Scripture verse to all the teachers thanking them for educating our children. The church says these 6,000 kids are our kids. When there is a funeral, I am there. Our youth pastors are there. If a schoolroom needs painting, I bring in volunteers to paint. We also bless a school with baseball uniforms for their team.
How do you integrate evangelism into your compassion ministry?
BARRA: The media has inoculated people into believing that all Christians are interested in is either their money or their soul. People can sense when your heart or motive is to legitimately help them. Certainly we know that the greatest help we can ever give people is to lead them to Christ. However, to get to a person's heart, sometimes you first have to fill their stomachs.
We always provide some type of witness. However, if you are only doing compassion ministry to get somebody to cross that line of faith, you are negating an important aspect of the gospel according to Matthew 25. Through compassion ministries we have more people coming to Christ than we do in our church services. Spiritual fruit will become evident as we do the things Christ says are important.
De JESUS: I tell our people that we are seed planters. We are planting seeds of love. We do not care if they come to New Life Covenant as long as they come to the kingdom of God. And if we are a Kingdom-minded church, God will honor that. We evangelize with the love of God without necessarily preaching to them. Our actions speak that way.
At Hope Fest, we give people food, but we also have a time for evangelism. Attendees meet with counselors, and we also have 200 deacons who meet with families. We share Christ's love in a nonthreatening way. Last year we had over 1,600 families come to the Lord.
If you are only interested in doing compassion ministry because it will increase the number of givers or membership, your whole purpose is wrong. Compassion ministry has nothing to do with building your church; it has everything to do with what Christ has called us to do in Matthew 25.
McHAFFIE:. Romans 2:4 states that God's kindness leads people to repentance. It's a beautiful event to have Spirit-led kindness
How do you get members of your church interested in compassion ministry?
McHAFFIE: Some people may never emotionally experience compassion for the lost or compassion in general. Some people simply feel sorry for someone in need and don't do anything about it.
For me it's a matter of discipleship. I train and teach compassion from the example of the Early Church. The Early Church started with compassion for widows and orphans. Having this as part of our church's DNA is important. Compassion ministry is a lifelong pursuit.
BARRA: If I put something in the bulletin about a ministry opportunity, we might get two or three people to respond. If I announce it from the pulpit, maybe five. If we show a video of compassion ministry in action and tell the story, then we are going to touch people's heartstrings.
You also need to be personally involved. If your people never see you on the front lines, they will not have a heart for compassion ministry.
De JESUS: I get people involved with compassion ministry by showing the need, and how we can meet that need. After I saw the devastation from the tornado in Tuscaloosa, Alabama, I presented the need. On one Sunday I was able to fill a truck with supplies and sign up 15 volunteers to go to Alabama. As pastor, I also get involved. When I first started in 2000, I attended every event to shape the hearts of our people toward compassion.
I also show a video and say, "This is what I need. This is what we need to make this happen in Alabama, New Orleans, Joplin, or in Japan." I continually expose our people to hurting people, and their hearts become softened.
What role does discipleship play in your compassion ministry?
BARRA: It is not possible to legislate discipleship. We talk about the importance of compassion ministry. As we present opportunities, some people will catch the heart for compassion ministry.
We have systems in place for discipleship in some of our compassion ministries. We have a discipleship component in our food ministry: If they come to the discipleship meeting prior to when we pass out food, they get to go first.
Somewhere in the process, some begin to fall in love with Christ. That is exciting. Some people in our church used to live on the streets and were on drugs. They are now leading committed lives, are off the streets, and off drugs.
McHAFFIE: Newer people coming into the church want to be part of compassion ministry. This is important in small town rural America — they want to be involved in something bigger. Even those we have helped, or are still helping, want to be part of the process. Part of the discipleship process is getting people involved in some aspect of compassion ministries. We get them involved while still holding them accountable and supporting them.
De JESUS: When we win people through compassion ministry, it is much easier for them to be involved in compassion ministry and for us to disciple them. For instance, if people come to the Lord through Hope Fest, we get them plugged into our church. At the next Hope Fest, many join with us because that is where they were saved.
We have a 2-year School of Ministry for church members. We require second-year students to do compassion ministry. This is one way we disciple them to reach out to people.
Recipients of compassion ministry feel compassion is something God is calling them to do. They tie their involvement to their testimony. They feel they can use their testimony as a hook to reach others.
Not every church can do compassion ministry on a large scale because it entails a lot of work, a lot of planning, and money. However, churches that provide compassion ministry will produce disciples that will give back to the ministries that helped them. I tell our volunteers and staff, "Compassion ministry has to be a calling. It cannot be a make-me-feel-good event."
BARRA: I wasn't a Christ-follower until my 20s. I played music in nightclubs. The first three rows of people in our church service recently came out of nightclub bands. They are the most excited, the most involved people in the church.
Some are still a little rough around the edges, and I am not sure they would be welcome everywhere. But we love them. They are difference makers and give back in ministry what they received.
Compassion ministry can be messy as you incorporate the recipients into your church. How do you help regular attendees adjust to the new people coming into your church?
De JESUS: It is much easier for former prostitutes, gang members, or drug dealers, who now attend the church, to welcome people coming out of that lifestyle. You will see them waiting outside the church to welcome people they have invited.
Our calling is to be fishers of men. When we start "cleaning" people before they come into our church, we are taking the place of the Holy Spirit. We throw a net and bring them in. Good fish, big fish, fat fish, skinny fish. The job of the Holy Spirit is to clean them.
In 1997, when I wanted to start River of Life, I held the leaders and deacons hostage. I stood in front of the door because their excuse was, "We just put in new rugs. We just put $50,000 into this banquet hall, and you want to bring in homeless people?"
I said, "Absolutely, this is exactly who we are: Jesus in this community." You need that mentality. The gentleman who made that comment stood with me during my transition to becoming senior pastor. He obviously loved what our mission was becoming, even though he was previously uncomfortable reaching out to people. We were careful in how we approached compassion ministry so our people would not get frightened or feel threatened that someone would take their seats or it was going to smell.
BARRA: It isn't always easy incorporating "messy" people into your church. When things began to develop, mainly among the young people, we had unchurched young people coming. People said, "Have you seen all these young people?"
And I said, "Yes. Isn't it great?"
One man said, "Great? They don't know how to dress; they don't know how to act. Are we sure we want them here?"
I said, "If God is sending them here, then absolutely we want them here."
The man who complained left. Other people with a heart for outreach and for hurting people started to come. It's not the same church it was 20 years ago. Some say we wrecked it. And they are right; we wrecked it from what it was.
McHAFFIE: When I came to the rural church, the least, the last, and the lost were not the church's priority. It was a "we don't smoke; we don't chew; and we don't go with girls who do" type of church. I am learning that compassion ministry, in the rural setting, is tedious. Our population demographics have changed very little in the last 10 years — 400 since the latest census.
I am not seeing the change I would like to see in the people who have been around for a long time. I would love to say they will change and I want them to change. What I am seeing is change in our young people; they are much more compassionate than many of the adults. They are leading the way.
I keep reminding myself that people do not change overnight. If compassion ministry to be a lifestyle of the church, I must keep selling the vision over and over again.
How do you transition people from being "inward focused" to "other focused"?
De JESUS: This starts from the top down. Pastors need to expose the need. The pastor has to go to the board and ask, "Does our budget reflect compassion ministry? What have we invested in the Kingdom towards the poor? Is there a percentage? Why aren't we doing compassion ministry? Why aren't we allocating money toward reaching the poor?"
That is how it happened in our church. It is an explosion now. We have people in Peru who are doing compassion ministry. People in your church will embrace compassion if you embrace it.
BARRA: In compassion ministry, you cross a line somewhere in the process, and once you cross it, you cannot go back. Compassion ministry becomes who you are.
The head of our prison ministry was the lieutenant in a biker gang. He is covered head to toe with tattoos. He had a cobra on his neck and he had it changed to praying hands. The leader of another ministry is a former stripper.
After people come to Christ, He works in them to make them strong. When you are forgiven much, you appreciate it much.
McHAFFIE: It takes time for some people to break old habits. When old habits are broken, it is important for the church to celebrate. A Sunday service, Sunday School class, or church website video are great places to share a personal testimony. When we begin to celebrate wins, we get more people on board because most people will give to something in which they believe. Churches do not always do a good job selling ideas. Look at what happens around the world. If there is an earthquake, rock stars in America raise several million dollars. The church can raise awareness and money by celebrating wins and exposing people in this way.
How can compassion ministry change the perception of your church in the community?
BARRA: I had a meeting with the township supervisor last week. He was talking about all the things we are doing for the community, and he does not even come to our church. Our local community foundation supports many of our efforts. Because there is such a deep woven fear of political incorrectness in the church, doing compassion ministry actually helps you in a community.
People may not come to your church, but they will speak about you as, "Oh, that's the church that does this," or "That's the church that helps people." Isn't this one way in which we want to be known?
McHAFFIE: We change the community's perception at a grassroots level. The rural Midwest is known as the Bible Belt. In the Bible Belt, people think if you are not a Christian, you are at least born a Baptist. So, compassion is to me Spirit-led kindness. It is not something we do. In some rural areas, churches have used compassion ministries as a means to get people to come to their church and only their church.
At Church on the Loop, compassion ministry is not a means to get people through the front door; we are compassionate because Jesus calls us to be compassionate. When I was at Central Bible College, I heard a chapel speaker say, "It's not about me; it's about Him, and it's about them."
I teach my congregation to assist ministries already in progress. For instance, this weekend we have six churches and 200 people signed up for the service day weekend. Approximately 40 to 50 people from our church are involved. Our back-to-school party is a fun event for our community. The city council asked me to open their meeting with prayer after the event. This has opened up doors of opportunity.
De JESUS: Compassion ministry gives us credibility with the police department, local government, and politicians. If the school system is going to move a principal in one of the 15 schools, they call me and ask, "Reverend, can we meet with you?" Then they bring school administrations from downtown because they know our church is involved in the fabric of these schools and they need, as they put it, the religious community to be a part of this. They seek our counsel.
In Deuteronomy 28:13, Moses told the people that God would make them "the head, and not the tail." Churches in our community, city, and country need to act like the head. We need to lead the way to bring hope to the people.
How do you fund your compassion ministries? What resources are available to pastors wanting to begin a ministry of compassion?
De JESUS: Recently I spoke at the Nebraska District Council. I said, "All you need is $100 to do compassion work. You don't need $100,000; you don't need $10,000. You start with what you have. You can't wait for the government to give you a grant."
We do the work of God and trust what Psalm 50:10 says: God owns "the cattle on a thousand hills." Do ministry. Even if it's only $100, do it. Love people, and see God bring in the money.
New Life decided not to participate in the recession. We believe the Kingdom operates in faith. Our resources are from tithes, offerings, and pledges. We have had one grant for River of Life since 1997. The Dream Center, the farm, and Manna for Life are all supported through tithes and offerings.
McHAFFIE: Thankfully it takes more than money to fulfill the call to compassion. Faith and obedience are essential. A few people in the church who believe in the mission fund most of our compassion ministry. Other people will give money when we communicate a specific need by e-mail. For example, a lady in our church could not pay her electric bill. By the end of the day we had more than enough to pay her electric bill. Compassion delivered that day.
Compassion might be as simple as going to the gas station and putting gas in someone's car or buying groceries for a single mother. One-on-one compassion ministry in rural areas is very effective. I teach people with the Word of God to do compassion on a daily basis, wherever they are to whomever.
BARRA: Spiritually speaking, we rely on supernatural provision to fund our compassion ministry. In addition, we apportion a percentage of our offerings from benevolence and missions for compassion ministries.
Compassion workers can get discouraged or become cynical if they see people coming to the food pantry in an Escalade. How do you deal with that?
BARRA: Once in a while someone will play the system. Rather than being frustrated, I remind my workers they are giving to the Lord, and He's parlaying provision as He sees fit. When you pick and choose who should receive assistance, you may use human value judgments in the process, rather than allowing God to run the ministry His way.
McHAFFIE: Romans 2:4 reminds us: "It is kindness that leads them to repentance." If they are in an Escalade, they still need Jesus. If they are scamming the system, maybe your kindness will be one step closer to them coming to Christ.
How do you minister to the undocumented people who come to your church or compassion outreach? How do you handle those situations?
De JESUS: Three years ago over 370 people were arrested in one factory in Postville, Iowa. Although I am Puerto Rican, this issue did not really hit home because I was an American citizen. But I was invited to Postville with four congressmen and some community leaders to talk to these women who had been incarcerated. My heart was moved
Since that time, I have traveled to 17 cities speaking on behalf of the undocumented. This is a moral issue. It is the stranger; it is the person on the road. This is the story of the Good Samaritan that Jesus shared.
As a church, we support our undocumented brothers and sisters. Close to 40 percent of the undocumented are evangelicals. They are not murderers or rapists. Many have been in our country for 20 years. Because our system is broken, the government is deporting approximately 400,000 undocumented people a year. We want to make sure as a church we get involved with the undocumented campaign to call for immigration reform. We are vocal about it. We will sign our signature to it. This is an issue that is in the forefront of our church.
McHAFFIE: Currently, immigration is not an issue for my church. Some day it may be because of where we are located. However, I am for immigration reform. I believe the gospel is for all people. If someone needs a drink of water, I will give him a drink, even if he does not have papers. I believe all people should have the opportunity to hear and experience the love of Christ in action. I also support the law to the fullest degree.
BARRA:Where we are located, undocumented people do not constitute a major issue. We do everything we can to comply with all required guidelines. We lead our ministries with integrity. I am definitely in favor of immigration reform.
Any closing comments?
De JESUS: For 35 years we were an inward-focused church. For the past 10 years we have become an outward-focused church. I encourage pastors to make a difference wherever they are, regardless of church size. Every church can make a difference.
McHAFFIE: I pray that pastors —whether in rural, suburban, or urban settings —will remember that the church in the Book of Acts showed compassion toward orphans and widows. We've been told to clothe ourselves in compassion and kindness, and this kindness leads others to repentance.
BARRA: Making the transition from an inward-focused church to an outward-focused is the most difficult change any pastor or leadership team will ever have to face. It is not glamorous, nor is it easily accomplished, but it definitely is front-line ministry. It is the gospel in action.
We are located in an area where, at one time, over 50 percent of the people in our church were employed by the big three auto companies or related industries in metro Detroit. When the massive cutbacks and downsizing came, we had some serious financial decisions to make. I am thankful we have a staff and board who recognize biblical priorities. While we made some substantial cuts, we did not pull back from our compassion ministries or missions support. God has blessed and honored that, and we sense His favor.