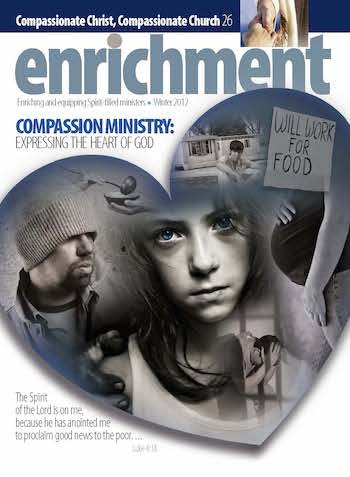 Downloads:
In Closing
The Irritating Word of God
by George P. Wood
---
Several years ago I spoke to a nighttime gathering of GenXers at the church I attended about a Christian's moral duty to help the poor. Afterward, a few members of the audience thanked me for my words, which they said challenged their preoccupation with selfishness, material acquisition, and lack of generosity. I patted myself on the back for a job well done.
Then I saw a young man wearing thick glasses and hearing aids. His name was David. His clothes were damp from the rain. He smelled like he had not showered in a few days, and he carried all his possessions in a large, plastic trash bag. He told me he was homeless and needed food and shelter for the night. He also asked me if I could help him purchase a bus ticket from Southern California to his hometown in Arizona.
My then-girlfriend and I had plans to attend a friend's birthday party immediately following the service. David's request put a kink in those plans. Although I had once served on the pastoral staff at this church, I no longer did. Consequently, I did not have a church credit card or access to the cash in the benevolence drawer. And I could not find any current staff members to hand off David to. They had all left to go the same party.
David's request irritated me. I felt he was imposing on me. The absence of pastoral staff irritated me. I felt they were abdicating their responsibilities. The realization that I would be late to the party irritated me. I could tell it was going to take a bit of time to square David away.
Most of all, however, the Word of God irritated me. It is one thing to preach a Christian's moral duty to help the poor, as I had just done so eloquently and successfully. It is entirely another thing to practice that duty, as I was failing to do so miserably. The Word irritated me because it exposed my hypocrisy.
James 1:19–27 warns us about disconnecting hearing God's Word from heeding it. "Do not merely listen to the word, and so deceive yourselves," James writes. "Do what it says" (verse 22). James then describes the specific actions Word-hearers and Word-heeders should perform: "Religion that God our Father accepts as pure and faultless is this: to look after orphans and widows in their distress and to keep oneself from being polluted by the world" (verse 27).
Paul has a similar perspective on widows. In 1 Timothy 5:3–16, he writes, "[Christian family members] should learn first to put their religion into practice by caring for their own family" (verse 4). He adds: "Anyone who does not provide for their relatives, and especially for their own household, has denied the faith and is worse than an unbeliever" (verse 8). If widows have no one to care for them, the church is supposed to care for them. "Give proper recognition to those widows who are really in need," he writes (verse 3).
John also draws a tight connection between religion and helping the poor in 1 John 3:17: "If anyone has material possessions and sees a brother or sister in need but has no pity on them, how can the love of God be in that person?"
How indeed? Once I realized that God wanted me to help David, I took him to the birthday party (with my girlfriend's and friend's okay). I invited him to sleep on the foldout couch at my apartment and helped him wash and dry his clothes. I fed him the next morning and found a friend who could cover his bus fare home. By heeding God's Word, I met David's need and came to understand, experientially, the meaning of God's love.
If the Word of God irritates your conscience, do what it says. You will find that it also soothes.