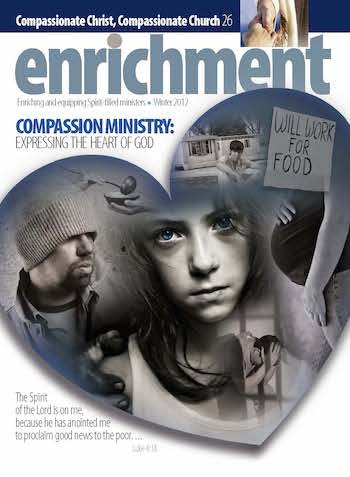 Downloads:
Praying for the Poor
An Interview With Thomas E. Trask
by Thomas E. Trask
---
In response to the disciples' criticism of the women who anointed Jesus' feet with oil, He replied, "The poor you will always have with you" (Matthew 26:11). This is just as true today as it was in Jesus' day.
Today's media constantly bombard us with images of people who have been devastated by the various natural disasters around the globe. This increasing influx of videos and pictures often desensitizes us to the plight of those who are poor and suffering. We see the vastness of the need and wonder what we can do to even begin to alleviate that need.
While we might have limited financial resources to help those in need, and while we might not be able to travel to far away places to provide a helping hand in meeting the needs of the poor, there is something all of us can do — pray.
Hal Donaldson, president of Convoy of Hope, recently visited with Thomas E. Trask, former general superintendent of the Assemblies of God to discuss the Global Prayer Initiative.
After stepping down as general superintendent, you had a wide range of ministry options, but you chose to make praying for the poor and suffering a primary focus. What led you to that decision?
TRASK: Prayer has always been a major part of my life and ministry as a pastor and as general superintendent. I have always believed that nothing of eternal value is going to happen unless you undergird it with prayer. So, when Convoy of Hope presented the opportunity to chair the Global Prayer Initiative, I sought the Lord and sensed it was His leading.
Jesus commanded us to help the poor and suffering. One way we can minister to them is to pray for them. So many people are hurting physically and are lost spiritually. They need God's help.
Why is praying for the poor and suffering important to a church?
TRASK: Praying for the poor and suffering constantly reminds us that the church must reach beyond its walls. I believe one of the reasons God raised up Convoy of Hope was to be a reminder to churches that we must not neglect our God-given responsibility to care for the widow, orphan, and hungry. Pastors and churches need to pray that God will open their eyes to see the hurting, open their ears to hear their cries, open their hearts to extend compassion, and open their hands to meet their needs. Churches need an unselfish desire to serve others so people may see Christ.
I am blessed when I see churches taking hold of this message of Christ's compassion and expressing it in fresh and creative ways in their communities. The church that reaches out is a church that will experience God's favor. God is blessing Convoy of Hope because it focuses on blessing others.
For many who are poor and suffering, life appears hopeless. But as a result of faithful men and women who are committed to prayer, we are expecting and believing God for even more followers of Christ to join in our outreach to those in hopeless circumstances. As people pray for the poor and suffering what appears to be impossible will become possible, because God is in heaven and His power is at work in the world.
What is the Global Prayer Initiative?
TRASK: The Global Prayer Initiative is a movement to encourage and support prayer for the poor and suffering. Our mission is to educate, empower, and mobilize millions who are committed to pray for the poor and suffering. We are using the Internet, prayer summits, and partnerships with churches and ministries to accomplish this. We are also producing Christ-centered, biblically based resources that inspire and mobilize people to pray for the poor and suffering. We provide opportunities that integrate acts of compassion with prayer for the needy. We also are building a network that includes various prayer movements, compassion ministries, mission organizations, campus and youth ministries, denominations, churches, businesses, and individuals united in prayer for those in poverty.
The focus of the Global Prayer Initiative is to bring greater awareness to God's mandate to remember the poor. Pastors have received this message very well. We also encourage people to pray for Convoy of Hope. Specifically, we ask them to pray for the workers, food and supplies, financial resources, and the millions of people receiving help each year through the citywide outreaches, children's feeding programs, and disaster response efforts. We encourage people who have a burden for the poor and suffering to fast and pray every Tuesday at noon. We are finding that as people pray and God bends their heart toward the poor, they want to put hands and feet to their prayers and do something tangible.
Part of the Global Prayer Initiative is the Pray for Hope Summit. Describe this prayer summit?
TRASK: The Pray for Hope Summit is a two-day gathering of pastors and laypeople to pray for the poor and suffering. These summits take place in various cities around the country. We go to cities where pastors have invited us to come and hold a summit.
Each prayer summit has a similar agenda. Some include prayer walks through poorer neighborhoods. They all have times of strong intercession. Throughout the day, presenters challenge attendees from God's Word concerning prayer. Prayer leaders then lead people in praying for specific needs in the city in which we are holding the prayer summit as well as needs for our nation. Each summit also intersperses times of worship between the various presenters and prayer times. We sometimes ask God to come against the spread of AIDS, malnutrition, homelessness, and more. We follow this time of prayer and worship with Communion.
One of the goals of each prayer summit is to foster unity among believers. One purpose and one heart characterize the entire day. People of different denominations and backgrounds come for the common purpose of praying for the poor and suffering.
The prayer summits have proven to be among the most powerful prayer times in my ministry. When we enlist God's help and power, things happen. Many who participate have said that the summit has helped them rediscover God's heart for people who are lonely, hungry, and forgotten.
How can pastors find more information about the prayer summits?
TRASK: They can go to www.prayforhope.com or call Convoy of Hope at (417) 823-8998.
Please explain the 12.12 prayer initiative.
TRASK: The 12.12 prayer initiative is the vision of Assemblies of God World Missions missionary Tom Lofton, one of our Global Prayer Initiative team members. This initiative is a network of compassion organizations and church fellowships from around the world that want to make a difference by praying for those who are hurting. Already major ministries such as National Day of Prayer, National Hispanic Alliance, International House of Prayer, Guideposts, and The General Council of the Assemblies of God have joined this effort. The goal is to encourage believers, every year, to pray for the poor and suffering on December 12. We ask believers to petition God for salvation, justice, safety, water, food, shelter, healthcare, education, and employment for the world's needy. The response, so far, has been overwhelming.
In 2012, we are combining our Global Prayer Summit with the Global Day of Prayer. We will hold this summit in Jerusalem on December 12.
What evidence do you see that God is growing the compassion and prayer movements together?
TRASK: This is not the work of man; it is the work of the Spirit of God. The Lord is awakening the church to her social responsibility and the church is responding. The compassion/prayer movement is not just one particular denomination, fellowship, or prayer group. It is the Holy Spirit bringing the body of Christ together.
On a personal level, what has the Lord been saying to you about believers maintaining an active prayer life?
TRASK: When I first started in the ministry, an elderly minister advised me to set aside time each day to be with God. I have tried to give Him the first hour and a half of every day to pray and meditate on His Word. There is no substitute for prayer. The enemy does not care if we talk about prayer or write about it; he just does not want us to pray because God responds to prayer.
What resources are available for pastors who want their churches to join in praying for the poor and suffering?
TRASK: We have several resources on www.prayforhope.com. Some of these are free downloads. Pastors have taken the 21-Day Prayer Guide and walked their congregations through these specific prayer needs. Others have used the 12 prayer points of the 12.12 Global Day of Prayer initiative. Some pastors have used these resources and ended their prayer emphasis with a One Day To Feed the World offering. This offering challenges people to give one day's wage to feed the poor.
Anything else you would like to share?
TRASK: You have not asked for this, but I need to say it. Having been on the inside of Convoy of Hope for a number of months, I can say with complete confidence that this ministry and its leadership are seeking God and operating with great integrity. They are not satisfied with the status quo. They want to see millions reached through the citywide outreaches, feeding programs, and disaster initiatives. It has been my joy to see the Assemblies of God, Convoy of Hope, and other fellowships and ministries walk arm in arm to fulfill the Great Commission.